Tomorrow, March 8th, we celebrate International Woman's Day, a day to honour women around the world for their accomplishments and to remember those who still need empowerment!  What celebration would it be without a cake??  In Italy, men usually gift the women in their lives mimosa flowers for this special occasion.  Mimosa has become the symbol of "Festa della donna" (Woman's Day), as it's usually at its peak in March.  Being in Australia and having to deal with opposite seasons, also means no mimosas on this day!  We have to wait till September!  So I decided to celebrate with another mimosa!  A mimosa cake, something we often eat for this occasion back in Italy.  It is simply a layered sponge cake, filled with cream and crème patissière and topped with sponge cake crumbs/cubes that resemble mimosa flowers.  It is a delicate and very elegant cake… just like a woman!  So, my dear fellow women… this cake is especially for us, even though I dedicate it to the 3 most important women in my life: my 2 loving daughters and my mum!  Happy International Woman's Day everyone!
Recipe adapted from Giallo Zafferano
Ingredients: (10 servings)
For the cake (makes 2×24 cm – 9.5 inches sponge cakes)
200 gms – 7 oz. flour
40 gms – 1.4 oz. potato flour
4 eggs + 8 yolks
220 gms – 7.75 oz. sugar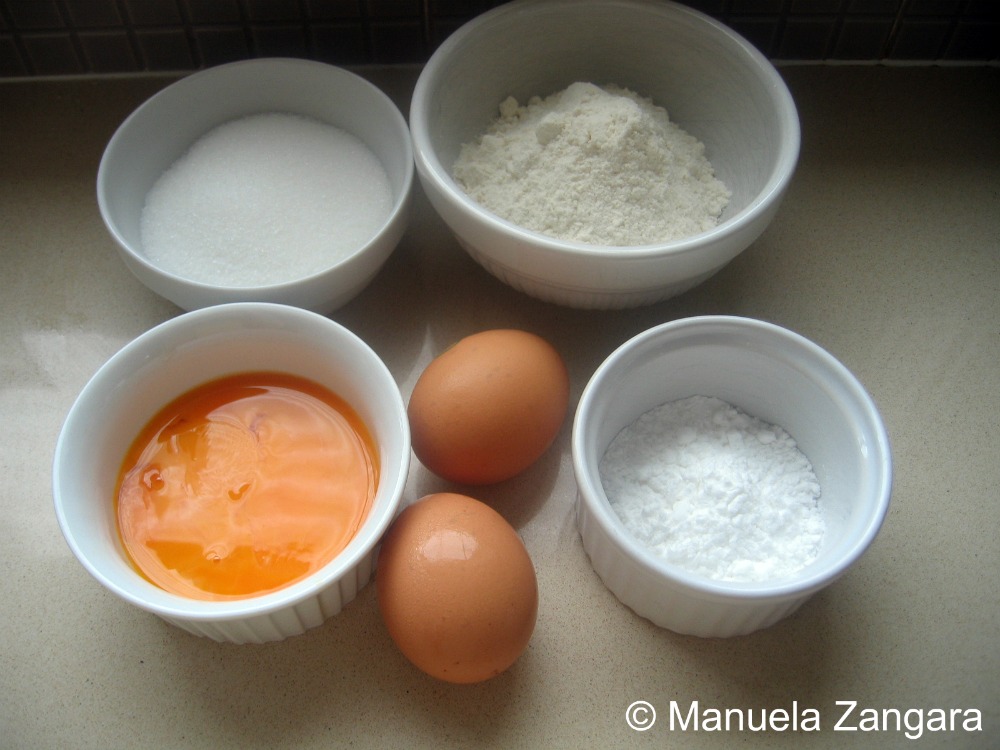 For the crème patissière
55 gms – 1.95 oz. flour
300 ml – 1 ¼ cups milk
300 ml – 1 ¼ cups heavy cream
8 egg yolks
1 tsp vanilla extract
200 gms – 7 oz. sugar
For the liqueur syrup
100 ml – 3.4 oz. water
50 ml Grand Marnier or Cointreau (or rum)
50 gms sugar
For the whipped cream
200 ml – 6.8 oz. heavy cream
20 gms – 0.7 oz. icing sugar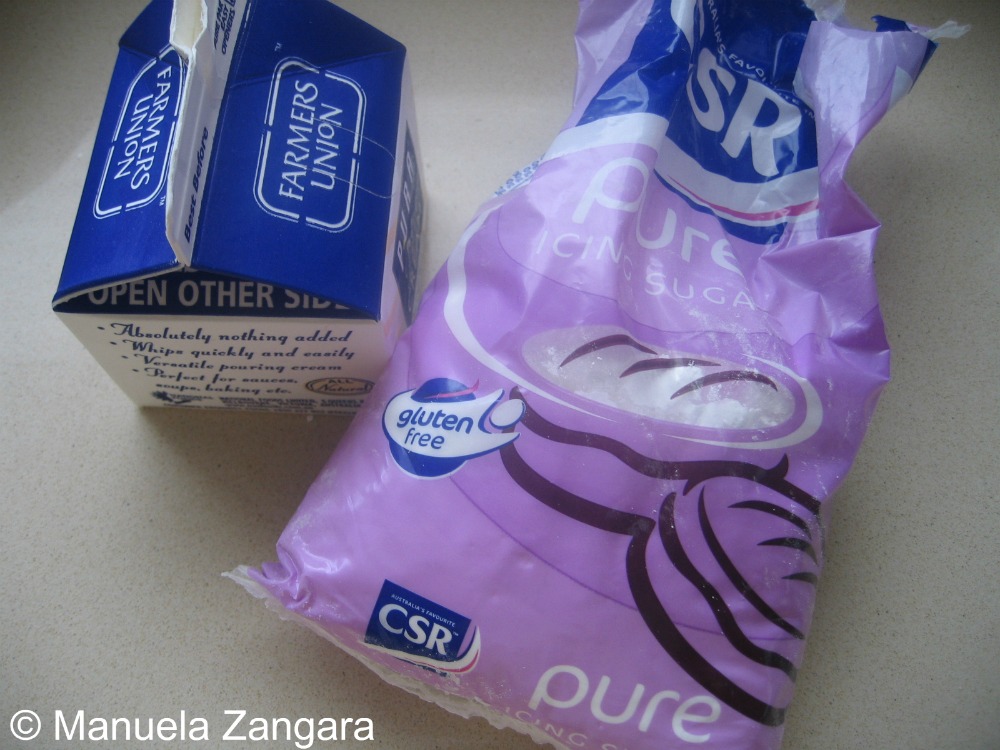 NOTE: I have made half the above dose for a cake of 12 cm (4.75 inches).
Start by making the 2 sponge cakes.
Sift the flour and potato flour together and keep them aside.  Put the 4 eggs and sugar in the bowl of a mixer (1) and whisk for about 15 minutes on high speed until pale and very fluffy.  Add the yolks (2) and keep whisking for 5 minutes (3).  Now put the mixer off and add the sifted flours (4).  Delicately fold them into the mixture with a spatula, making sure not to deflate it (5).  Grease 2x24cm (9.5 inches) spring-form pans with butter and coat them with a thin layer of flour.  Pour the batter into the pans (6) and bake in a pre heated oven at 175°C – 347°F for about 30 minutes or until cooked through.
In the meantime, prepare the crème patissière.
Put the milk and heavy cream in a pot and heat on the fire until almost boiling (1).  In another pot, put the egg yolks and sugar (2).  Mix them well with a wooden spoon (3), then add the flour and the vanilla extract (4).  Mix well.  Now slowly pour the warm milk and cream into the egg and sugar mixture (5), while continuously whisking.  Put this mixture back on the fire until it thickens.  Then transfer the cream into a heat proof container, cover it with some cling wrap (6 – make sure that the cling wrap touches the cream) and let it cool down in the fridge or freezer.
Now you can prepare the liqueur syrup.
Put the water, liqueur and sugar in a pot and heat it on the fire. As soon as the sugar dissolves, it is ready.  Put the fire off and let it cool down.
Prepare the whipped cream by whipping the heavy cream with icing sugar.  When ready, put it in the fridge until you are ready to use it.
When the crème patissière is cold, mix it to soften and then add all the whipped cream leaving out 2 tablespoons.  Gently incorporate it and keep it aside.
Remove the darker parts from the sponge cakes (1-2).  Then cut one of the cakes into 1.5 cm – 1/2 inch cubes (3-4-5) and slice the other one into 3 horizontal slices (6).
Now you are ready to assemble your cake.
Brush the first layer of sponge cake with some of the liqueur syrup (1-2).  Spread 1 tbsp of whipped cream on it (3) and some of the crème patissière mixed with whipped cream on top (4).  Now place the second slice of sponge on top (5) and repeat the above instructions.  Finish with the last slice of sponge cake (6).
Cover the full cake (sides included) with the remaining crème patissière mixed with whipped cream (you may have a little extra… I did).  Now stick the cubed sponge on top and and the sides of your cake to make it look like mimosa flowers!
Sprinkle with icing sugar and keep in the fridge (loosely covered) overnight before serving.
Happy International Woman's Day!!! <3
For a vegan version of this cake, have a look at my friend Cì's recipe!  It looks amazing, doesn't it?!

Related Posts: