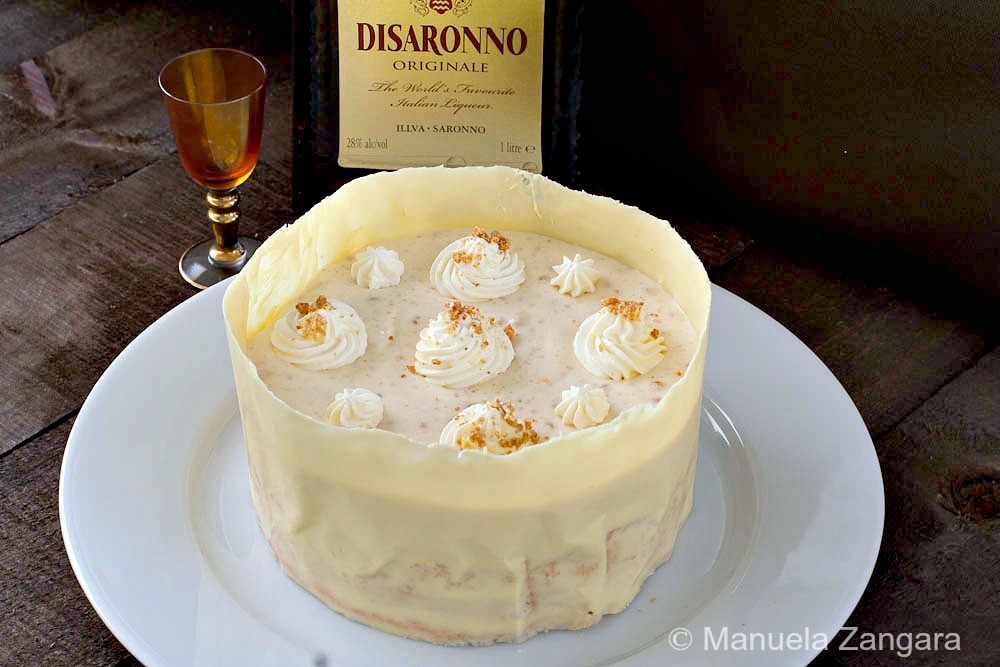 If you follow me on Facebook, Twitter or Google+, chances are you have already seen a picture of this cake.  It was so delicious and it looked so pretty, that I couldn't resist and gave everyone a sneak peek of it.  We had if for our New Year lunch and it was very successful.  It is creamy, crunchy, spongy and not overly sweet thanks to the sponge cake base.  It is also quite easy to make and if you use store bought sponge, it's ready in about 30 minutes… though, I do encourage you to make your own sponge, as it is not hard to prepare and it tastes so much better than anything you buy ready made.  For the few people out there who still don't know, Amaretto di Saronno is an Italian liqueur that tastes of… bitter almonds, even though there are no almonds in it!  It is one of my favourite liqueurs and I do enjoy making sweets with it!  Buon appetito!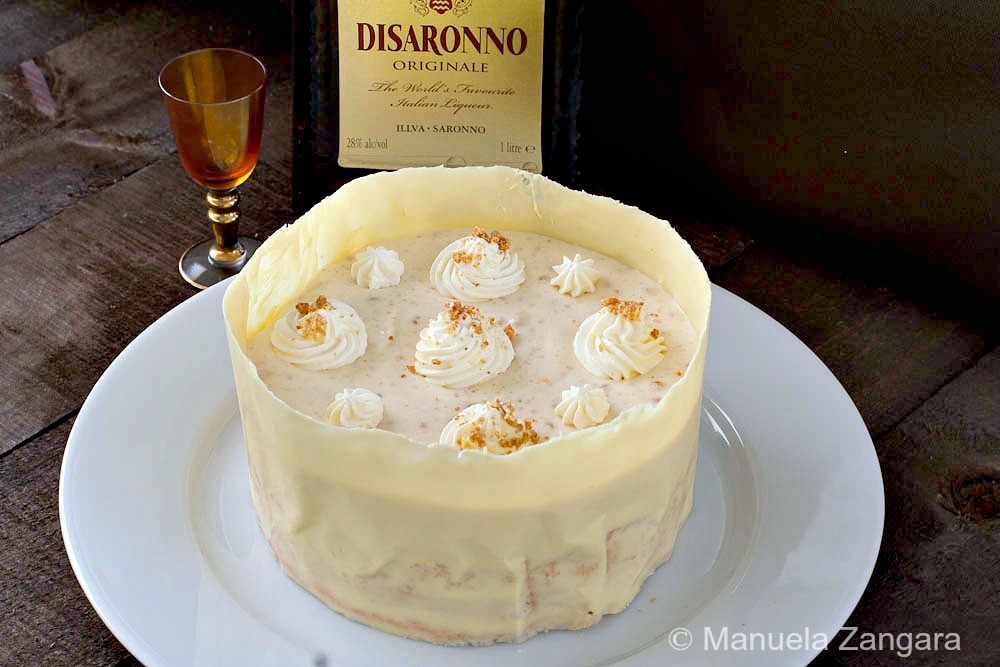 Delizia all'Amaretto
How to make a delicious cake: Delizia all'Amaretto!
Total Time
1
hour
30
minutes
Ingredients
Sponge cake – 20 cm – 8 inches

store bought or made following this tutorial

400

ml

– 1 ¾ cups cream

to whip

250

gms

– 1 cup pastry cream

made following this tutorial

200

gms

– 7 oz. white chocolate

grated or finely chopped

75

ml

– 1/3 cup Amaretto di Saronno liqueur

6

big amaretti cookies

plus more to decorate - crushed
Instructions
Make the sponge cake following

this recipe

. Let it cool down.

Cut a strip of baking paper to make it 8 cm – 3 inches high/wide and long enough to circle the sponge cake (make sure you make it a little longer so the chocolate can overlap).

Brush the sponge cake with half the liqueur diluted in 1 tbsp of water.

Melt the white chocolate in a double boiler, then spread it uniformly onto the baking paper strip.

Wrap the chocolate covered strip around the sponge cake and lightly press it so it sticks to the cake. Put it in the freezer until the chocolate solidifies. Then carefully peel off the paper.

Mix the crushed amaretti cookies (reserve some for decorating the cake) with the pastry cream and the remaining Amaretto di Saronno.

Firmly whip the cream. Reserve ¼ of it to use as decoration and gently fold the rest into the pastry and Amaretto cream.

Pour the cream mixture onto the sponge cake. Level it and decorate with the remaining whipped cream and crushed amaretti.

Let it rest in the fridge for at least 1 hour before serving.
Recipe Notes
To make the sponge cake, make half dose of this recipe, pour the batter into a 20 cm – 8 inch springform tin until a little over ¾ full. Pour the remaining batter into muffin tins and make mini sponge cakes. These are perfect to have with jam or Nutella for breakfast or tea.
Also, I suggest you make the sponge 1 day in advance and keep it wrapped in plastic paper so it doesn't dry out.

Related Posts: