I am very happy about today's post. If you follow Manu's Menu, you will know that this blog is all about authentic Italian food. I do share many modern Italian recipes, but what makes me really happy is the possibility to share more traditional not so famous recipes, and above all, regional recipes. Italian food is very much linked to the territory and recipes vary widely from town to town. Today's Biscotti della Tresca is a great example of local cuisine. These cookies are typical of the Abruzzo region, in central Italy. It is a very old recipe that used to be traditionally baked at the time of threshing. It is one of those recipes that are handed down from one generation to the other. These cookies have a "special" texture thanks to the ammonia bicarbonate used as a leavening agent. They become very spongy when dipped in liquid and they used to be eaten with wine by peasants after a long day of work in the fields. They are also not very sweet – they are something in-between cookies and bread. I guess they were a cheap meal that would quickly fill the workers up. Nowadays, they are mostly eaten for breakfast and dipped in milk instead of wine. You can also eat them plain, but they are a bit crunchier than your regular cookies. In my opinion these are the perfect cookies for "dipping". Enjoy!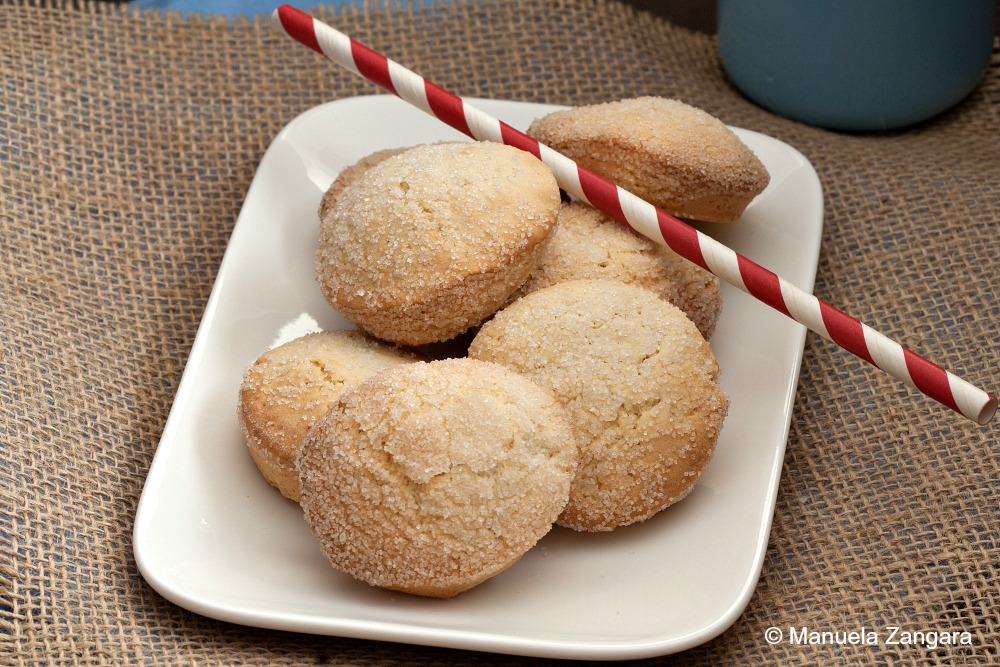 Biscotti della Tresca
Biscotti della Tresca - traditional Italian cookies with a spongy texture, perfect for dipping!
Ingredients
230

gms

– 1 ¾ cup all purpose flour

2

eggs

60

gms

– 1/3 cup granulated sugar

plus more for the tops

10

gms

– 2 tsp ammonia bicarbonate powder

20

ml

1 ½ tbsp extra virgin olive oil

Zest of half a lemon

grated

50

ml

– 3 1/3 tbsp milk
Instructions
Put the flour, sugar and ammonia bicarbonate powder in the bowl of an electric mixer and star mixing on low.

While mixing, add the eggs, milk, extra virgin olive oil, and lemon zest and mix until well combined.

Roll the dough into a 3 mm – 1/8 inch thick sheet and cut out 7 cm – 2 ¾ inch circles.

Coat the top with granulated sugar and put the cookies, sugar-side up, on a baking sheet covered with baking paper.

Bake in a pre-heated oven at 180°C – 355°F for 15 minutes.

When ready, let them cool down on a wire rack.

Store in an air-tight container.

Related Posts: