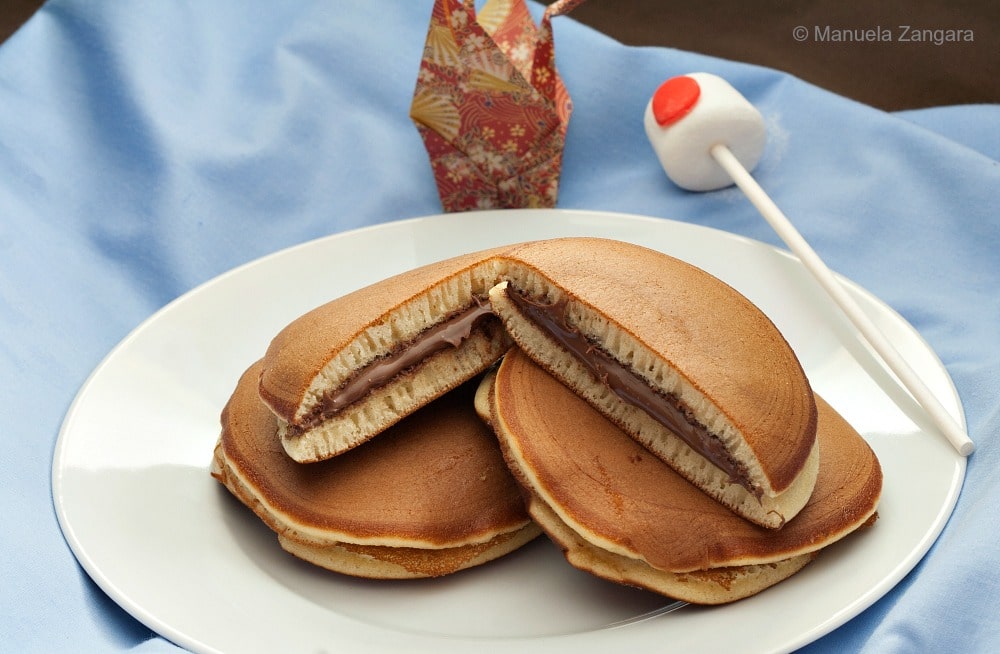 If you follow me on Instagram, Facebook or Twitter you will know that I have been travelling through Japan! Unfortunately, we are now back home and trying to get readjusted to our usual routine. I will be sharing the details of my my trip as soon as I finish to sort out all the photos I have taken (there are so many!) and I will be writing more city guides, like the ones I wrote for our previous holiday.  In the meantime though, I thought it would be fun to share a Japanese recipe. In reality it's more a Japan meets Italy kind of recipe: Nutella Dorayaki! Dorayaki (どら焼き) is a classic Japanese confection, made up of two fluffy honey pancakes sandwiched together and filled with sweet azuki red beans. I made these "Italian version" for my youngest daughter's birthday party in December, as the theme was Japan (see the marshmallow pop with the red fondant sun in the background?). If you remember, she had requested a Doraemon cake and as Doraemon is really crazy about Dorayaki, I thought I should make some. I filled them with Nutella because most of the kids at the party were Italian and I thought they would probably like it more than the traditional azuki red beans. Even in Japan nowadays you can find Dorayaki with different fillings – I have seen them with custard, chestnuts, and flavoured cream and fruits. Dorayaki are perfect to have with some slightly bitter Japanese green tea! Yum! This is a very easy recipe… especially if you already know how to make "normal" pancakes, so I highly recommend you give it a go. You won't be sorry, trust me!! I will be making them again very soon as I already miss Japanese food! Enjoy!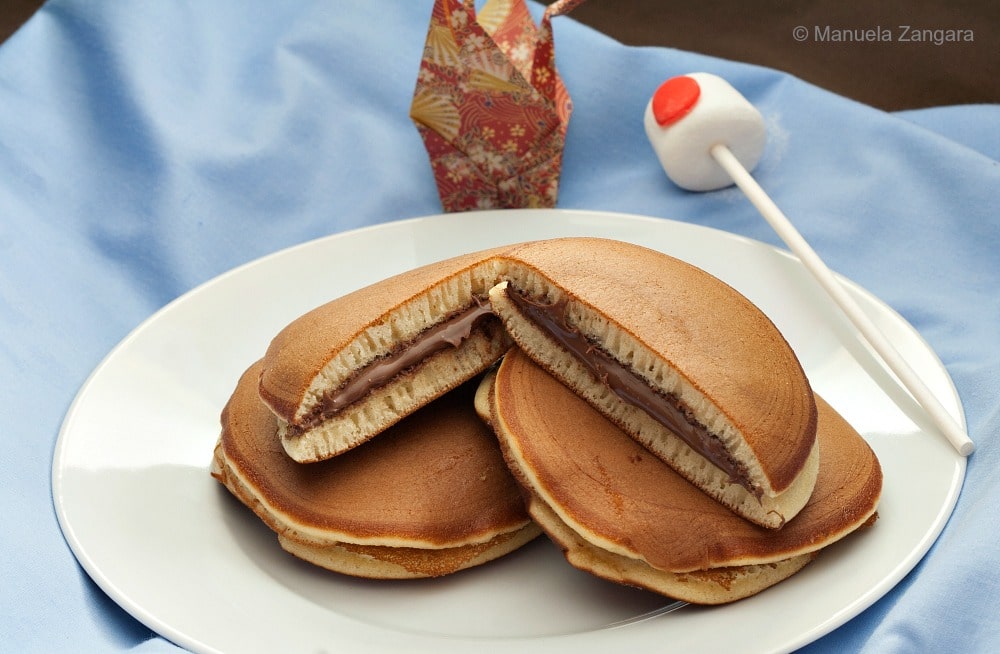 Nutella Dorayaki
Nutella Dorayaki - Dorayaki (どら焼き) is a classic Japanese confection, made up of two fluffy honey pancakes sandwiched together and filled with Nutella.
Ingredients
4

eggs

140

gms

– 2/3 cup granulated sugar

2

tbsp

honey

160

gms

– 1 1/3 cup all purpose flour

1

tsp

baking powder

1

tbsp

water

1

tsp

vegetable oil or spray for cooking

500

gms

– 1 ¾ cup Nutella
Instructions
In a large bowl, combine the eggs, sugar, and honey and whisk well until the mixture becomes fluffy.

Sift the all purpose flour and baking powder into the bowl and mix all together. Keep in the fridge to rest for 15 minutes.

The batter should be slightly smoother now. Stir in 1 tablespoon of water. Depending on the size of the eggs you are using and how accurate your flour measurement is, the required water amount may vary, but it should be about 1 or 2 tablespoons. In the end,you will need to obtain a smooth, fluid batter.

Heat a large non-stick frying pan over medium-low heat. Dip a paper towel in vegetable oil and coat the bottom of the pan with the oil. Then remove the oil completely (that's the secret to get evenly golden brown dorayaki).

With a ladle, pour 3 tablespoons of the batter from 8 cm (3") above the pan to create 8 cm (3") diameter pancakes.

When the surface of the batter starts to bubble, flip over and cook the other side. (It should take about 1 minute and 15-30 seconds to cook one side and 20-30 seconds on the other side).

Transfer to a plate and cover up with a damp towel to prevent from drying.

You do not need to oil the pan again. Continue making the pancakes until you have batter (you should be able to make about 12 pancakes).

Make Dorayaki sandwiches by putting some Nutella in the centre. Put more Nutella in the center so the shape of the dorayaki will be curved (the centre should be thicker).

Wrap the dorayaki with cling wrap until ready to serve.
Recipe Notes
For perfect golden brown pancakes, make sure to wipe off the all excess oil from the frying pan's surface.
If you don't eat the Dorayaki on the same day (keep them in a cool place), wrap them in cling wrap and put them in a Ziploc bag to store in the freezer for up to 1 month.

Related Posts: