Happy Halloween everyone!  I cannot believe it's the end of October already!  This year has just flown!  Even though I haven't experienced this holiday while growing up, I always get excited about it.  My kids love this day and we will be going trick or treating in our area, just like last year and the year before.  After sharing a couple of drinks (like this and this), this year I am publishing the recipe for some spooky cupcakes: Broken Glass Cupcakes.  I love the idea of using caramel as pretend glass (or ice…).  I have already experimented with it for my daughter's Frozen cake and I knew these cupcakes would turn out pretty well.  I also used some strawberry syrup as fake blood, to make them more… spooky.  The cupcakes are pumpkin flavoured, a classic for Halloween and the perfect pairing for the vanilla buttercream.  So, tell me, are you going trick or treating too?  What will you and/or your kids be dressed up like?
Broken Glass Cupcakes
Ingredients
Pumpkin Cupcakes
210 gms – 1⅔ cup flour
1 tsp baking soda
100 gms – ½ cup sugar
¾ tsp salt
1 ¼ tsp pumpkin spice mix (LINK)
100 gms – ½ cup vegetable oil
2 eggs
80 ml – ⅓ cup milk
1 cup pumpkin purée
Caramel Glass and Blood
Vanilla Buttercream
Instructions
Pumpkin Cupcakes
Combine all the dry ingredients and then add all the remaining ingredients.
Stir just until combined and then fill the cupcake liners ¾ full.
Bake them in a pre heated oven at 200°C – 400°F for 16-20 minutes or until a toothpick inserted in the centre comes out clean.
Let them cool down completely.
Caramel Glass
Bring the granulated sugar and water to a boil in a small high-sided saucepan, stirring, until the sugar dissolves.
Reduce the heat to medium-high, and cook until the mixture just starts to turn pale gold around the edges.
Quickly remove from heat (or the "glass" will look yellow) and immediately pour the caramel onto a rimmed baking sheet lined with baking paper.
Working quickly, tilt the baking sheet to spread the caramel to make a very thin layer. Let it cool and harden.  Then break it into pieces.
Vanilla Buttercream
Beat the softened butter with an electric mixer fitted with a paddle attachment for a few minutes and then incorporate the icing sugar and vanilla extract.  Mix well.
To Assemble
Pipe the buttercream onto the cooled cupcakes, top them with a piece of "glass" each and drizzle some strawberry syrup "blood" where the caramel has entered the cupcake.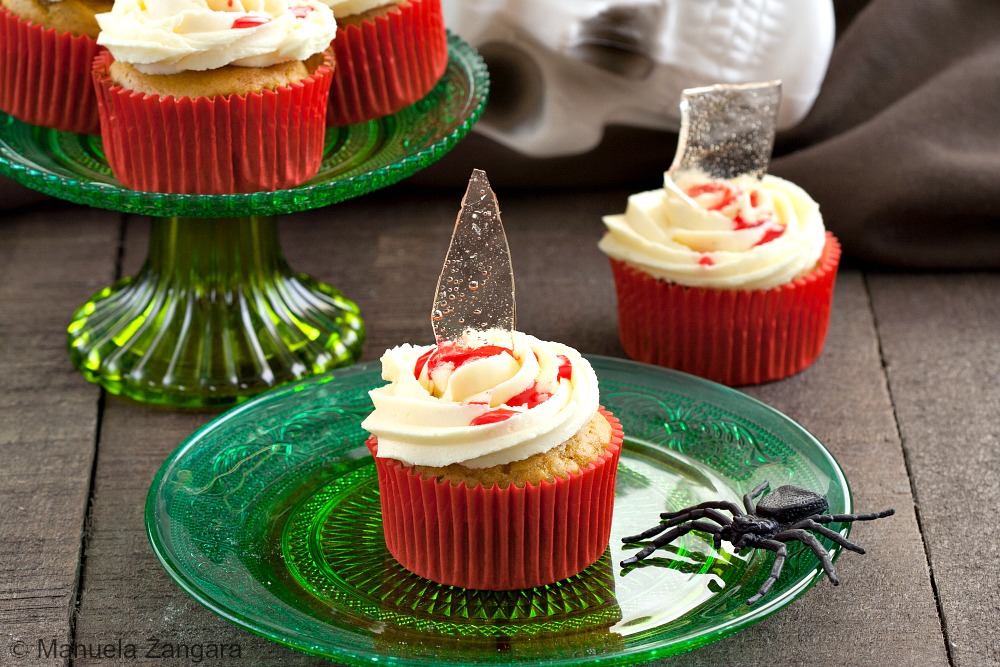 Pin It

Related Posts: