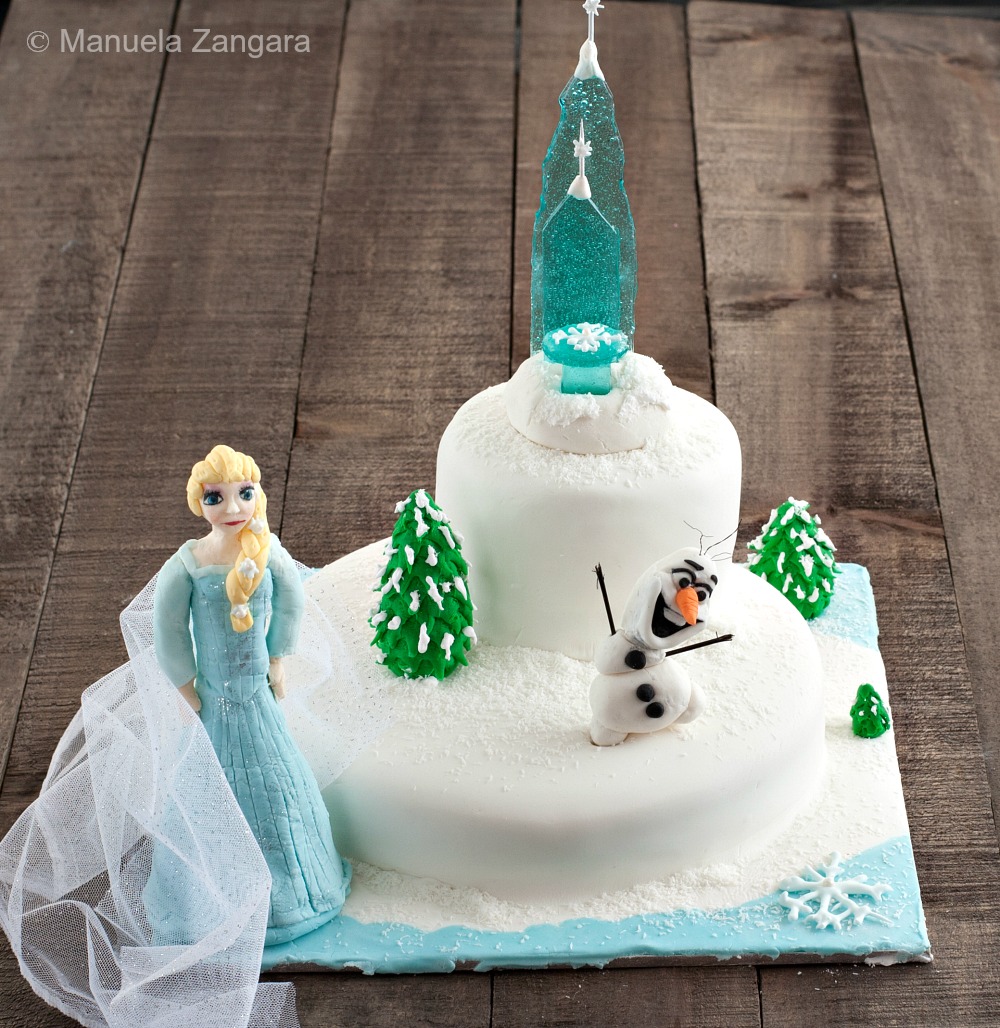 Like all little girls her age, Victoria has a fascination with princess stories and the latest Disney movie is no exception.  She fell in love with Frozen (and so did her little sister)… movie, songs, costumes… everything.  She knows parts of it by heart, I am not kidding!  So for her 7th birthday party, she obviously chose Frozen as a theme, cake included.  My first idea was to make her a "flat" fondant decorated cake, like my Peppa Pig Cake, but she insisted that she wanted "Elsa" and she wanted her standing!  I usually do not make human fondant figurines, as they are quite hard to make and require a lot of time.  You see, organizing a theme party requires a lot of work and the cake, though it is definitely the most important part of the food spread, is only one of the many items that have to be prepared… by me.  So, a flat decorated cake is always my preferred option: easy and quick to make and always pretty.  But I did not have the heart to tell Victoria no… so I gave in and made her this Frozen cake.  To save some time, I made the figurines a week in advance, so I did not let the kids eat them as they were a bit hard… but the final cake was a success and not as hard to make as I had anticipated.  My husband had the brilliant idea of making moulds to create the sugar castle and that was a huge help.  Read on to find out how to make this cake and stay tuned for all the other Frozen party recipes that I will post in the next few days!
Frozen Cake
A tutorial on how to make a Frozen Cake for your kid's birthday party!
Ingredients
Cake, Elsa, Olaf and Trees
1 ½

Yogurt Cakes

baked in 1x23 cm – 9 inches and 2x10 cm – 4 inches round pans

Coloured Fondant

Edible glue

Gel colours

Fabric for the cape

Icing for crumb coating

Icing Sugar/corn starch

Coconut powder
Castle
1/3

cup

sugar

2

tbsp

glucose syrup

1

tbsp

water

Blue food colouring
Instructions
Have you ever made a cake with fondant?

Related Posts: