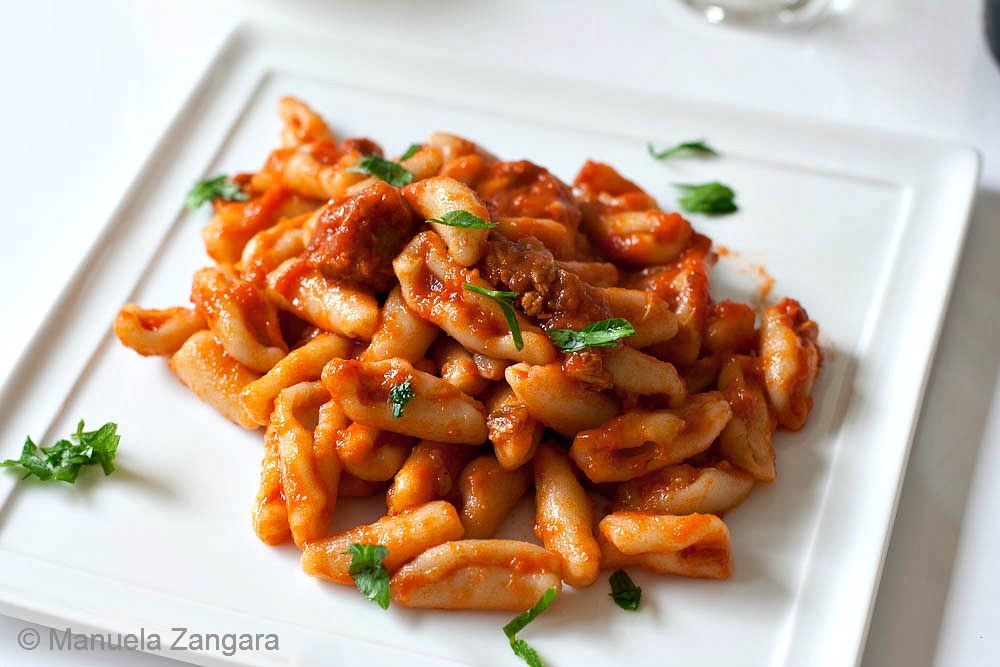 Today's Regional Italian dish comes from the small region of Molise, in the South of Italy (though, to be precise, the same dish with small variations is widespread in many other Southern regions, like Puglia or Campania or Basilicata).  Molise is a small but beautiful region, famous for its pasta and extra virgin olive oil.  It is also the region of the pretty touristic town of Termoli.  A small note about the term "ragù".  It is a meat based tomato sauce, which is usually made with minced meat in the Northern regions or with meat pieces in the Southern regions of Italy.  The most famous ragù is the one from Emilia Romagna, which is very similar to what is known as "bolognaise" outside of Italy.  The ragù I made for today's recipe is made with pieces of meat and it is one of my favourites.  One of these days l will share with you my granny's recipe, which is the best EVER!  But for today, I will leave you with this yummy version.  I love serving this sauce with a traditional home-made pasta from the same area, called Cavatelli!  Don't forget to check out my tutorial on how to make it yourself.  It is really very easy!  Enjoy!
Ingredients (for 4 persons):
1 batch of Cavatelli (click here for the recipe), made with 300 gms – 10.5 oz. of durum wheat flour
300 gms – 10.5 oz. pork schnitzels
300 gms – 10.5 oz. Italian sausage (pure pork)
300 gms – 10.5 oz. pork spare ribs, trimmed
4 tbsp extra virgin olive oil
½ onion
1 garlic clove, chopped
1 dried red chilli (or ½ tsp chilli flakes)
1 lt – ¼ gallon tomato purée (passata)
250 ml – 1 cup water
Salt & Pepper to taste
1 ½ tbsp parsley, chopped
Pecorino Romano thinly grated, to serve
Put the chopped clove of garlic and 1 tbsp of the chopped parsley on the pork schnitelz.  Roll them like a big involtino and secure them with some cooking string.  These are known as "braciole".  Keep them aside.
Now, heat up the extra virgin olive oil in a pot.  Add the half onion, pork spare ribs and sausages and sauté for a few minutes on a high flame to sear the meat.  Now add the chilli, tomato passata and water and bring to a boil.  At this point, add the braciole, salt and pepper.  Cover and let it cook on a low flame for at least 1 hour.  The more the sauce cooks, the tastier it will be… but check and stir it regularly and add some more water if required.
When ready, remove the meat and keep it aside.
Cook the Cavatelli following the steps on "How to cook pasta "al dente".  Only in this you will not have a pre set cooking time.  The time will vary based on the thickness of your pasta and on whether you have left them to dry etc.  So, the best solution is to taste it!  Remember, it does have to remain firm.
When the pasta is cooked, drain it, put it in a frying pan and add the pork sauce to it.  Sauté it on a medium flame for a minute.
Serve it hot with a generous sprinkle of Pecorino Romano and the remaining chopped parsley.
NOTE: you can chop some piece of the cooked meat and serve them with the pasta.  I especially like eating it with the sausage!  You can have the remaining meat as a second or another meal all together.
Pin It

Related Posts: