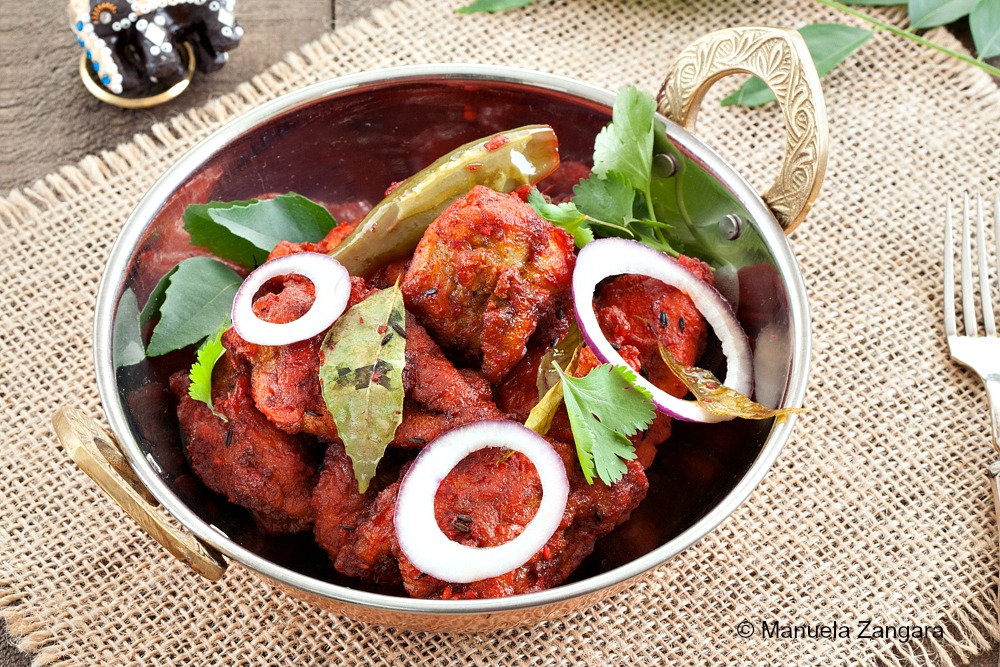 I love Indian food and I try to cook it as much as possible at home. I also love to eat out though and we recently tried out a new place, not too far from home. They had a dish on their menu that caught my attention: Chicken 65. The name was too intriguing, so I ordered it. It was AMAZING. Spicy, tangy and simply mouthwatering. So, I thought I should try my hands at making it at home. The first thing I did was to find out the reason why it is called "chicken 65"… apparently, there are a few speculations around this, but the most plausible reasons are that this chicken used to be item number 65 on the menu of the restaurant that first served it in the south Indian city of Chennai (also known as Madras) and that it was created in 1965. From there, this dish became popular all over India (and particularly in Hyderabad).  You can easily tell that it is a southern Indian dish though: its spiciness and the use of curry leaves give it away quite easily! That sorted, Chicken 65 is a spicy, deep-fried chicken dish served as an entree or a quick snack. It's also sold by street vendors and it is street food at its best!  As Diwali is coming soon… what better time to share such an amazing Indian recipe??  Enjoy!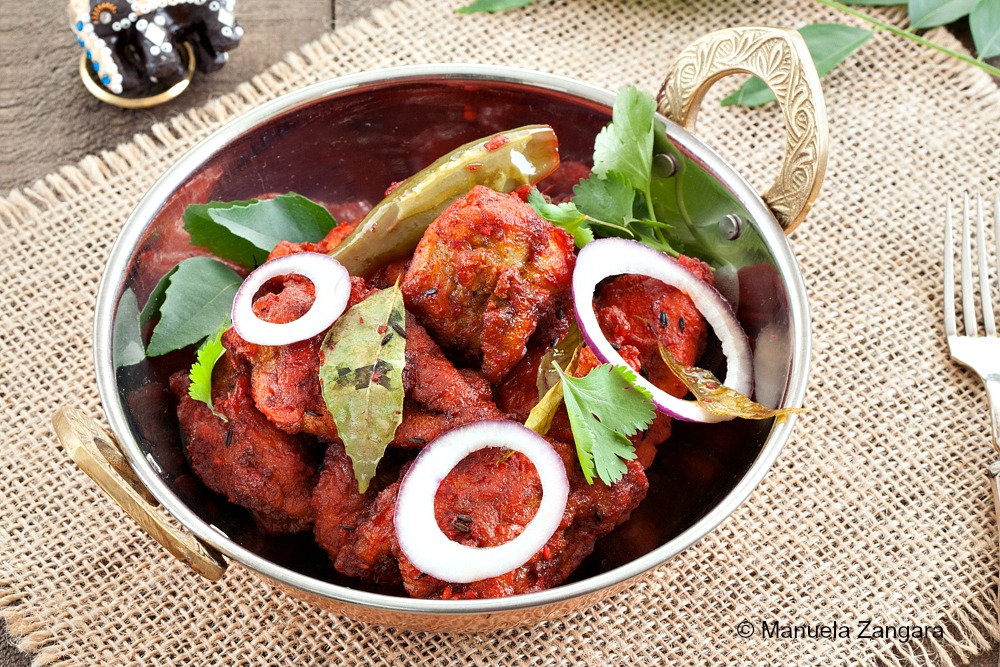 Chicken 65
Chicken 65 - a deliciously spicy recipe from the south of India!

Ingredients
Marinade
500

gms

– 1.1 lbs. chicken thigh fillets

cute in bite-size pieces

1

tsp

salt

2

tsp

red chilly powder

½

tsp

turmeric

½

tbsp

ginger paste

½

tbsp

garlic paste

2

tbsp

yogurt

½

tsp

pepper

ground

1

egg

5

tbsp

corn flour
Stir fry Sauce
1 ½

tsp

cumin seeds

4

small green chillies

halved

½

bunch curry leaves

2 ½

tsp

red chilly sauce

1

tsp

red chilly powder

1/4

tsp

salt

1

tbsp

ginger

grated

8

garlic cloves

chopped

¼

cup

water

4

tbsp

vegetable oil

¼

tsp

red food colouring

optional
Instructions
Marinade
Mix all the ingredients together and let the chicken pieces marinate for 30 minutes.
Stir fry
Put the vegetable oil in a big frying pan (I use a wok) and heat it on the fire. When hot, add the cumin seeds and let them splatter.

Add the grated ginger and the chopped garlic and stir.

Add the curry leaves and mix.

Add the green chillies and mix.

Add the red chilly powder, salt, red chilly sauce and red colouring (if using) and mix well.

Add water and stir.

At this point, add the fried chicken pieces and stir to coat them with the sauce. Let the chicken fry for a couple of minutes or until the sauce dries up and sticks to the chicken.

Serve hot with slices of onions and fresh coriander leaves.

Related Posts: