It is time again for the "Secret recipe club" reveal! I am sure you all know what the club is about, but for the few of you who still don't know about it, here goes a brief explanation.  Each month you are assigned a participating food blogger to make a recipe from and in turn someone else will be assigned your blog.  All you have to do is choose a recipe, make it and blog about it on the specified date.  The only rule is to keep it a secret!  If you are interested in learning more, or want to join the club, please visit the Secret recipe club website.
I was very excited when I saw this month's assignment as I got to remake one of Veronica's dishes shared on her My Catholic Kitchen!  Veronica is a self taught cook and photographer and I can completely relate to that!  She is very talented and even though I had a few of her recipes bookmarked, I could not take these wings out of my mind.  I know, I know… I have chosen wings for last month's reveal as well (I am quite sure you remember these Sweet Chilli and Orange Chicken Wings), but as I don't have many chicken wings recipes in my "portfolio" and they are always handy for entertaining guests… I thought I should really try them out.  I must also say that I was very curious about how cooked Coca Cola would taste like.  I had never ever cooked with coke before!  And I know this recipe will sound really weird to all my Italian friends!  But I was very pleasantly surprised by the result… and yes, they taste just as good as they look!  The coke caramelises and gives out a hint of sweetness that contrasts with the saltiness of the soy sauce.  These wings are also sticky (just the way I like them) and slightly smoky in taste!  Delicious… and once again, I think the pictures speak for themselves!
Thank you Veronica for sharing such a yummy recipe!  Enjoy everyone!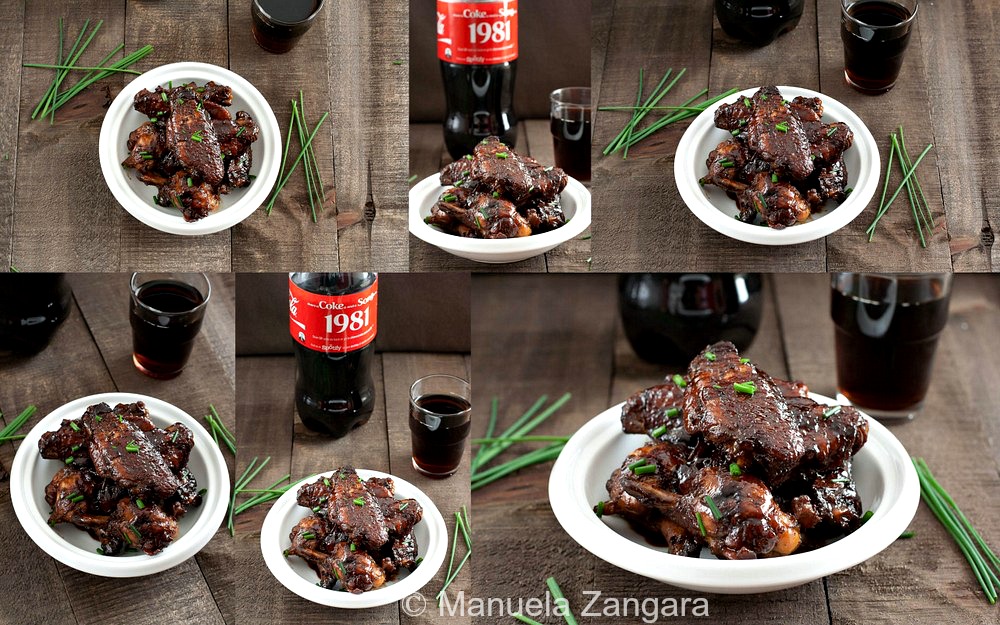 Coca Cola Chicken Wings
The recipe for deliciously sticky Coca Cola Chicken Wings!
Ingredients
900

gms

– 2 lbs. chicken wings

wings and drummettes separated

60

ml

- ¼ cup soy sauce

2

tbsp

vegetable oil

2

tbsp

dry sherry or rice wine

175

ml

– 3/4 cup Coca-Cola

Chopped chives for garnish
Instructions
Put the chicken wings in a zip lock bag with half the soy sauce. Move the wings around in the bag until they are well coated.

Let them marinade for 10 to 15 minutes at room temperature.

Heat the vegetable oil in a wok over medium heat.

Sauté the chicken wings until they are golden brown on each side (this will take about 8 minutes).

Mix the remaining soy sauce, sherry and coke together and pour the mixture into the wok. Bring the liquid to a simmer.

Transfer the chicken to a plate, garnish with the chives and serve.

Related Posts: