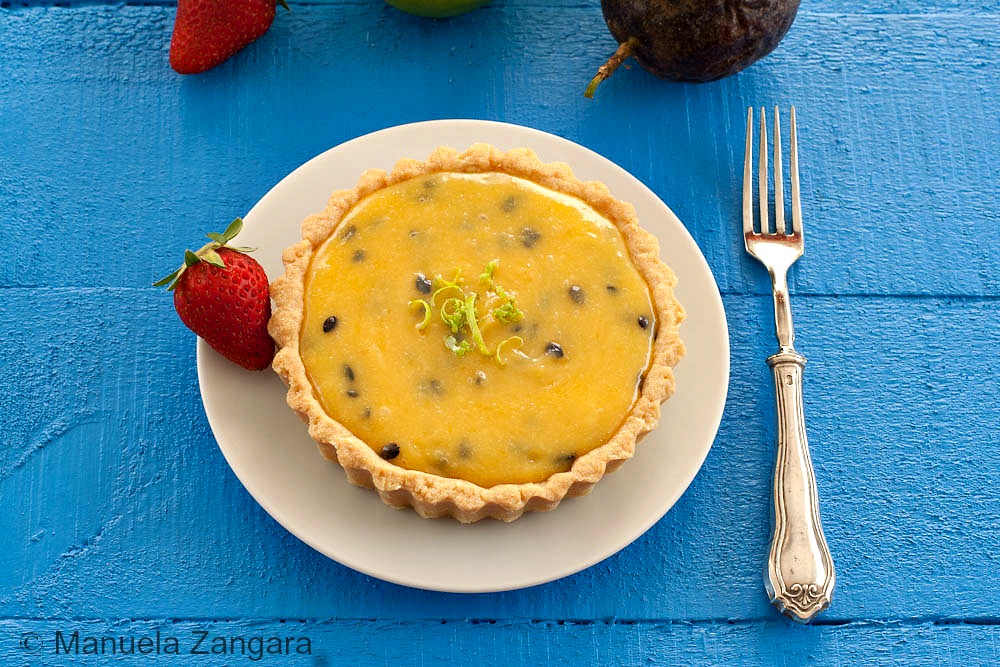 I had some pasta frolla dough and some Passion fruit Curd sitting in my freezer and I could not wait to use them up… together!  You see, pasta frolla is the Italian pie crust that we use to make crostata or simple cookies.  So the pairing was really very easy.  I just cooked the tarts and then filled them with the Passion fruit Curd.  I only added some lime zest to the original curd recipe because I had some great fresh limes in the fridge and I thought the zest would add a nice zing to the tarts… and it did!  I loved the combination!  I was very pleased with the final result: they looked gorgeous with that bright yellow colour and they tasted even better!  Besides, they were very easy and fast to make and they were a great way to use up my leftovers!  Don't you think they make an elegant dessert worthy of a fancy tea party?  Enjoy!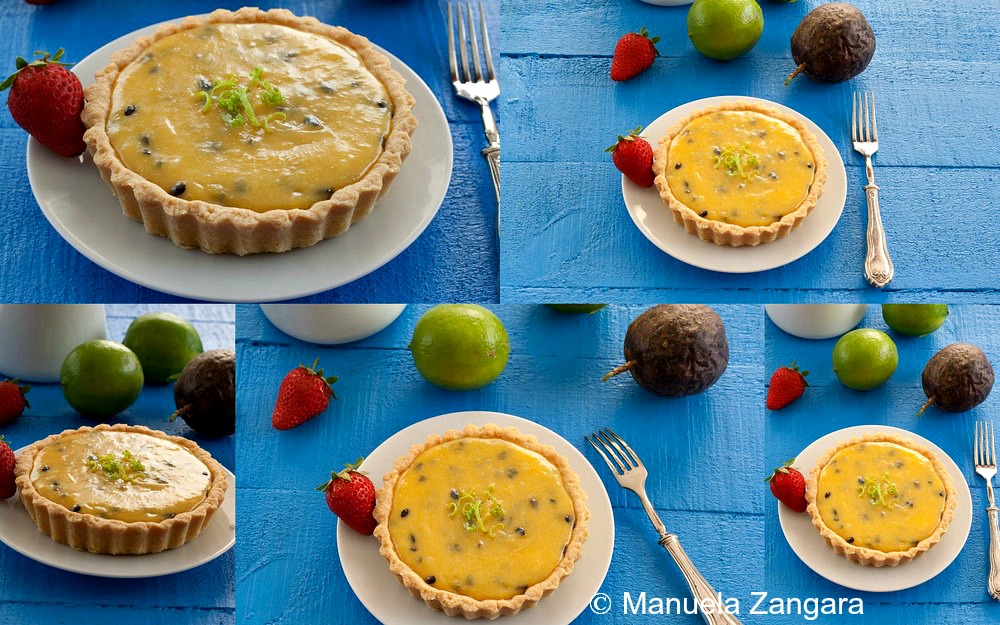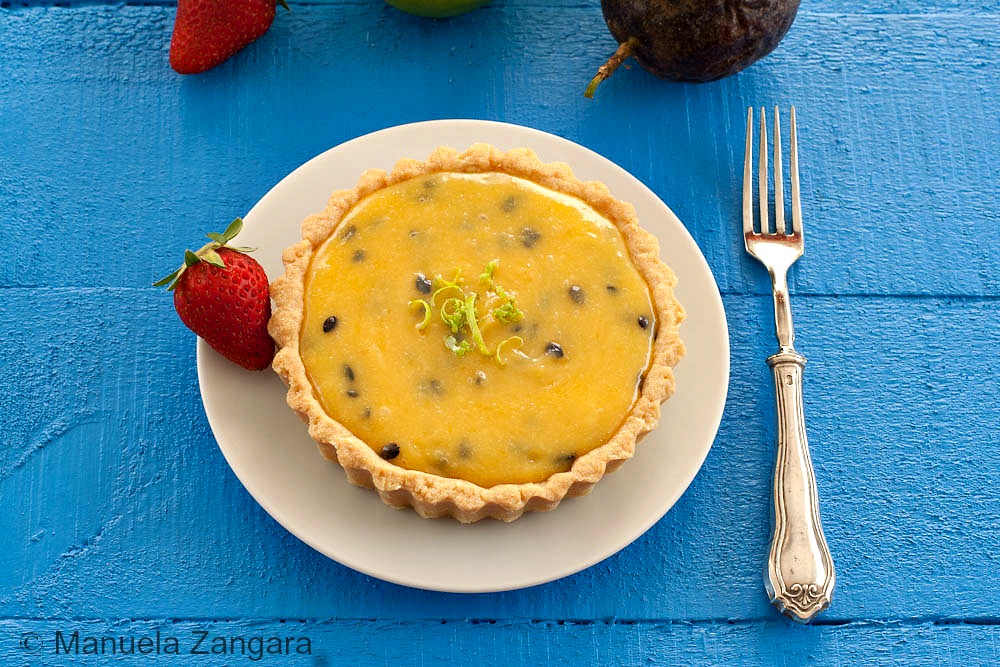 Passion fruit Curd and Lime Tarts
Easy and delicious tarts filled with Passion fruit Curd and Lime zest.
Total Time
1
hour
30
minutes
Ingredients
Dough (you will need approximately 1/3 of the below dough. You can freeze the rest for later)
250

gms

– 8.8 oz. flour

125

gms

– 4.4 oz. sugar

125

gms

– 4.4 oz. softened unsalted butter

1

egg

1

pinch

of salt
Instructions
Dough
Knead the flour together with the sugar, butter, egg and salt until obtaining a smooth dough.

Wrap it with some cling wrap and put it in the fridge for 30 minutes.

Take it out of the fridge, place it on a sheet of baking paper and roll it into a 1 cm – 0.4 inch thick sheet.

Cut 2 circles of approximately the same size as your tart tins and put the dough in the greased tins. Press it down well and make sure you have dough at the sides as well.

Prick the dough with a fork. Cover with some baking paper and fill them with beans or rice so that it will not puff up while baking.

Cook them in a pre-heated oven at 180°C – 355°F for about 30 minutes, or until golden brown and cooked through.
Filling
Fill the cooled tarts with the curd, decorate with some more lime zest and strawberries (optional) and serve.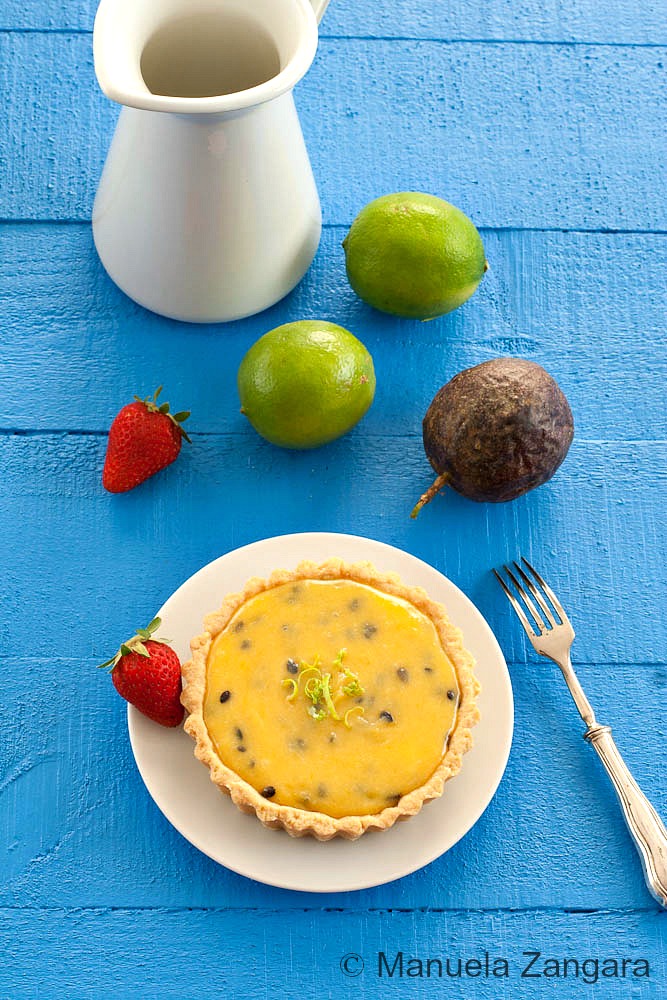 Related Posts: