This week I want to take you all to Liguria for my weekly Regional Italian dish.  Liguria is a coastal region in North-western Italy famous for its seaside, colourful villages and delicious food.  Who hasn't heard of Cinque Terre or Portofino and who hasn't eaten pesto or focaccia at least once?  Unfortunately this area has also been hit by terrible storms and floods in the past few weeks, so much so that entire villages have literally disappeared and some people have lost their lives.  This is my little tribute to this special region of Italy and to all its people.  As I have already given you the recipe for pesto and focaccia, today I thought of blogging about another traditional dish of the region: the delicious Farinata di ceci (also known as frisciolata, socca, turta or turtellassu depending on what area of Liguria you are from/in!).  It is a very simple dish, made with only chickpea flour, water, extra virgin olive oil and salt.  It is also a very ancient recipe as it is said to have been invented about 2000 years ago during Roman times!  The site from which I have adapted the recipe also tells a very nice legend about the origin of Farinata.  Apparently the dish, as we know it now, was created in 1284 when the city of Genoa defeated the city of Pisa in the battle of Meloria.  On the way back, the Genoese ships were returning to Genoa when they were hit by a tempest.  Some olive oil and chickpea flour barrels broke, mixed and got wet with salty sea water.  After the tempest, the sailors did not have anything else to eat, so they put this mixture to dry in the sun and then ate it! 🙂  Well… now it looks (and tastes) so much better, don't you think?  Farinata – It can be eaten plain or with stracchino/crescenza cheese, with pesto or rosemary!  Enjoy and remember to check out all my other posts on Regional Italian recipes!
Recipe adapted from Giallo Zafferano
Ingredients (for 1 round pan of 40 cm / 16 inches in diameter – I used 2 cookie sheets instead):
900 ml – 3 ¾ cups water
300 gms – 10.5 oz. chickpea flour
½ glass extra virgin olive oil + more to grease the baking dish
Salt and Pepper to taste
Put the chickpea flour and water in a big bowl or pot and mix well.  Make sure there are no lumps in the mixture.

Cover it with a lid and let it rest on the benchtop overnight (or at least 10 hours).  It DOES NOT have to be refrigerated.
The following day remove the foam from the top with a slotted spoon and then mix well.
Add salt (1 to 2 tsp, but it depends on how tasty the chickpea flour is, so make sure to taste your mix before adding the salt) and the extra virgin olive oil.  Mix well.

Grease the oven proof pan with some more extra virgin olive oil and pour in the chickpea mixture (it has to be approximately 1 cm thick).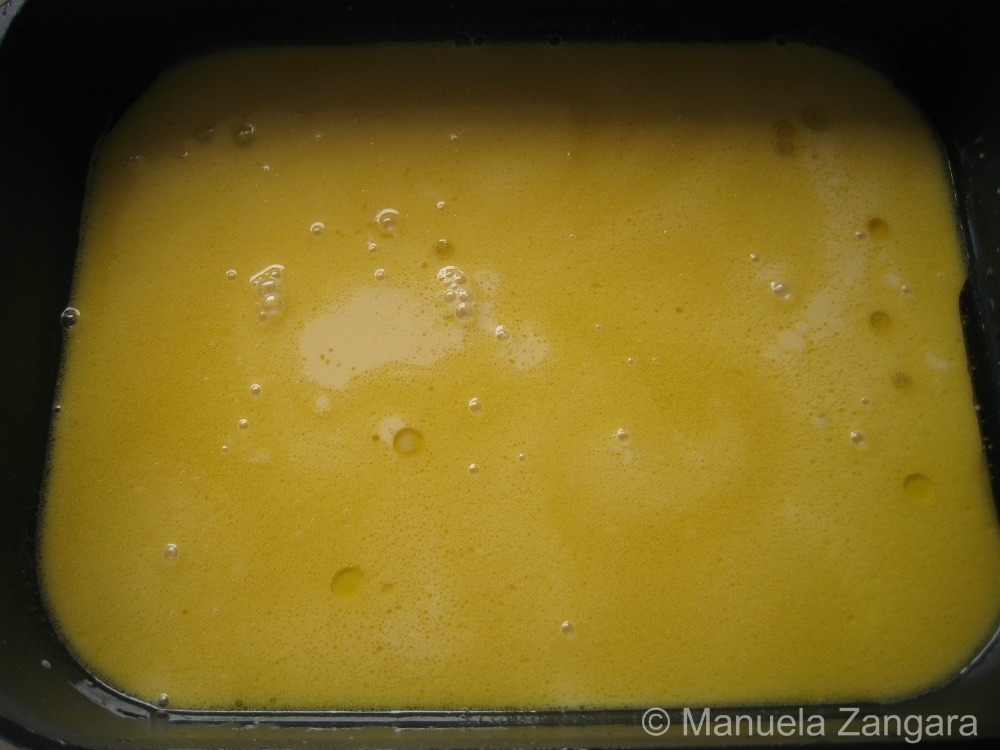 Bake in a pre heated oven at 220ºC/430ºF for 30 minutes or until golden.  Then turn your oven to grill and cook it for a few extra minutes until the farinata turns golden brown.
When ready, sprinkle it with some salt and pepper, cut it and serve it warm.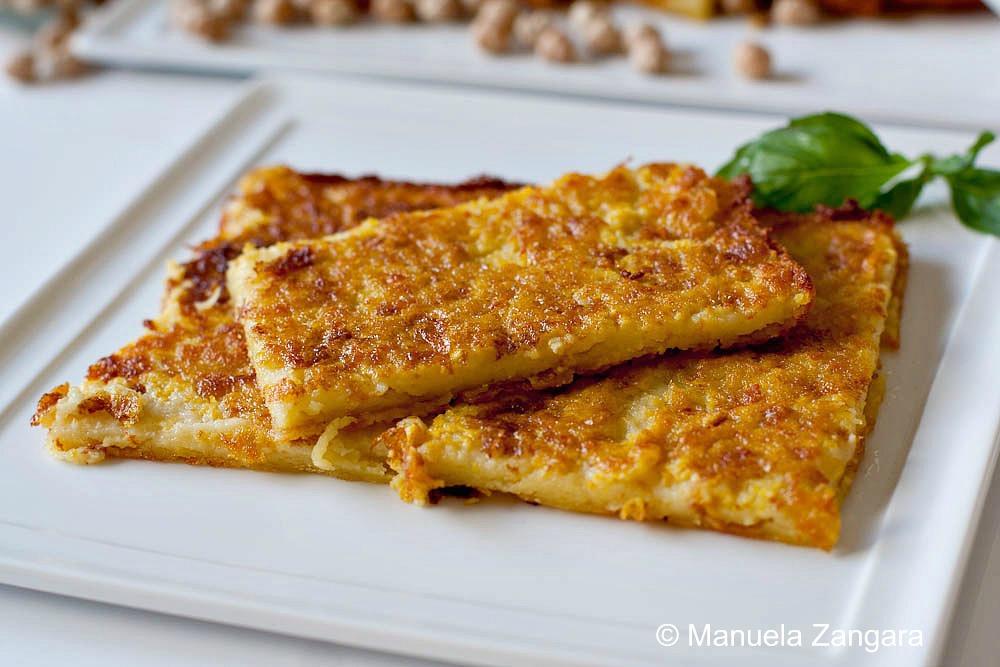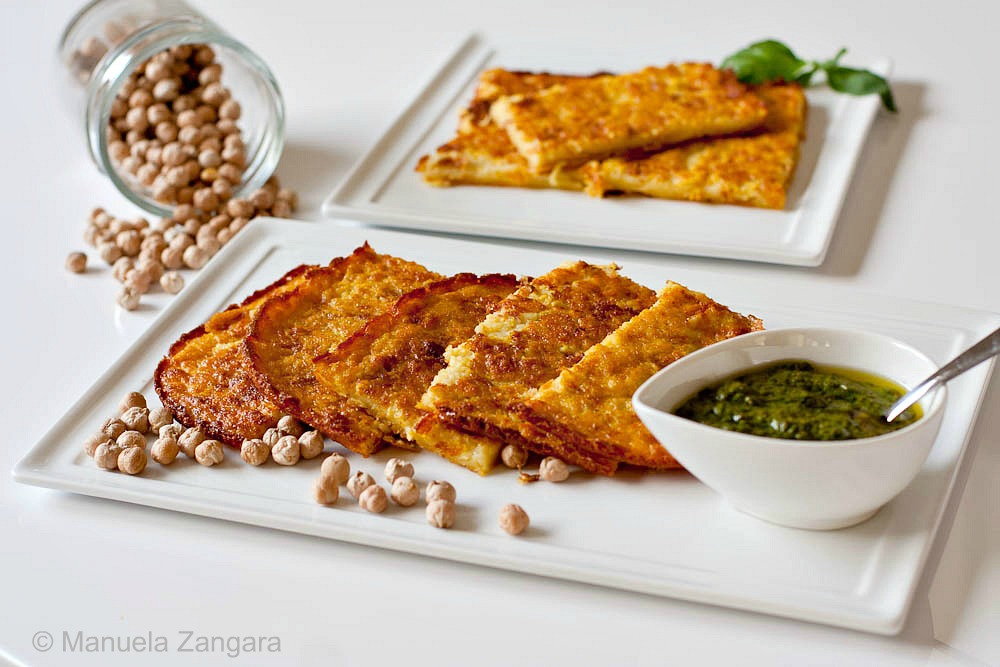 I like mine with pesto!

Related Posts: