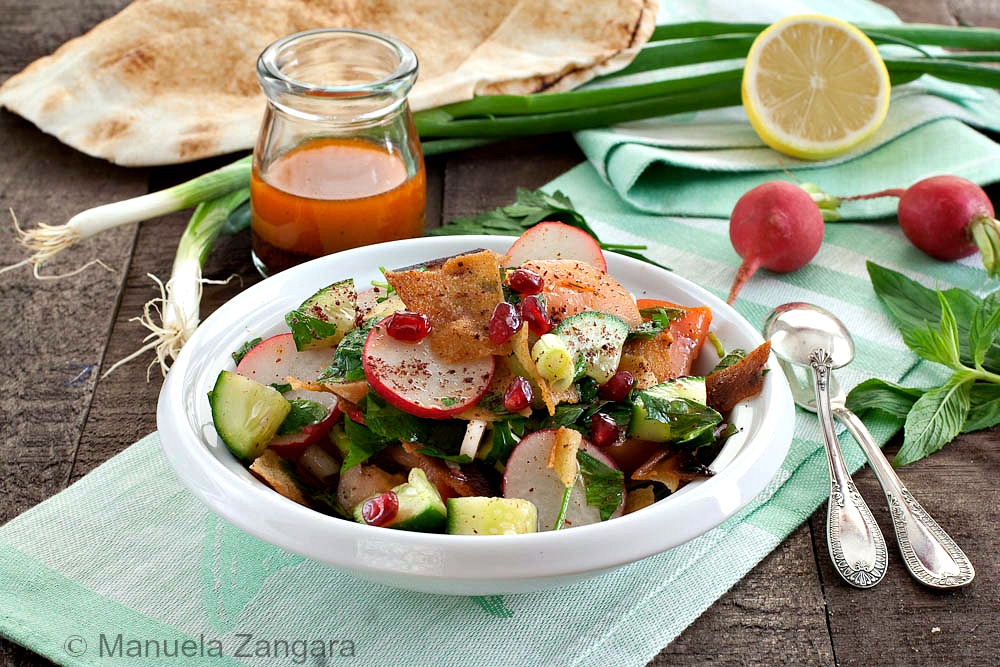 For March's Daring Cooks' Challenge, Ruth, Shelley and Sawsan asked us to totally veg out! We made salads and dressings, letting the sky be the limit as we created new flavors and combinations that reflect our own unique tastes.
Ohhhh yesss!  That's exactly what went through my mind when I read about the challenge!  It is still quite warm down here and I know it is warming up in the Northern hemisphere, so what better time than this to share salad recipes??  I love salads, but I must admit I am the only one in my house who does.  So this challenge was another great excuse to experiment and find something more exciting to serve as a side dish or a light lunch.  I am a big fan of adding crunchy bits to my salads.  It may sound weird to you, but not many people add crostini to their salads in Italy.  In fact, we never ever did in my family and we used to have salad almost everyday.  When I say salad though, I am mostly referring to either a simple tomato salad or a simple green/lettuce salad.  Nothing fancy.  To us a dressing was always a simple vinaigrette made with extra virgin olive oil, salt and vinegar (or lemon juice).  That's it… and that would be it for many Italians.  Since I started blogging though, I have added a variety of dressings to my cooking repertoire… remember my Strawberry Balsamic Dressing, or my Yoghurt and Saffron Dressing?  Well, today I want to share with you the recipe for one of my favourite salads: Fattoush.  Fattoush is a Middle Eastern salad made with fried Arab bread (khubz) and some vegetables.  I have seen and eaten many variations of Fattoush, but the one I will share with you today is the one I like the most.  I am not using peppers in it, but I have added some pomegranate arils to add a little crunch, sweetness, tartness… and a beautiful colour to the dish too.  The dressing is another star here.  It is simple, just the way I like it, and very fresh.  The addition of Sumac adds a slight sourness and the paprika is what gives the dressing its vibrant colour.  All these components together, make for the perfect salad: well balanced, crunchy, fresh and delicious.  The fried bread makes it also very satisfying and filling, so you can also have it as a light lunch.  I hope you enjoy it as much as I did!!!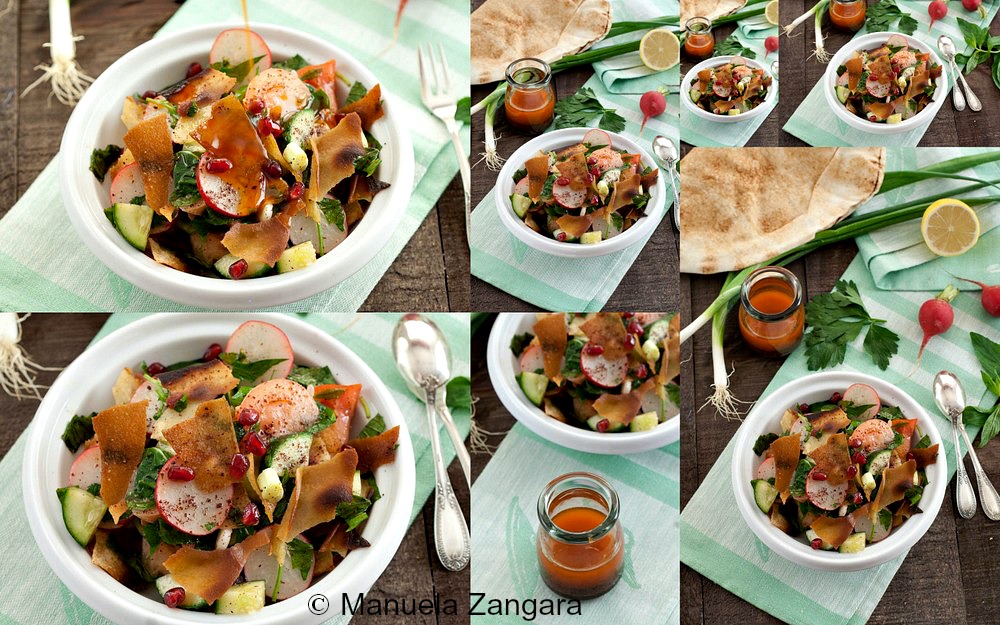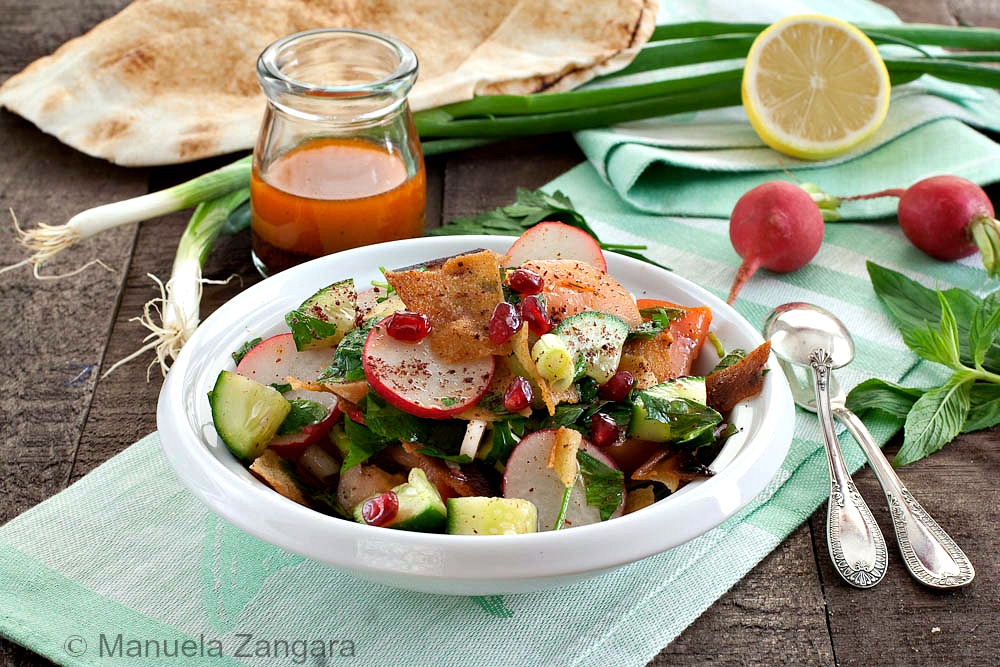 Fattoush with Sumac Dressing
The recipe for a scrumptious Middle Eastern salad: Fattoush with Sumac Dressing!
Ingredients
Sumac Dressing
1

clove

garlic

crushed

1

tsp

salt

1

tsp

sweet paprika

2

tsp

sumac

4

tbsp

extra virgin olive oil

2

tbsp

lemon juice
Fattoush Salad
2

Arab breads

khubz

Olive oil for frying

2

cucumbers

chopped

2 to

matoes

sliced

4

radishes

sliced

4

spring onions

chopped

1

cup

parsley

roughly chopped

1

cup

mint

roughly chopped

4

tbsp

pomegranate arils
Instructions
Sumac Dressing
Put all the ingredients in a jar, close it with a tight lid and shake well to combine.
Fattoush Salad
Shallow fry the khubz bread in olive oil. When golden and crisp on both sides, remove it and put it on a plate covered with kitchen paper to drain the excess oil.

When cold, break it into pieces and keep it aside.

Mix all the remaining ingredients in a big bowl.

When ready to serve, add the fried khubz pieces.
Recipe Notes
Make sure to add the bread and dressing only just before serving or the bread will go soggy.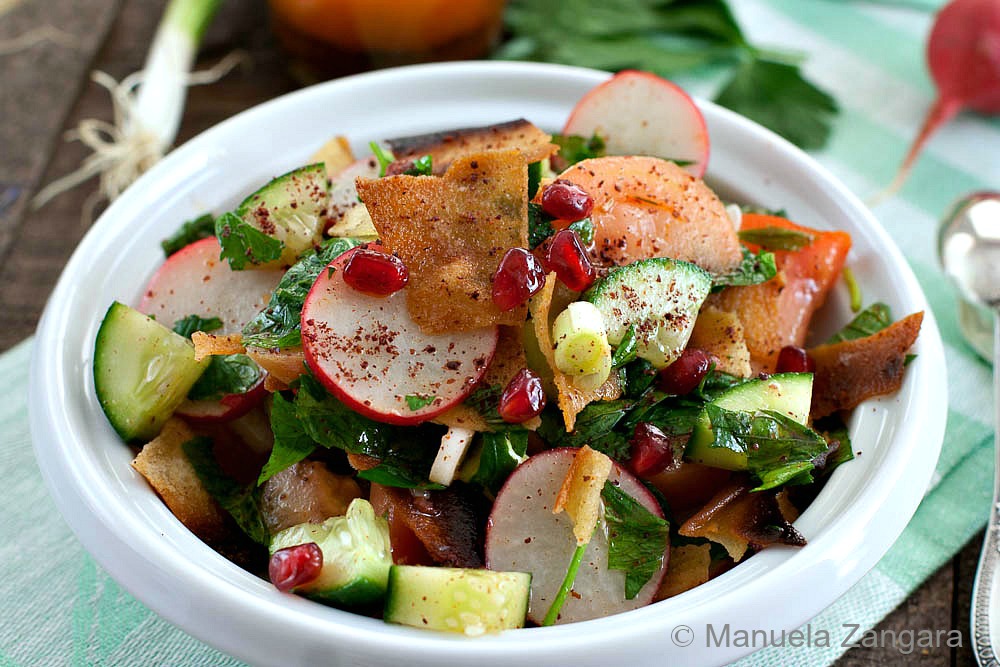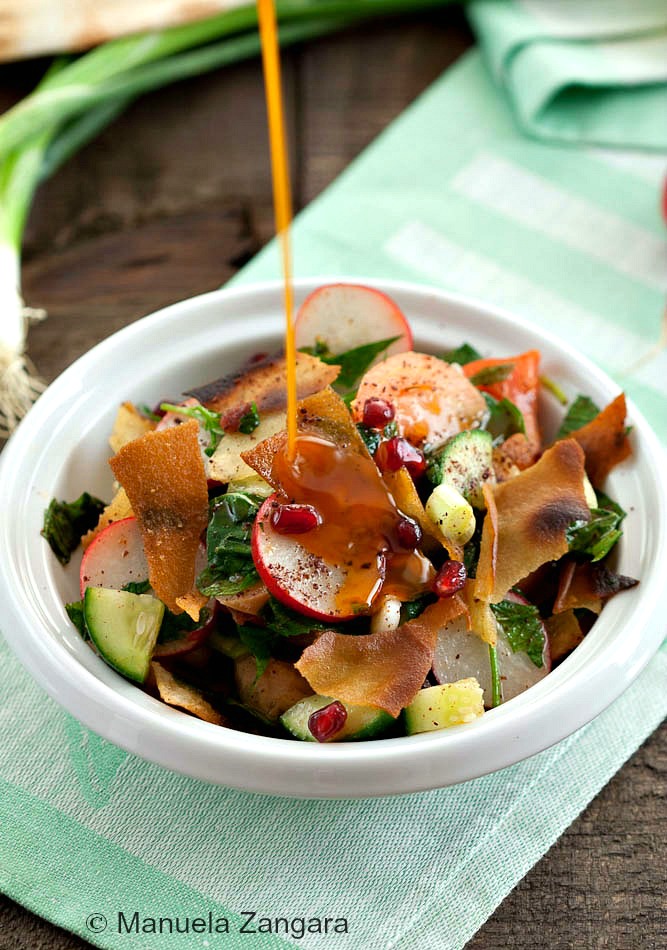 Related Posts: