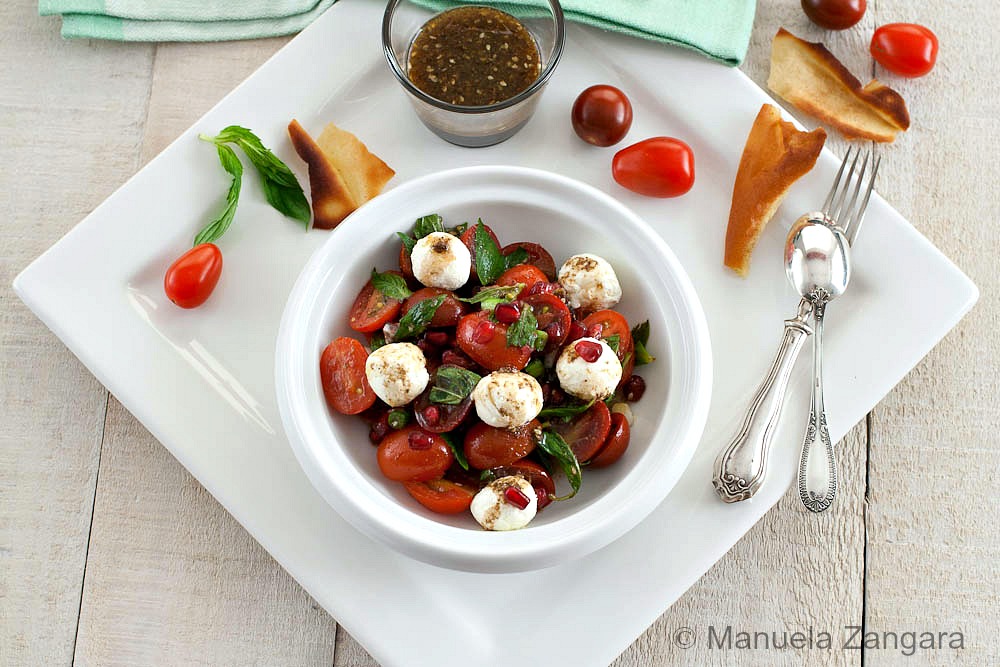 Today I want to share with you the recipe for a Middle Eastern inspired salad. I have just recently begun to explore what I call "the amazing world of salads". It is amazing indeed. Growing up, salad was always lettuce (or tomatoes) dressed with vinegar, extra virgin olive oil and salt. Nothing wrong with that, but it can get a little boring. I had some of my home-made labneh in the fridge and some mixed tomatoes… that's how this salad was born. Fresh mint gives the dish a refreshing touch, but what I like the most is the labneh, which is so creamy and when it mixes with the dressing it results in perfection! A couple of words about the dressing itself. I wanted to keep playing with the Middle Eastern theme, but it's a very simple dressing. Nonetheless there are 2 key ingredients in it: pomegranate juice and za'atar, a delicious Middle Eastern spice/herb mix. This salad is so good that it will have you craving for more, so be prepared! Enjoy!
Tomato and Labneh Salad with Pomegranate Dressing
Ingredients
Dressing
3 tbsp pomegranate juice
1 tbsp balsamic vinegar
¾ tbsp. honey
3 tbsp extra virgin olive oil
½ tsp salt
1 pinch black pepper
½ tbsp. za'atar
Salad
500 gms mixed small sized tomatoes (I used Sweet Solano and Kumato), halved
100 gms labneh, I used my own – click here for the recipe
⅓ cup fresh mint, shredded
2 spring onions, sliced
4 tbsp pomegranate arils
Instructions
Dressing
Put all the ingredients in a jar. Close the lid tight and give it a good shake. Keep aside.
Salad
Mix the tomatoes, mint, spring onion and pomegranate arils in a bowl.
Toss them with half the dressing.
Add the labneh balls and pour the remaining dressing on the top.
Serve immediately.
Pin It

Related Posts: