In my early 20's I visited Spain a few times. Oh Spain, an amazing country, one of my favourite places in the world.  I have been to the North (in the Basque country), the center (Madrid is such a beautiful city), the east (I left a piece of my heart in Barcelona and Catalunya) and the South too (Andalucia is a region not to be missed).  I have shared parts of these trips with a friend and we also did some volunteer work in a mountainous area of Catalunya called the Empordà (near Girona), on the Pyrenees.  We had a fantastic time as it was a big group of young people working and living together.  We had to do everything on our own, cooking included.  In the evenings, after a long day of work, we would sit down together to play the guitar and sing.  One of the songs we liked the most was called Desde mi Azotea (which means "from my rooftop/terrace").  It is a flamenco love song that describes a spring time evening on a rooftop in Andalucia, where "el aire trae aromas de limón y de azahar" – the air brings the aromas of lemon and azahar, the orange blossoms.  Sicily is so similar to the south of Spain, full of citrus trees and Arab influences, so I can easily relate and I love orange blossoms.  Today's recipe is a delicious tapa: fried Manchego cheese served with a Tomato and Azahar Jam… they go really well together and the jam itself is so so so good, that you will be eating it with or without Manchego!  Enjoy y buen provecho!
Fried Manchego with Tomato and Orange Blossom Jam
The recipe for a delicious Tapa: Fried Manchego with Tomato and Orange Blossom Jam!
Total Time
2
hours
40
minutes
Ingredients
Tomato and Orange Blossom Jam
500

gms

– 1.1 lb. tomatoes

(to be weighed after being peeled and seeded)

125

gms

– 2/3 cup brown sugar

125

gms

– 2/3 cup granulated sugar

Juice of ½ lemon

45

ml

– 1.5 oz. Orange Blossom water
Fried Manchego
200

gms

– 7 oz. Manchego cheese

cut into 2 cm – 3/4 inch thick triangles

3

tbsp

flour

1

egg

beaten with 1 tsp water

1 ½

cup

breadcrumbs

Salt & pepper

Vegetable oil for deep frying
Instructions
Tomato and Orange Blossom Jam
Put the tomatoes in a pot with hot water for a couple of minutes. Then peel and seed them.

Add the brown sugar and granulated sugar, mix and let the mixture macerate for at least 30 minutes (or overnight).

Then add the lemon juice and cook, stirring, on a medium fire for 10 minutes. Then increase the flame and boil for 5 minutes. Then decrease the flame to low and cook for about 20 minutes or until the tomato jam thickens (or it reaches 105°C - 220°F). Do not make it too dry or it will become hard once it cools down. Add the Orange Blossom water and mix well.

Put the jam into sterilised jars.
Fried Manchego
Season the flour with salt and pepper to taste.

Coat the Manchego triangles with the seasoned flour, dip in the beaten egg and coat well with the breadcrumbs.

Keep in the fridge until you are ready to serve.

Deep fry them in hot vegetable oil at a temperature of 180-190°C – 355-375°F for 1 or 2 minutes, then drain and keep then on a plate covered with kitchen paper to absorb the excess oil.

Serve hot with the tomato jam on the side.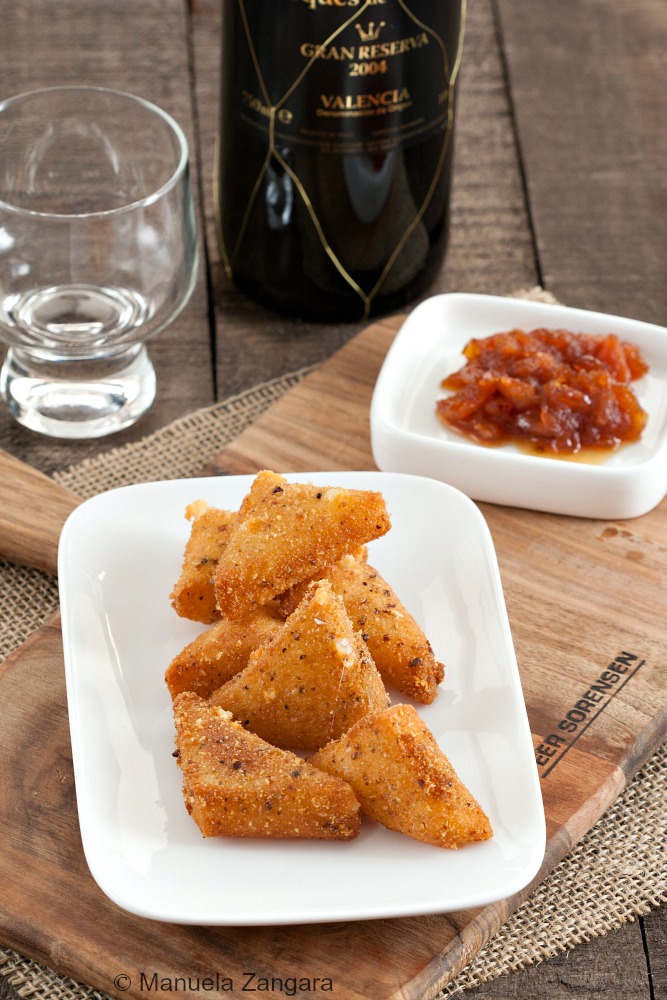 Related Posts: