I must admit I had never eaten honey chicken before moving to Australia.  I do not recall seeing it on the menu of any Chinese restaurants in Milano and I am not even sure whether it is an original Chinese dish.  All I know is that I was hooked to it from the first time I tried it.  My husband had ordered it and I was a bit perplexed when I saw it at first… having chicken with honey sounded a bit too exotic for me.  But in my defence  I must admit that I always try new things, no matter how weird they sound.  And I am glad I did, as l really liked it!  The chicken fritters are crunchy and the honey sauce is slightly sweet, but mild and sticky.  Yum!!!  Serve with some steamed rice or, even better, with some fried rice!  Enjoy!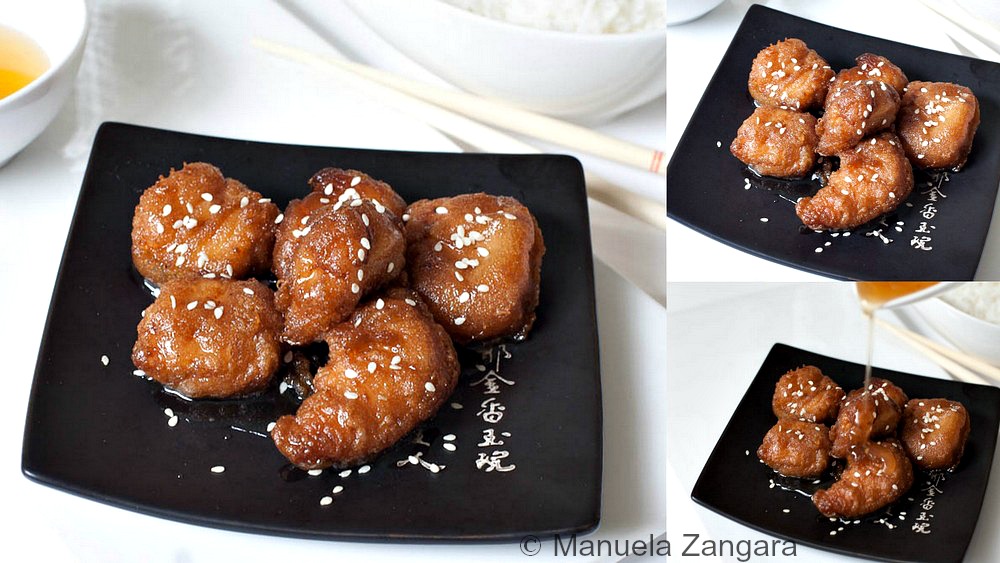 Honey Chicken
How to make your own Chinese take out: Honey Chicken!
Ingredients
Chicken
500

gms

– 1 lb chicken tenderloins

cut into small bite-size cubes
Marinade
1

pinch

salt

1

tbsp

soy sauce
Batter
¾

cup

water

115

gms

– 4 oz. all-purpose flour

55

gms

– 2 oz. corn starch

1

tsp

baking soda

1

egg

2

teaspoon

vegetable oil plus more for deep frying

1

pinch

of salt
Honey sauce
Mild honey

2 parts

Water

1 part

1

pinch

salt and

¼ to ½

tsp

cornstarch

depending on the thickness of the honey

Sesame seeds
Instructions
Put the chicken in a bowl and mix it with the soy sauce and salt. Keep it in the fridge to marinate for 30 minutes.

Mix the ingredients for the batter together until smooth and dip the chicken pieces into it.

Deep fry them in hot vegetable oil until golden brown and cooked through. You will need to regulate the oil temperature so that the chicken cooks through without burning: do not put the fire too high. Transfer them onto a plate lined with paper towels to drain the excess oil. Keep warm.

Mix the honey and water together in a saucepan. Add the cornstarch and salt, mix well and heat on the fire until the sauce thickens.

Dip each chicken piece in the sauce, decorate with some sesame seeds and serve hot with some plain steamed long grain rice or

fried rice

and some extra honey sauce on the top.

Related Posts: