Whenever I think of marrons glacés, I think of Christmas. They are not Italian, as you would have guessed by the name, but these delicious little chestnut sweets are a very common treat at Christmas time in Italy. I am big fan of chestnuts in general and I really enjoy chestnut sweets of all kind, but coming across marrons glacés here in Sydney is not that easy and even when you do find them, they are really expensive. Needless to say, I decided to try and make my own. Making marrons glacés is actually quite easy, the only problem is to find the "right" chestnuts. They need to be big and of good quality. I am sorry to say, I haven't found the perfect chestnuts yet… here, they are not very big and are very brittle, so they tend to break when making marrons glacés. I also tried to make them with pre-cooked chestnuts, but they too were quite small. Anyhow, the taste was perfect and they were gone in… minutes! Serve them for Christmas or use them to make Mont Blanc or my Easy Meringue Pie.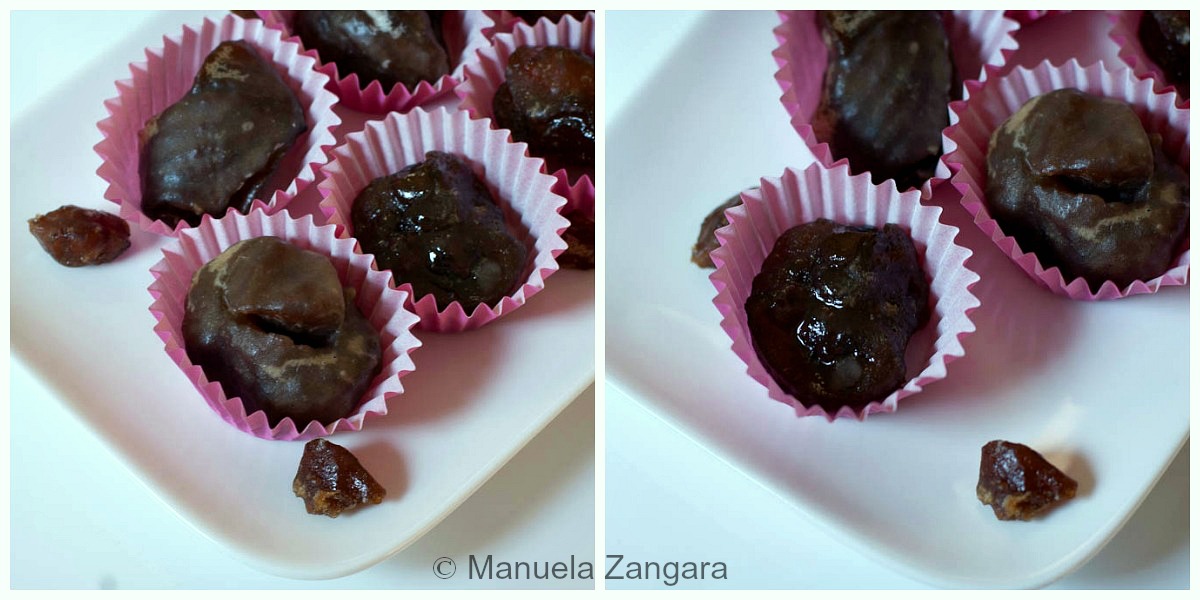 Marrons Glacés
How to make marrons glacés at home!
Ingredients
1

kg

– 2.2 lbs. big peeled chestnuts

2

lt – 8 cups water

2

kg

– 4.4 lbs. brown sugar

1

tsp

vanilla extract
Instructions
If you buy raw chestnuts you will need to peel them. To do this, lay the chestnuts on their flatter side and cut or score halfway around the outer shell until you get to the flesh of the nut. Cook them in boiling water for 10 minutes. Put the fire off and, as soon as you can handle them without getting burnt, start peeling the chestnuts one by one (do this while still hot or they will be hard to peel). Leave the remaining chestnuts in their cooking liquid while peeling them. You need to remove both the outer and the inner skins.

When you are ready to make your marrons glacés, I suggest you put the peeled chestnuts in a little net bag (I used a lemon bag, washed and dried) as this will prevent them from breaking into small pieces during the process and it will also make it easier for you to take the chestnuts out of the syrup. Keep them aside.

Put the brown sugar, water and vanilla extract in a pot and bring to a boil. Let the syrup boil for 4-5 minutes and then add the chestnuts. Let them boil for 1 minute, then put the fire off. Weigh the chestnuts down and cover the pot. Let them steep in the syrup for 24 hours.

The following day, take the chestnuts out of the syrup and keep them aside. Re heat the syrup and bring it to a boil. Simmer for 4-5 minutes, then add back the chestnuts and let them simmer for 3 minutes. Put the fire off, weigh the chestnuts down and cover the pot. Let them steep in the syrup for 24 hours.

The next day, repeat the same procedure and keep doing so until the chestnuts look glazed. Mine took 4 days to turn into marrons glacés.

When ready, drain the marrons glacés and put them on a wire rack.

Mix some icing sugar with water and coat the marrons with it. Let them dry on the wire rack for 24 hours before eating them or storing them in an airtight container.
Recipe Notes
I like the look of the marrons glacés without the icing sugar glaze as they look more "shiny". However, if you are not going to eat them straight away I suggest you coat them with the glaze as that will help keep them softer.
They keep fresh only for a few days, so I suggest not to make too many… though mine always finish pretty fast!

Related Posts: