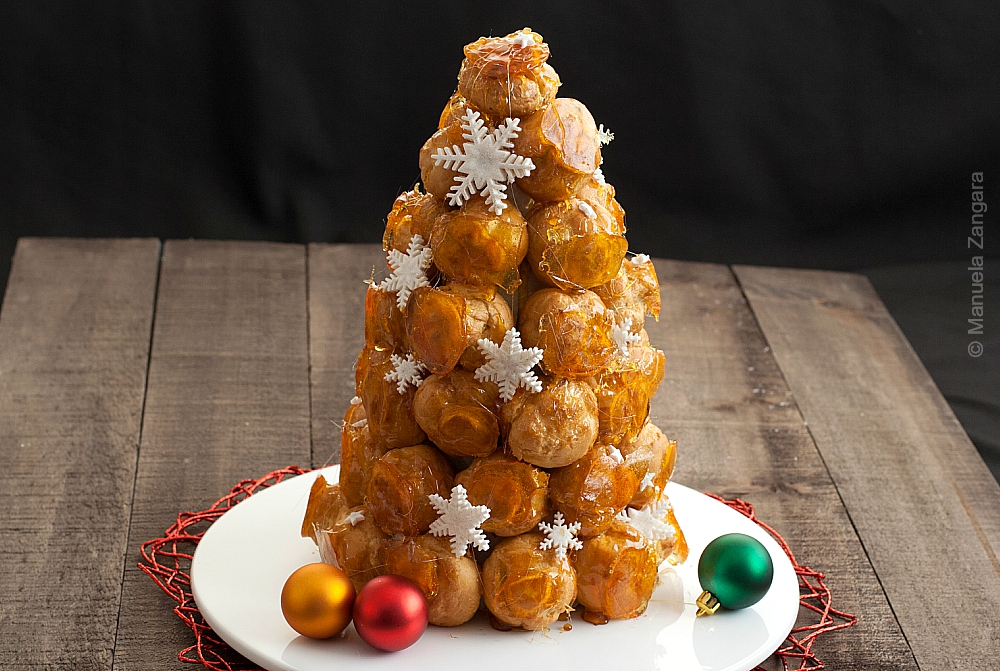 I love choux pastries. I could eat 10 all by myself if left unattended! So, this Christmas I thought of trying my hands at making the in-famous Croquembouche, a traditional French dessert made with cream puffs filled with pastry cream and then dipped in caramel, and piled into a cone. For some reason, I had always thought that it would be really hard to make… well, guess what? It's not!
You just need to make choux pastries, pastry cream, and caramel. As I am lactose intolerant, I made the pastry cream using almond milk and it still came out amazing! You can also use regular milk if you prefer (see recipe and notes).
I completely fell in love with this dessert. I loved the contrast between the soft choux filled with silky cream and the crunchy caramel! It is an explosion of flavours and textures in your mouth! In fact, the name Croquembouche comes from the French phrase "croque en bouche", meaning "[something that] crunches in the mouth".
Make this Croquembouche for New Year's Eve, it will be the show stopper at your party, trust me!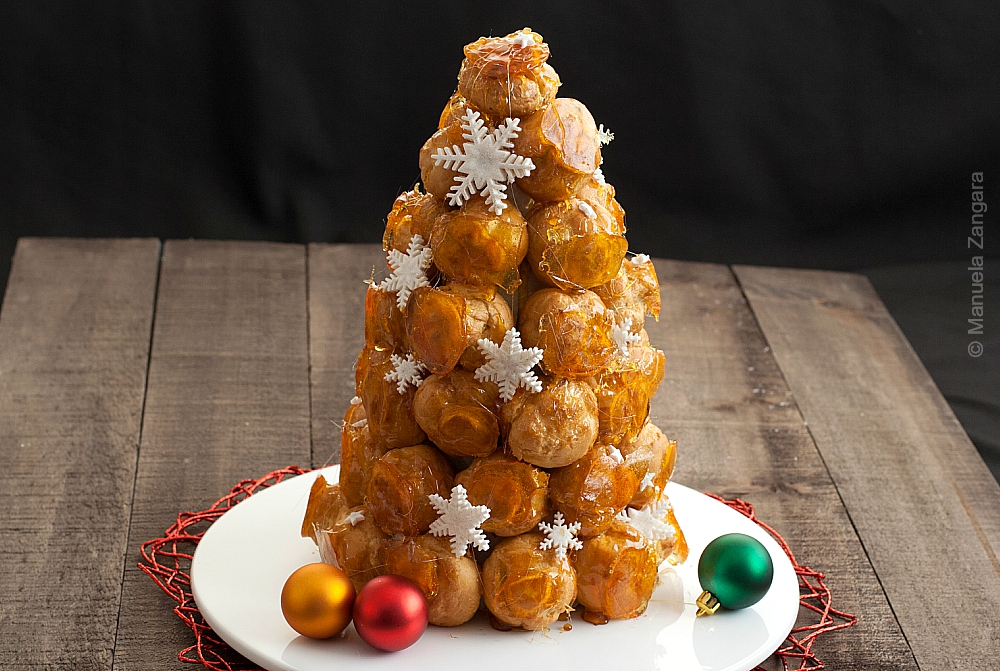 Croquembouche
Croquembouche – a traditional French dessert made with cream puffs filled with pastry cream and then dipped in caramel and piled into a cone.
Total Time
2
hours
35
minutes
Ingredients
Choux
250

gms

– 1 cup flour

500

ml

– 2 cups water

250

gms

– 2 sticks butter

6

gms

– 1 ¼ tsp salt

8

eggs
Crème Pâtissière
1

lt. – 4 cups milk

100

gms

– ¾ cup + 2 tbsp flour

sifted

12

egg yolks

300

gms

– 1 ½ cups granulated sugar

2

tsp

vanilla extract
Caramel
400

gms

– 2 cups granulated sugar

6

or 7 tbsp water
Instructions
Choux
Bring the water, salt, and butter to a boil.  Stir in the flour and cook for a couple of minutes, while stirring.

Transfer the mixture into the bowl of a mixer with a paddle attachment.  Put the mixer on and add the eggs one by one (make sure the egg is completely absorbed by the batter before adding the next one).

Put the batter into a piping bag and pipe it in circles onto a tray lined with baking paper.

Bake in a preheated oven at 210°C – 410°F for 25 minutes. Keep aside to cool down completely.
Crème Pâtissière
Using an electric mixer, whip the egg yolks with the sugar until white and fluffy.

Add the vanilla extract to the milk.

Slowly add the milk and keep whipping.  Then add the sifted flour and whip well.  Transfer the mixture into a pot, put it on the fire and bring it to a boil.

Simmer for a few minutes, stirring continuously with a whisk, until the cream thickens.

Pour it onto a plate and cover with cling wrap. Make sure the cling wrap touches the pastry cream to prevent a film from forming. Let it cool down completely before using it.

When ready to use it, quickly whip it up to make it creamy again.
Filling the Choux
Make holes on the flat side of the choux using the tip of a pastry bag.

Put the pastry cream in a pastry bag and use it to fill up all the choux.

Keep aside.

Caramel

Put the sugar and cold water in a heavy pan.

Stir over low heat until the sugar dissolves.  Now increase the heat and bring the syrup to a boil.  Lower the heat slightly and swirl the pan as the syrup caramelises so it will become even in colour (do not stir).
Piling the Choux
In the meantime, put baking paper on your working surface.

When the caramel is a deep amber colour (make sure not to burn it!), dip each choux into the caramel (make sure to dip the bumpy side, the one without the hole) and place it onto the baking paper, caramel side down. Do this for all the choux.

When set, dip the sides of the choux in caramel to stick them to one another and make the choux cone. Mine had a base of 11 choux pastries. You can make a cone with cardboard and line it with baking paper to make it easier to assemble the Croquembouche.

I used some white fondant to make decorations.
Recipe Notes
This recipe makes about 40 choux pastries, enough for 8-10 people.
To make the Crème Pâtissière you can use a vanilla pod, but if you do, you will need to heat the milk with it and let it infuse for 15 minutes before using the vanilla flavoured milk.
If you are gluten intolerant, you can substitute the flour with rice flour.
For a dairy-free Crème Pâtissière, use almond milk or your favourite non-dairy milk. You may have to add 1 extra tablespoon of flour if using almond milk to ensure your cream is thick enough.
I suggest making it the same day you want to serve it. I made mine in the morning and early afternoon, to serve at dinner. You could make the pastry cream one day ahead and keep it in the fridge if needed.

Related Posts: