I know I know… I am sure you are thinking that I must have gone mad.  Yes, Parmigiano Reggiano is a cheese and Yes again, Panna Cotta is (usually) a dessert.  But hear me out.  What is panna cotta made of?  Basically, cream.  To which we add flavours, milk (sometimes), gelatine and sugar.  If you take the sugar out of the equation, you can easily make a savoury panna cotta.  Same silky consistency, same shine… different taste.  With that in mind, you could use various cheeses to make one and experiment, but today, I will show you how to make a classic savoury panna cotta with the King of Italian cheeses: Parmigiano Reggiano.  They make a fantastic appetiser or buffet food, very classy, especially if served in shot glasses (it is quite rich, so do not make huge portions… you can always go for a second serving!)!  I like to top these with some balsamic glaze and Parmigiano Reggiano hearts as decorations.  Read on, it is all in today's post!  Enjoy!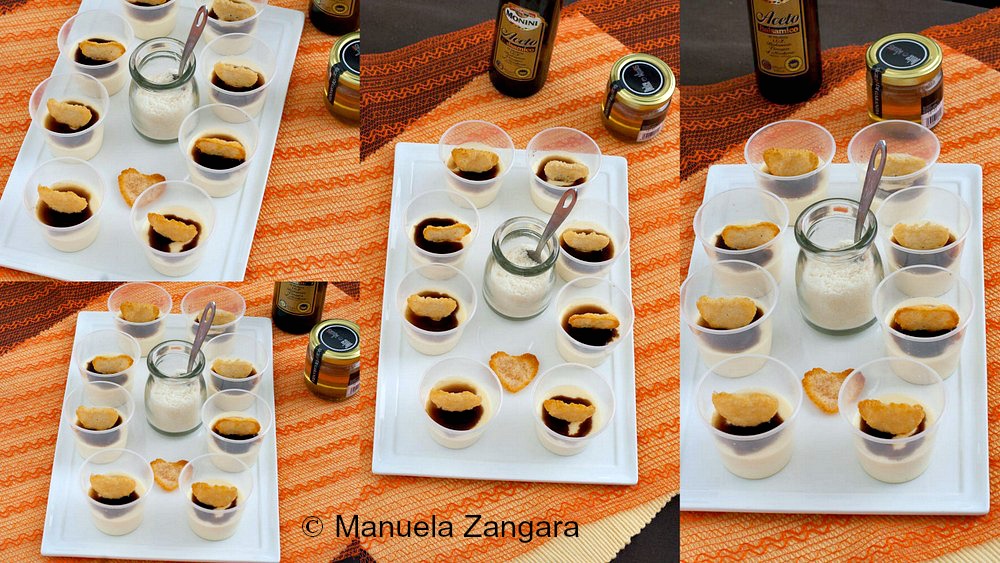 Parmigiano Reggiano Panna Cotta
A savoury panna cotta? YES and this Parmigiano Reggiano Panna Cotta is amazingly delicious!
Prep Time
4
hours
10
minutes
Total Time
4
hours
15
minutes
Ingredients
Parmigiano Reggiano Panna Cotta
300

ml

– 10 oz. heavy cream

300

ml

– 10 oz. whole milk

200

gms

– 7 oz. Parmigiano Reggiano

thinly grated

5

sheets

10 gms – oz. of gelatine or 3 tsp of gelatine powder
Balsamic Glaze
50

ml

– 1.75 oz. balsamic vinegar

30

ml

– 1 oz. honey
Parmigiano Hearts
100

gms

– 3.5 oz. Parmigiano Reggiano

thinly grated
Instructions
Parmigiano Reggiano Panna Cotta
In the meantime, put the milk, cream and grated Parmigiano Reggiano in a pot and heat it on the fire, stirring gently until the cheese melts.

Now squeeze the excess water from the gelatine sheets and add them to the hot cream and Parmigiano Reggiano mixture and stir well to dissolve.
Balsamic Glaze
When the panna cotta has set, prepare the balsamic glaze.

Combine the balsamic vinegar and honey in a sauce pan and put it on the fire.
Parmigiano Hearts
You can make any shape you like as long as you have a mould. I used a heart shaped mini muffin tray to make hearts.

Put enough grated Parmigiano Reggiano to completely cover the base of your mould and bake for a few minutes, until the cheese has completely melted and it starts bubbling. Keep an eye on it and make sure it does not become golden brown or it will taste bitter! When just golden, remove from the oven and let it cool down completely before unmoulding. When cool, it will harden.
To Assemble
Top the panna cotta with some balsamic glaze and a Parmigiano heart and serve cool or at room temperature.

Related Posts: