Today I want to share with you a recipe that may sound unusual, but it is one of the best appetisers I have eaten in a looong time: gelato made with Parmigiano Reggiano!  It is very easy to make, yet it is very fancy… it is one of those dishes that I love serving at a dinner party, you know, one of those dishes with the "wow factor"!  I know it sounds a bit crazy, but it tastes like a cold mousse, just with an ice cream consistency.  It is delicious on its own, but if you want to make it perfect, serve it with some thinly sliced pear, Balsamic vinegar and pain brioche.  It is meant to be an appetiser, but I think it also makes a very interesting "end-of-meal/dessert" dish!  It is up to you!  Enjoy!
Recipe adapted from Mangiare Bene
Ingredients:
300 gms – 10.5 oz. Parmigiano Reggiano, finely grated
500 ml – 2 cups heavy cream
1 pinch pepper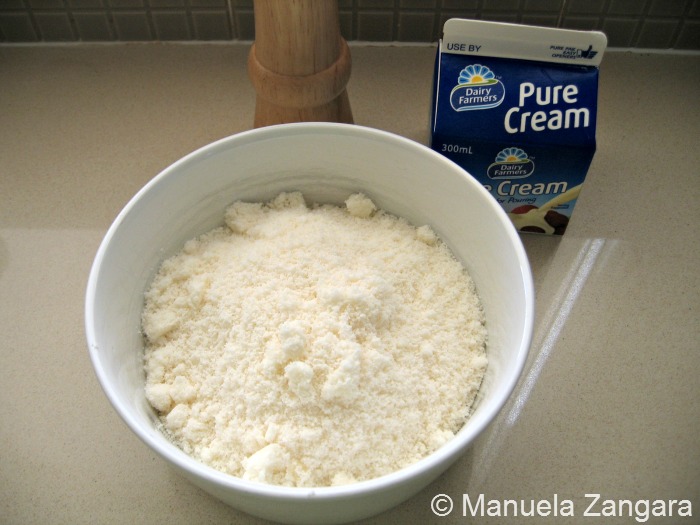 Put the cream, pepper and finely grated Parmigiano Reggiano in a pot.  Mix well and cook in a double boiler while whisking it with an electric mixer.  It is ready when the cheese is completely melted and the mixture is smooth and fluffy.  Chill it for 1 or 2 hours.
Churn in your ice cream maker for 10 to 15 minutes (it is going to freeze much faster than a normal ice cream).  If you do not have an ice cream maker, put it in an air tight container and freeze it.  Make sure to mix it regularly to break the ice crystals.
Serve immediately with pears, Balsamic vinegar and pain brioche.
Enjoy!!!
Pin It

Related Posts: