Today I am going to show you how to make a very easy pasta dish that my family calls Pasta con Aglietto e Prezzemolino – aka pasta with garlic and parsley. This is part of my little series on easy, quick and affordable pasta recipes like Pasta with Peas, Pasta with Braised Onions and Pasta with Fried Zucchini. I strongly believe that you do not need to spend hours in the kitchen or hundreds of dollars on fancy ingredients to prepare a tasty meal for your family. That's the secret behind authentic Italian home cooking!  I do not often use bouillons, but in this case I make an exception as the bouillon adds that extra kick and flavour that is required for the final dish to taste scrumptious. Serve it with some finely grated Parmigiano Reggiano, which will make it creamy and add a delicious touch to it and enjoy. Buon appetito!
Pasta con Aglietto e Prezzemolino
Instructions
Sauté the chopped garlic with the extra virgin olive oil for 1 minute. Make sure to do that on a low flame, as you do not want the garlic to burn.
Add the water and beef bouillon, stir to melt it.
Put the fire off and add the chopped parsley.
Cook the pasta following the steps on How to cook pasta "al dente" in the Techniques page of this site. Drain it and top it with the Garlic and Parsley sauce. Mix well.
Serve immediately with some finely grated Parmigiano Reggiano on the top (optional).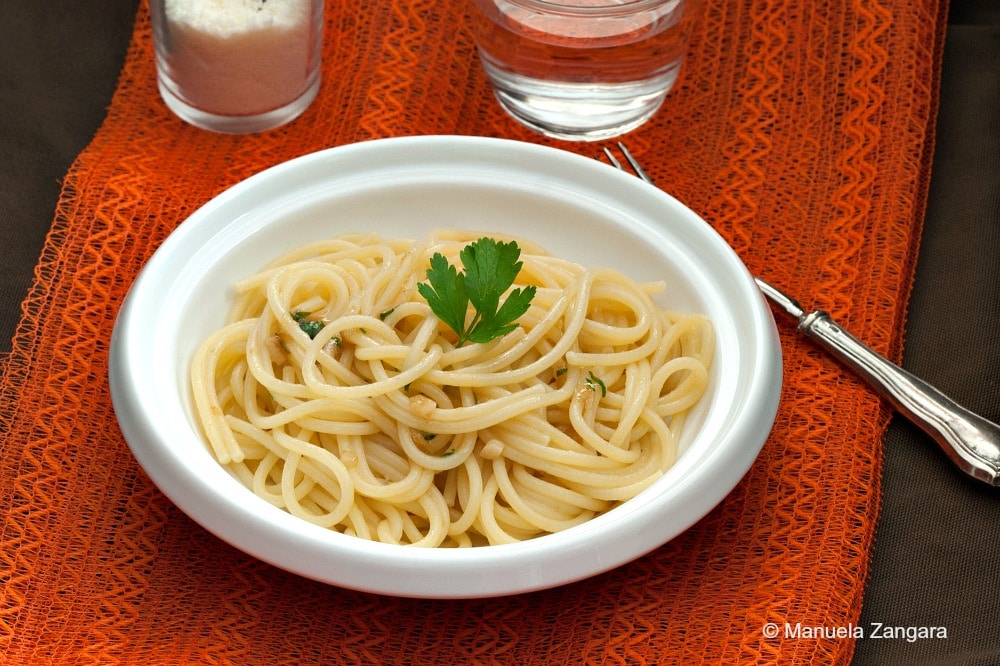 Pin It

Related Posts: