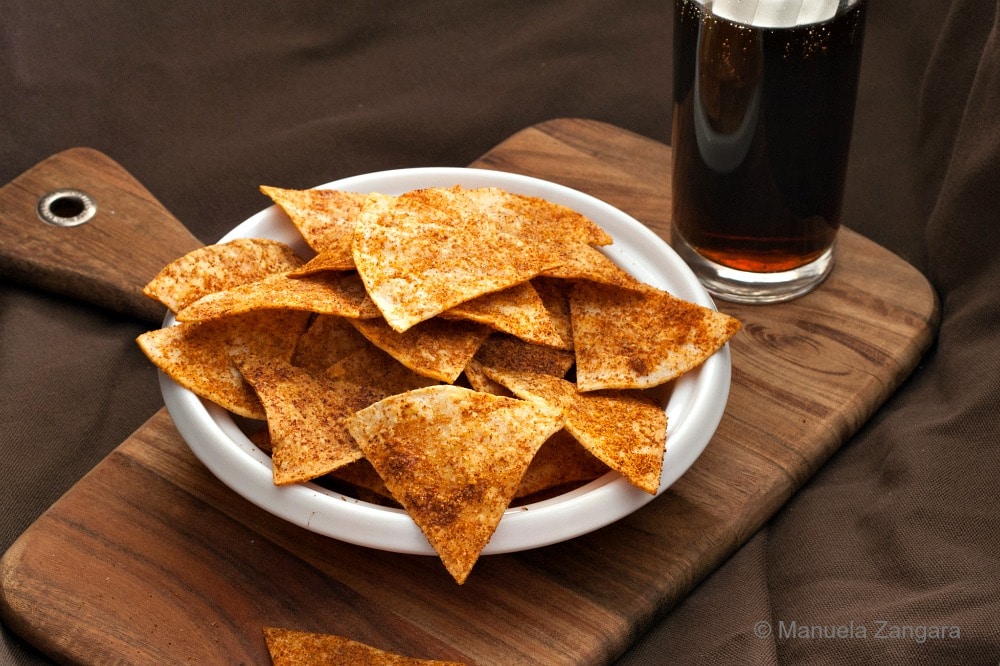 Today's recipe is addictive. I could eat a whole bowl of these without even realising it, so be advised! Ladies and gentlemen, I give to you Home-made Doritos! Yep, you read that right! I have a confession to make… whenever I am at a party and I see a bowl of these next to a bowl of chips, my hand goes straight for the corn chips! I don't know why, but I find them irresistible! I like both the flavour and the consistency, which is thicker than regular potato chips. These corn tortilla chips are cheesy and spicy at the same time, as they are flavoured with Parmigiano Reggiano, smoked paprika and chili powder! They are golden brown, crisp and crunchy! And the best part? They are baked, so they are not too bad for you, right? They are also very easy to make and they are a great way to use up your left-over tortillas from last week's Mexican dinner! I know you have some in your fridge! So, get baking and enjoy!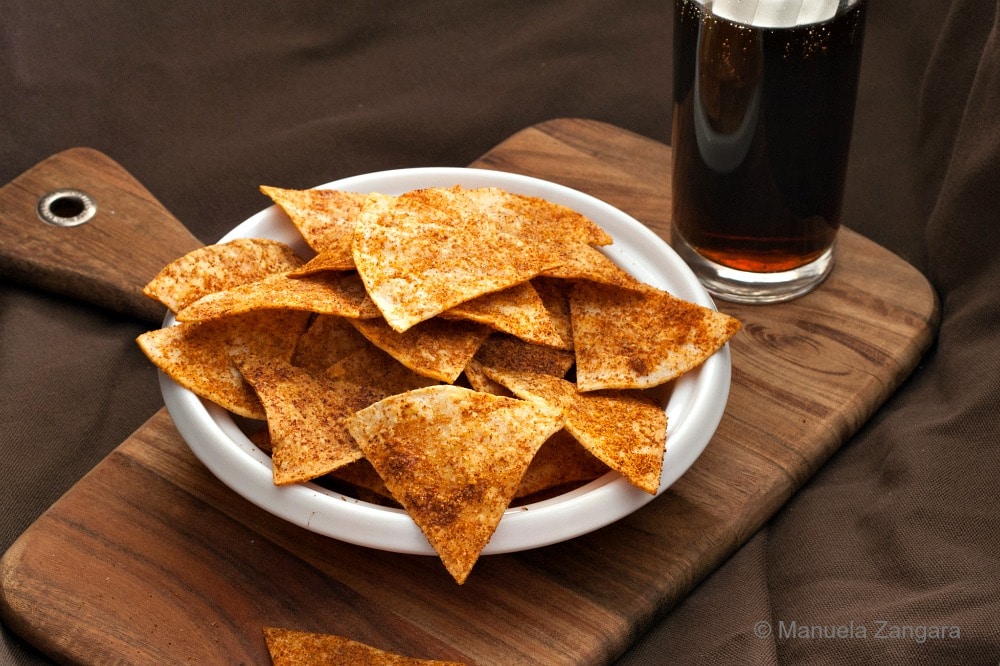 Home-made Doritos
Home-made Doritos - perfect for snack time! You will love the familiar cheesy flavor, crunch, and ingredients you can recognise!
Ingredients
6

x 15 cm

6-inch corn tortillas

1

tbsp

vegetable oil

3

tbsp 

Parmigiano Reggiano

thinly grated

½ to 1½

tsp

chili powder

depending on how spicy you like your Doritos

1½

tsp

smoked paprika

½

tsp

salt
Instructions
Brush the tortillas with the oil on both sides.

Stack them up and cut them 3 ways making them into 6 wedges.

In a bowl, mix together the Parmigiano Reggiano, chili powder, smoked paprika and salt.

Toss the tortilla wedges in the spice mix and lay them in a single layer on a baking tray lined with baking paper.

Bake in a pre-heated oven at 180°C – 350°F for 15-20 minutes or until crisp.

Serve when cooled and enjoy immediately.
Recipe Notes
You can store the cold Doritos in an air-tight container for a day, but not longer as they will not stay crisp for long.

Related Posts: