Peach jam has always been a favourite of mine. If you have read my Apricot Jam Crostata post though, you may remember that I was complaining about the fact that I can't find any at a normal supermarket. I have no idea why that is.
Growing up in Italy Peach Jam was, together with Strawberry Jam and Apricot Jam, a staple. How can people not like Peach Jam?? It tastes AMAZING!
So, I decided to make a batch at home. After all, it is not very hard to make. It was absolutely perfect!
Try it and you will be rewarded with a delicious natural jam perfect to have on toast for breakfast or to use as filling/topping for all sorts of cakes and pastries! Enjoy and let me know what you think in the comment section below!
Peach Jam
How to make a delicious Peach Jam at home!
Ingredients
1

kg

– 2.2 lbs. peaches

peeled and cored

400

gms

– 14 oz. sugar

Juice of 1 lemon
Instructions
Chop the the cleaned peaches and put them in a big pot.

Add the sugar and lemon juice and mix well.

Put the pot on the fire and cook over moderate to high heat, stirring often so that the jam does not stick to the bottom of the pan, for about 20 to 30 minutes. Remove the foam with a slotted spoon for a clearer jam.

While the jam is cooking, put a small plate in the freezer.

After 20 minutes, when the jam appears like it is beginning to gel, put the fire off.

Put a small amount of jam on the frozen plate and return it to the freezer for a few minutes. If it wrinkles when you nudge it, it's ready. If not, cook it some more and test it again until it's ready.

Store the jam in sterilised jars.
Don't forget to pin this post!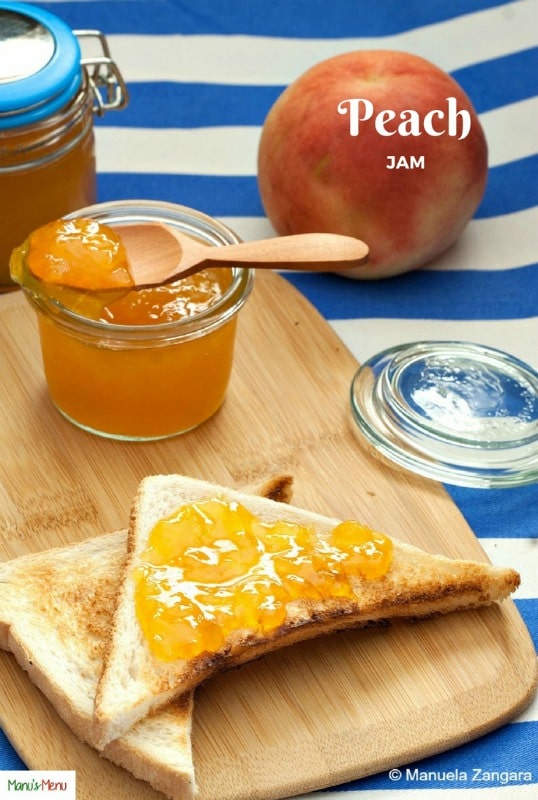 Related Posts: