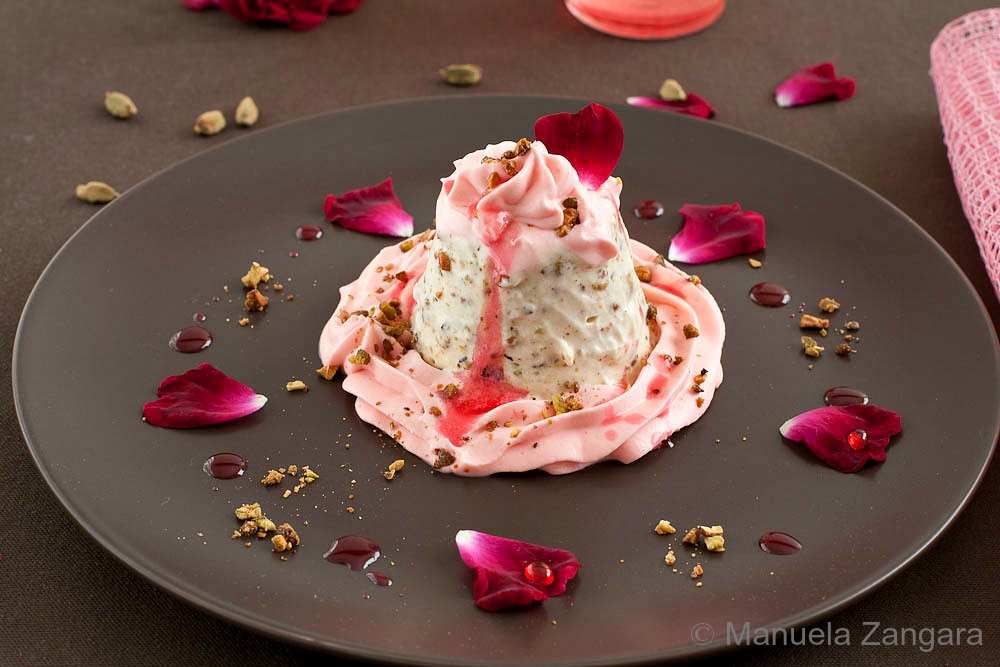 Today I want to share with you the recipe for a special dessert.  A few weeks ago, my friend Abeer from Cake Whiz asked me if I wanted to be a part of a special project she was working on for Christmas.  She asked a few of her favourite bloggers to come up with a Christmas themed dessert and post about it on December 20th.  Where's the catch, you may ask?  Well, she asked us to take a classic and give it a new spin!  You all know I am Italian and I have an Indian husband… so I thought of "Indianising" a typical Italian Christmas dessert: semifreddo.  I have already shared with you the recipe of the classic Semifreddo al torroncino and the recipe of its Sicilian cousin: Parfait the mandorle (I actually have 2 versions of this: here and here).  What's a "semifreddo"?  It is something between an ice cream and a mousse… it is a frozen dessert (freddo means "cold") that remains soft (that's why it is only a "semi" freddo).  I personally adore it and I think it is one of the best desserts you can find on an Italian Christmas table (and believe me, you can find MANY!).  So… how did I "Indianise" it??  I swapped the almonds/nougat/hazelnuts for pistachios, added a touch of cardamom and served it with some rose whipped cream, made by simply whipping the cream up with some Rooh Afza (the Indian rose syrup).  The result was so good that I have been asked to make this again and it will be our dessert for Christmas this year!  Do you think it could make an appearance on your Christmas table too?  Let me know and don't forget to check out all the other Christmas themed desserts with a twist on Cake Whiz!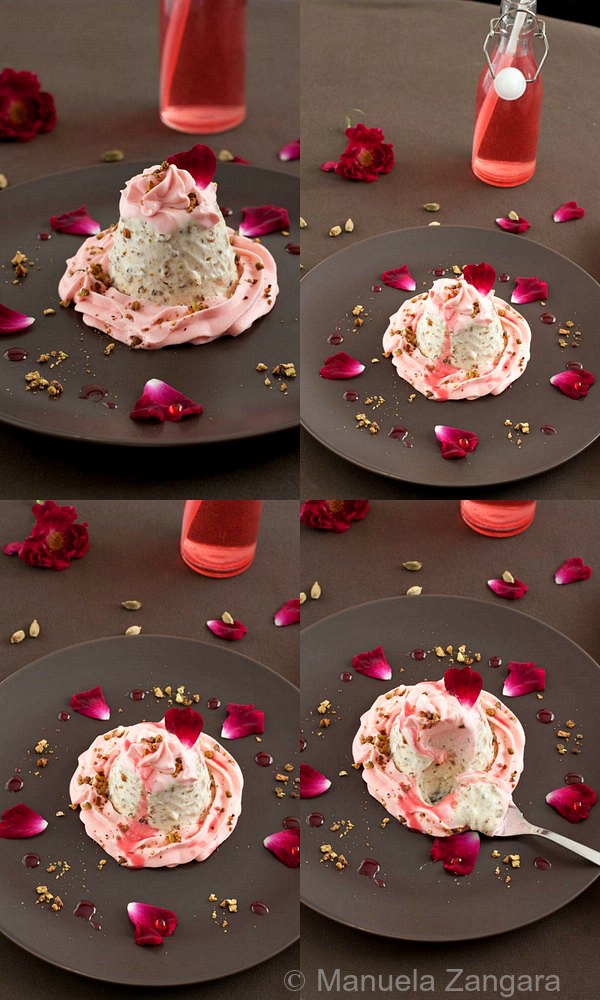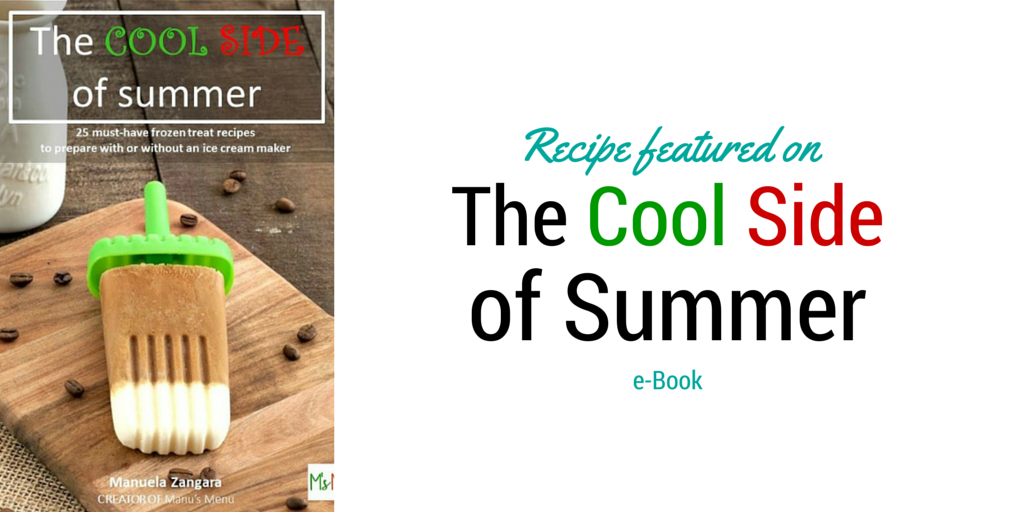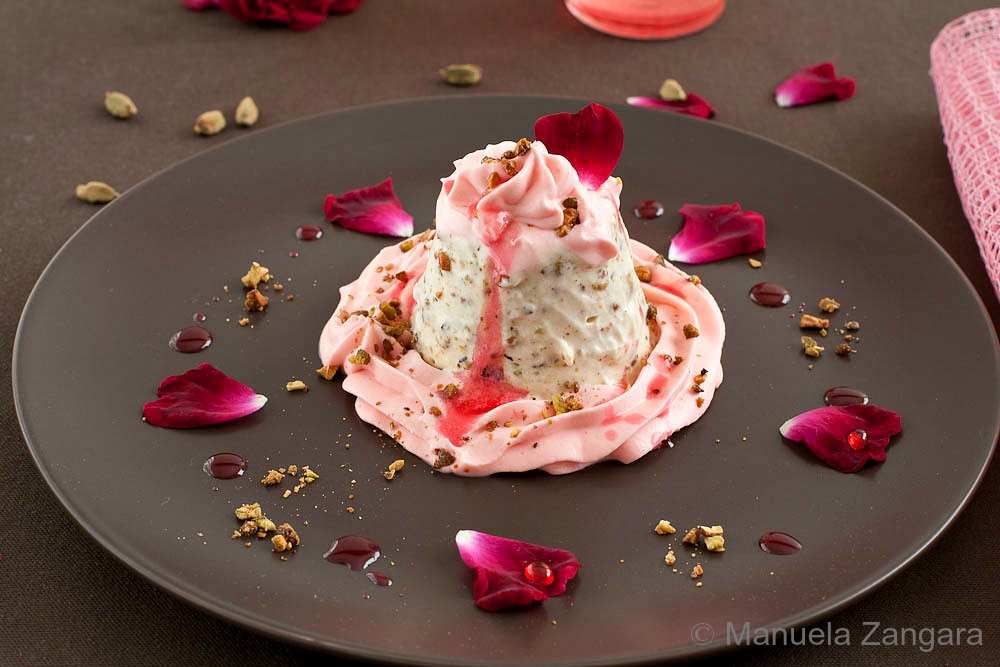 Pistachio and Cardamom Semifreddo with Rose Cream
How to make a delicious Italian dessert with Indian flavours: Pistachio and Cardamom Semifreddo with Rose Cream!
Ingredients
120

gms

– 4.25 oz. pistachios

300

+ 100 ml – 10.5 + 3.5 oz. cream to whip

3

eggs

pasturized or very fresh

100

+ 60 gms – 3.5 + 2 oz. sugar

50

gms

+ 1 tbsp – 1.75 oz. + 1 tbsp icing sugar

1 ¾

tsp

cardamom powder

3

tbsp

rose syrup

Rooh afza
Instructions
Start by preparing some pistacchio "croccante". Put the pistachios in a skillet and toast them, stirring frequently, on a medium flame for a few minutes (make sure not to burn them or they will become bitter!).

When toasted, place them in a non stick frying pan with 60 gms – 2 oz. of sugar and cook on a slow fire till the sugar melts. Keep stirring. When the sugar has browned, put the "croccante" to cool on a sheet of baking paper. Make sure to spread it well, so it will cool down fast.

In the meantime, whip 300 ml – 10.5 oz. of cream with 50 gms – 1.75 oz. of icing sugar and put it in the fridge.

Add the powdery croccante, cardamom powder, egg whites and whipped cream. Mix gently with a wooden spoon making sure that the mixture does not lose volume.

Line moulds with cling wrap, pour the mixture in and cover it with more cling wrap. Place in the freezer for at least 4 hours or overnight.

When ready to serve, whip the remaining 100 ml – 3.5 oz. of cream with 1 tbsp of icing sugar and the rose syrup and use it to decorate your semifreddo.

Serve immediately with some more chopped croccante and a drizzle of rose syrup.
Here are all the delicious treats my fellow bloggers came up with!
1. Chocolate cranberry skillet cake from Sandra at Sandra's Easy Cooking
2. Pistachio and cardamom semifreddo with rose cream from Manu at Manu's Menu
3. Annabelle's ginger crisps from Liz at That Skinny Chick Can Bake
4. Chocolate cookies with candied fruit slices from Kate at Diethood
5. Honey pistachio sesame cookies (Barazek) from Sawsan at Chef in Disguise
6. Poppy seed roll (Makowiec) from Raven at Ravienomnoms
7. Stollen from Roxana at Roxana's Home Baking
8. Cocoa mint shortbread from Tiffany at Comowater
9. Rose syrup chocolate bark from Abeer at Cakewhiz

Related Posts: