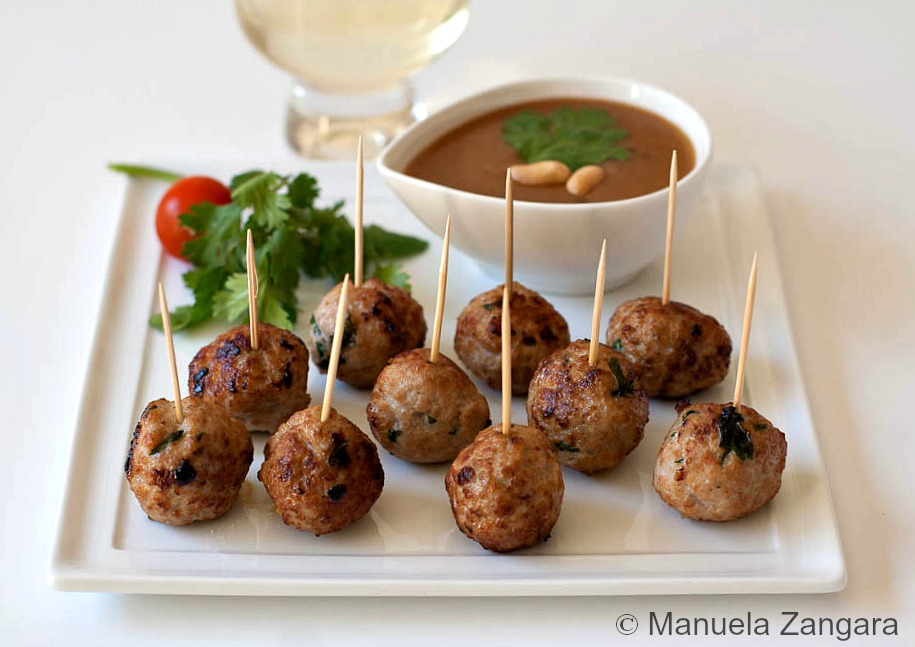 Thai is one of my favourite Asian cuisines.  Believe it or not, there were no Thai restaurants in Milan, at least up until 6 years ago!  Some Chinese restaurants would serve some Thai dishes, but they obviously did not have a lot of variety.  That's why, the moment I saw it, I bought this little book about Thai cuisine that I have almost learnt by heart!  The recipe I want to share with you today is very easy and it is family approved, which means that even my 2 little ones like it.  You can serve these meatballs as a main dish or as an appetiser (better if made slightly smaller than regular meatballs) and are great for a buffet.  You can also make the peanut sauce to go with them in a matter of minutes.  I am not saying this is an original recipe, but it tastes great and I am all for delicious recipes that are very fast to make and please my fussy eaters! 😉  I make them with pork mince, but I am sure these would also work with chicken, beef or veal mince!  Enjoy!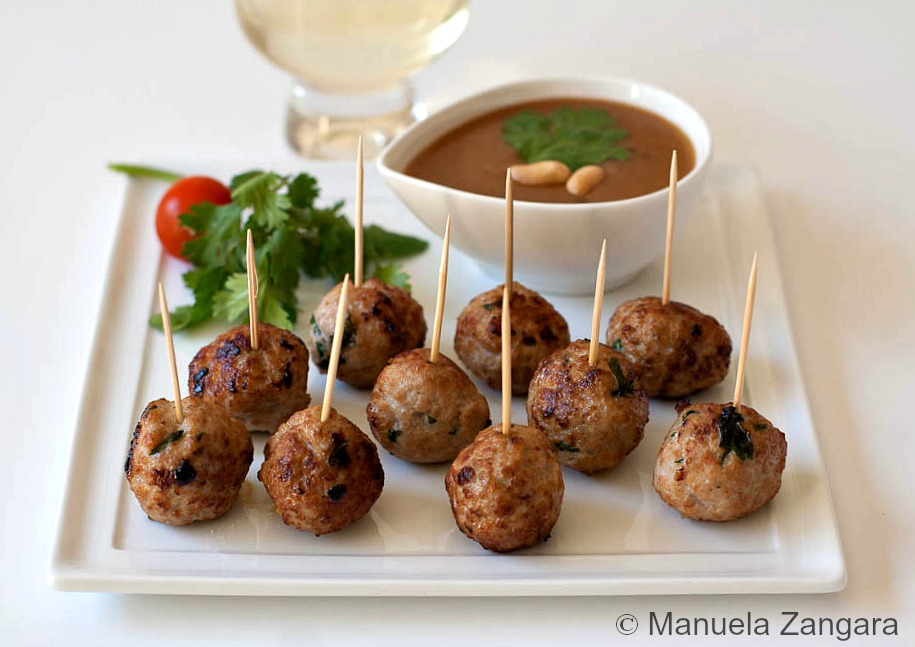 Pork Meatballs with Peanut Sauce
How to make Thai inspired Pork Meatballs with Peanut Sauce.
Ingredients
Meatballs
500

gms

pork mince

1

tbsp

coriander

chopped

1

tsp

garlic paste

1/8

cup

fish sauce
Peanut sauce
1

tbsp

vegetable oil

1

tbsp

coriander

chopped

1

tsp

garlic paste

1

tsp

ginger paste

1/8

cup

fish sauce

2

tbsp

peanut butter

1

red chilly

dried and chopped

1

tbsp

brown sugar

½

cup

coconut cream
Instructions
To make the pork meatballs, put the minced meat, garlic paste, chopped coriander and fish sauce in a big bowl.

Knead well and make balls the size of a walnut. Keep them aside.

In the meantime, prepare the peanut sauce.

Put the vegetable oil, garlic and ginger pastes and the chopped chilly in a small pot and sauté for a minute.

Add the peanut butter, fish sauce, brown sugar and coconut cream. Mix well and cook on a low flame for a few minutes, or until it thickens.

Add the remaining chopped coriander, mix and put the fire off.

Fry the meatballs in hot vegetable oil for a few minutes. When cooked through, put them on a plate covered with kitchen paper to drain the excess oil.

Serve them warm with the peanut sauce on the side.

Related Posts: