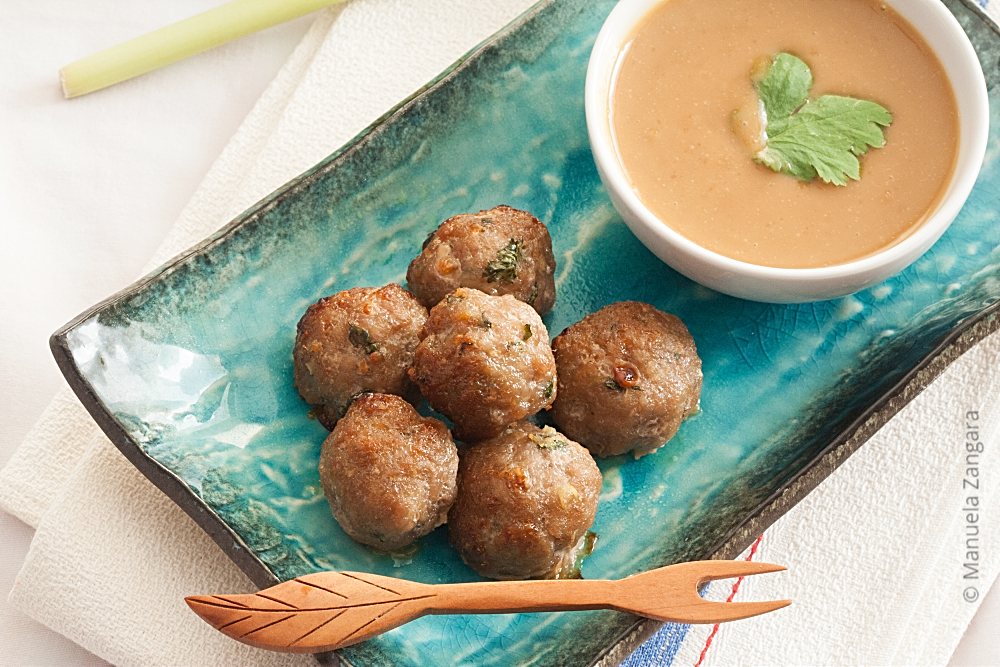 I am very happy to be able to share the recipe for these Low Fodmap Satay Pork Meatballs! The reason is simple: it is an amazing dish.
Since going Low Fodmap, I have been craving Asian food. I miss Indian curries so much (I still need to work on adapting my favourite ones for the Low Fodmap diet and it's not easy), however, I found out that Thai food can be adapted much more easily.
I have always loved Satay, so I immediately started experimenting with it. The majority of the recipes I found online had coconut milk or coconut cream among the ingredients of the Satay sauce. I don't always digest coconut properly (this may not be just a Fodmap issue though), so came up with a coconut-free recipe and let me tell you that you won't be able to tell the difference! Also, this way you save on some extra calories.
The recipe I am sharing today is so good that it made it into my menu rotation and I make it at least once every 2 weeks. It also helps that it is very easy and quick to make it.
If you like Satay and are not obliged to eat Low Fodmap, check out this recipe and this recipe.
Enjoy and don't forget to check out my video recipe and to leave a comment to let me know how you like it!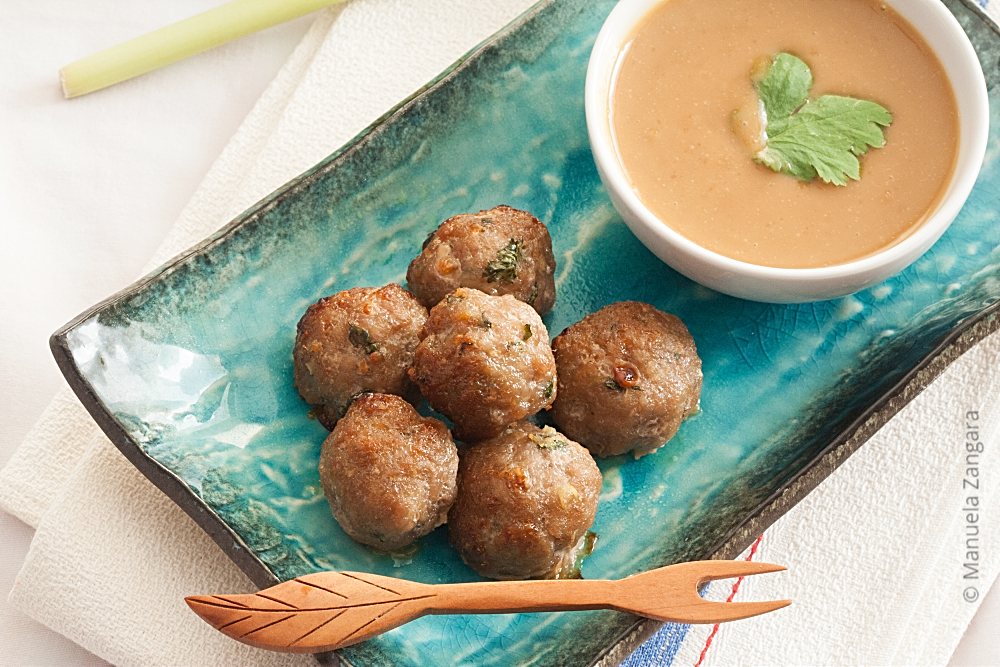 Low Fodmap Satay Pork Meatballs
Low Fodmap Satay Pork Meatballs – delicious Asian style meatballs served with a quick Satay sauce that is low FODMAP and easy to digest.
Ingredients
Pork Meatballs
250

gms

– ½ lb. pork mince

2

tbsp

coriander leaves

chopped

1

tbsp

lemongrass

chopped

1

tbsp

brown sugar

¼

tbsp

garlic infused olive oil

½

tsp

salt
Satay Sauce
1

tbsp

peanut butter

1

tbsp

soy sauce or tamari

1

tbsp

maple syrup

¼

tsp

rice vinegar

½

tsp

ginger

grated

1/8

tsp

sesame oil

2

tbsp

water
Instructions
Pork Meatballs
Using your hands, mix together all the ingredients in a big bowl.

Using a ½ tablespoon, divide the mince. Then wet both hands with some water or oil spray and shape into about 12 meatballs.

Spray them with some oil and bake in a preheated oven at 180°C – 355°F for 15 minutes, or until cooked through. Keep aside.
Low Fodmap Satay Sauce
Put all the ingredients in a saucepan and bring to a boil.

Simmer for a couple of minutes.

Serve with the pork meatballs.

Related Posts: