I love satay, especially chicken satay.  I always order it whenever we eat out and I see it on the menu.  I really enjoy the peanut sauce.  So, I thought of giving it a try at home.  I looked around and found a few recipes, until I settled for Rasa Malaysia's version.  It was outstanding.  Both the chicken and the peanut sauce came out great.  I made a few changes to the sauce, but nothing major.  It is a dish that requires quite a few ingredients and you need to plan in advance if you want to make it (the chicken has to marinate overnight for best results), but the recipe is pretty straight forward and quite easy.  I will definitely make this again!  Enjoy!
For the Satay Chicken (recipe adapted from Rasa Malaysia) 
Ingredients:
1 kg chicken thigh fillets
1 tsp coriander powder
2 stalks lemongrass (just the white bits)
6 shallots, peeled
2 cloves garlic, peeled
4 tbsp vegetable oil
1 tsp chili powder
2 tbsp turmeric powder
4 tsp of Kecap Manis (Indonesian sweet soy sauce)
1 tsp oyster sauce
Bamboo skewers (soaked in water for 2 hours so they do not burn)
1 cucumber (peeled and cut into small pieces), to serve
1 small onion (quartered), to serve
Cut the chicken into small cubes.  Grind all the other ingredients in a food processor, adding a little water if needed.  Pour this mixture onto the chicken cubes and marinate it overnight.

The following day, skewer the chicken onto the bamboo sticks.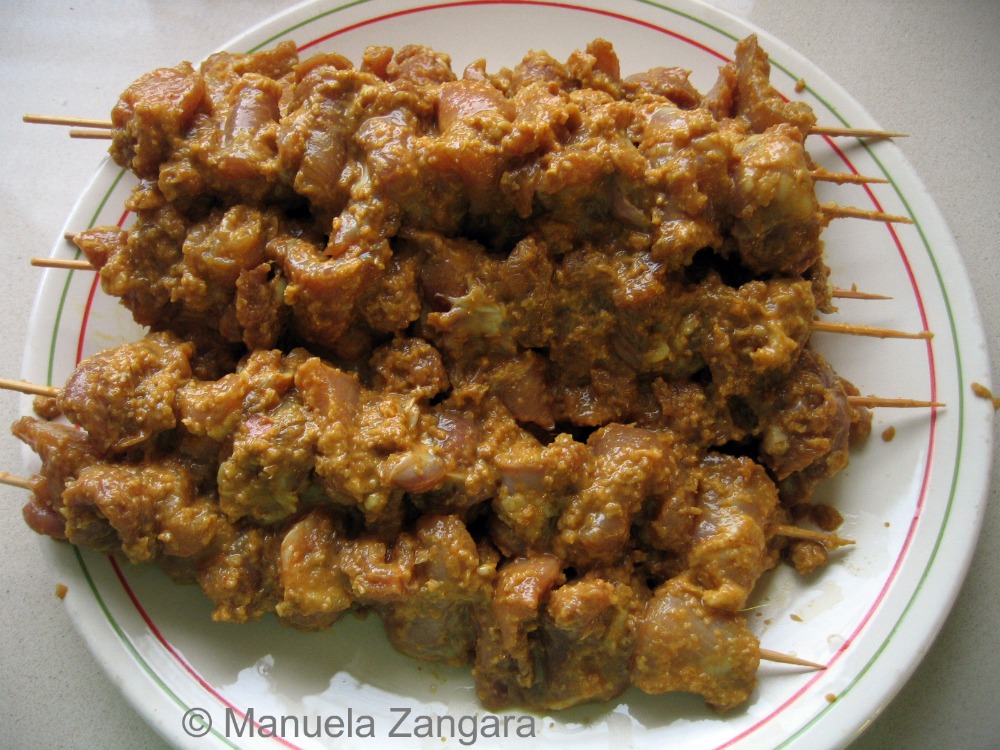 You can either grill them for 2-3 minutes on each side, or bake them at 200°C – 390°F for 10 minutes on each side and then broil them until golden brown.
Serve hot with the cucumber pieces and onions and the peanut sauce.
For the Malaysian Satay Peanut Sauce (recipe adapted from Rasa Malaysia) 
Ingredients:
1 ½ cup dry roasted peanuts (unsalted)
1 cup water
1 tbsp Kecap Manis (Indonesian sweet soy sauce)
1 ½ tbsp palm sugar (I used 15 gms)
1/8 tsp salt
1/8 cup vegetable oil
¾ tbsp tamarind concentrate dissolved in ¼ cup of warm water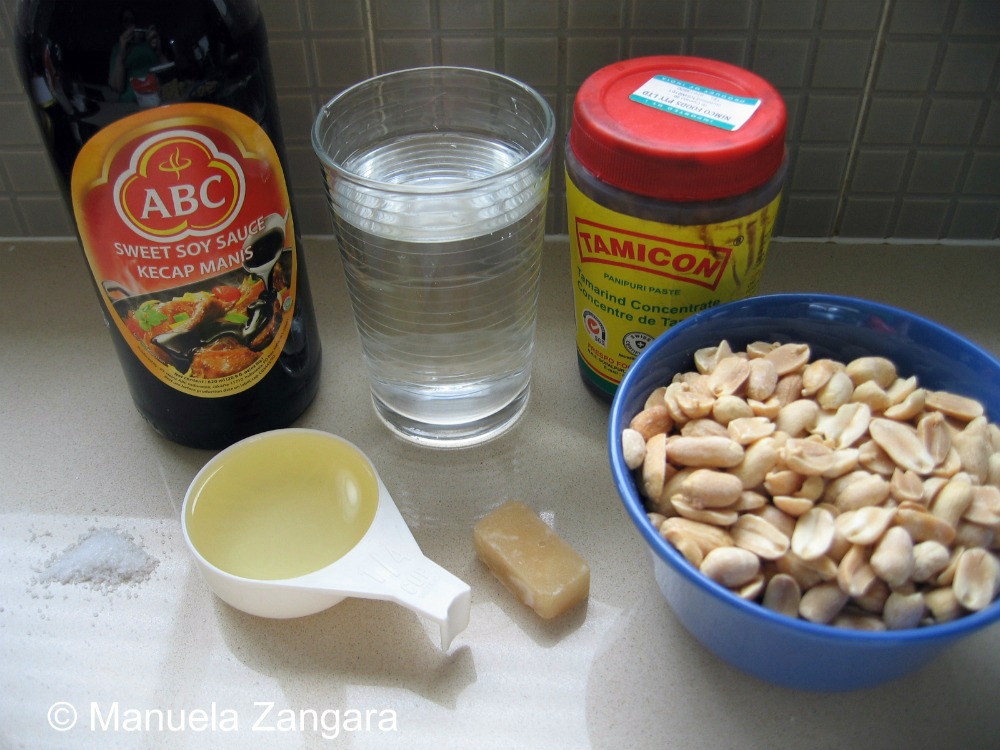 For the Spice Paste:
5 dried red chilies
3 cloves garlic
3 shallots
2 stalks lemongrass (just the white bits)
2.5 cm – 1 inch ginger (or 1/2 tbsp ginger paste) (or galangal)
1 tbsp coriander powder (optional)
Crush the peanuts coarsely with a food processor.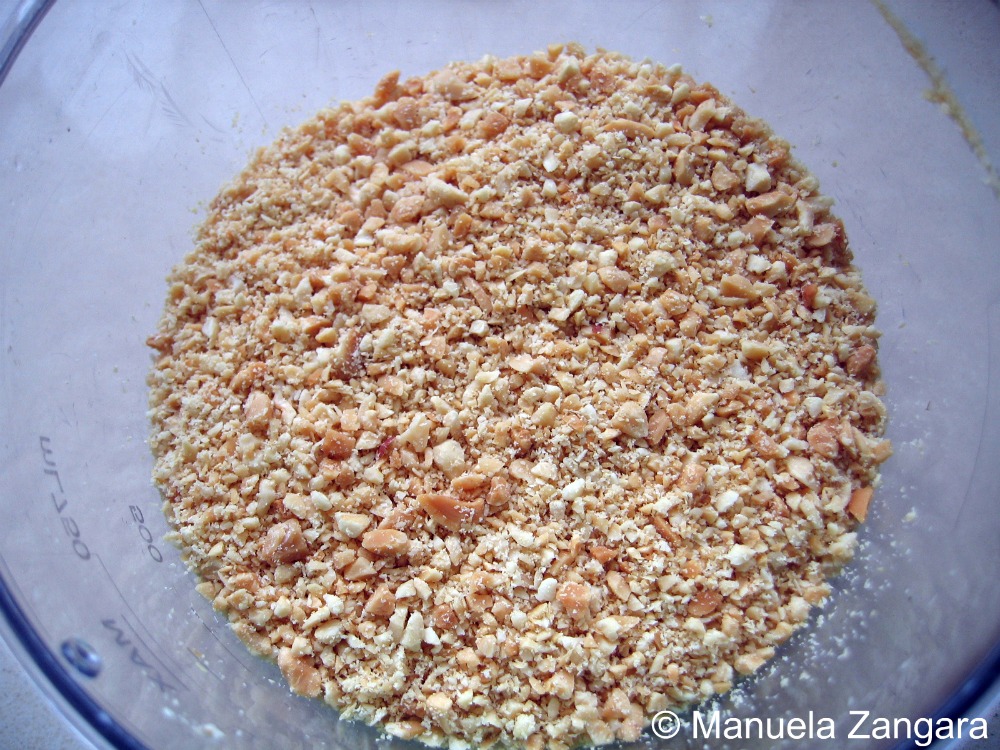 Blend all the ingredients for the spice paste.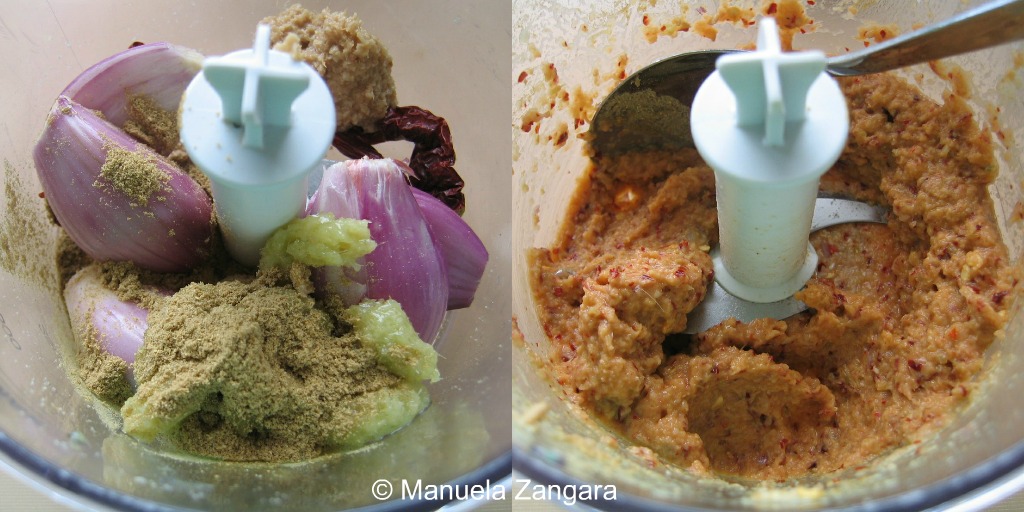 Heat the oil in a pot and fry the spice paste for a minute or 2.  Add the peanuts, tamarind, water, palm sugar, sweet soy sauce and stir well.
Simmer on a low flame while stirring for another 2 or 3 minutes (the sauce has to become smooth).
Serve at room temperature with the satay.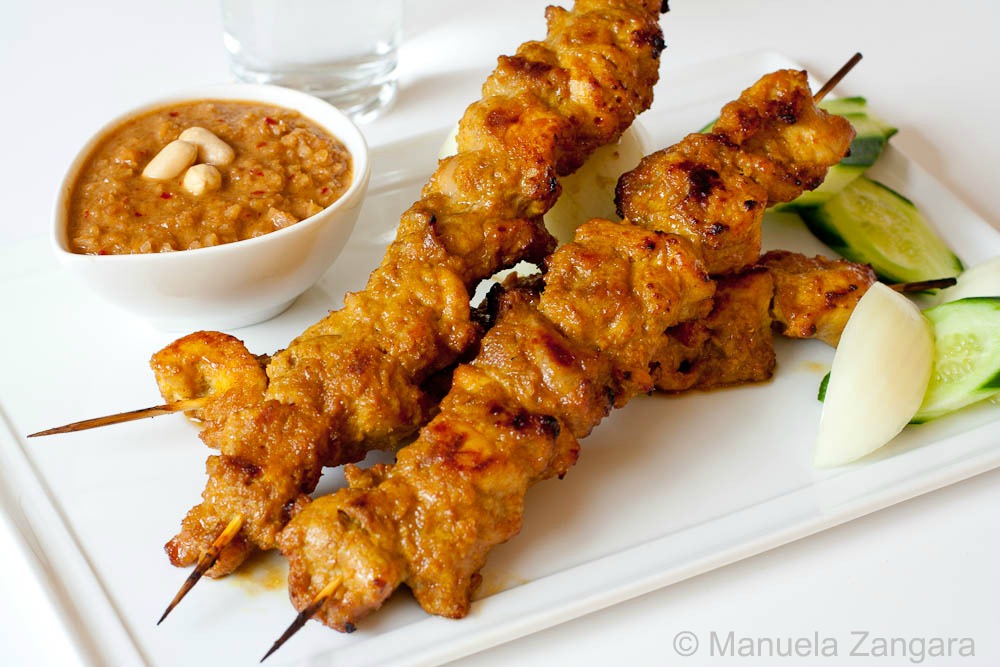 Related Posts: