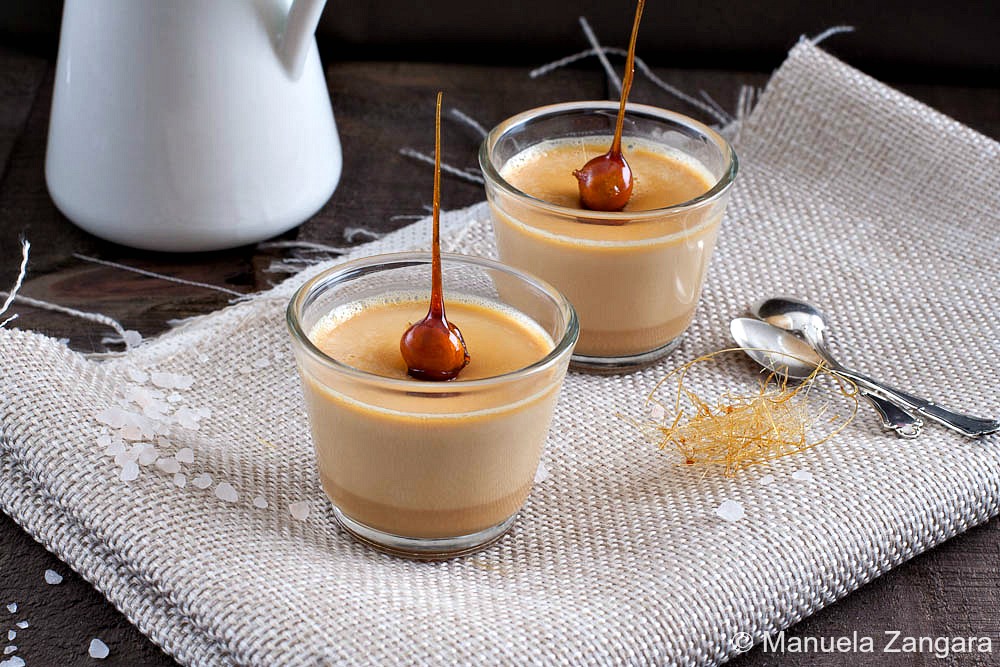 You know how much I love panna cotta, but what you may not know is that I consider it my "go to" dessert for when I have little time, but still want to impress my guests.  You do need to make it in advance, but it comes together in 15 to 20 minutes.  It is also a very versatile dessert and you can come up with so many flavours and "looks", so it is never boring.  In fact, you can see a few of my favourite combinations here. This time I will share with you one of my husband's favourite variations: Salted Caramel Panna Cotta… and I will also show you how easy it is to make those nice caramel decorations to go with it!  Enjoy!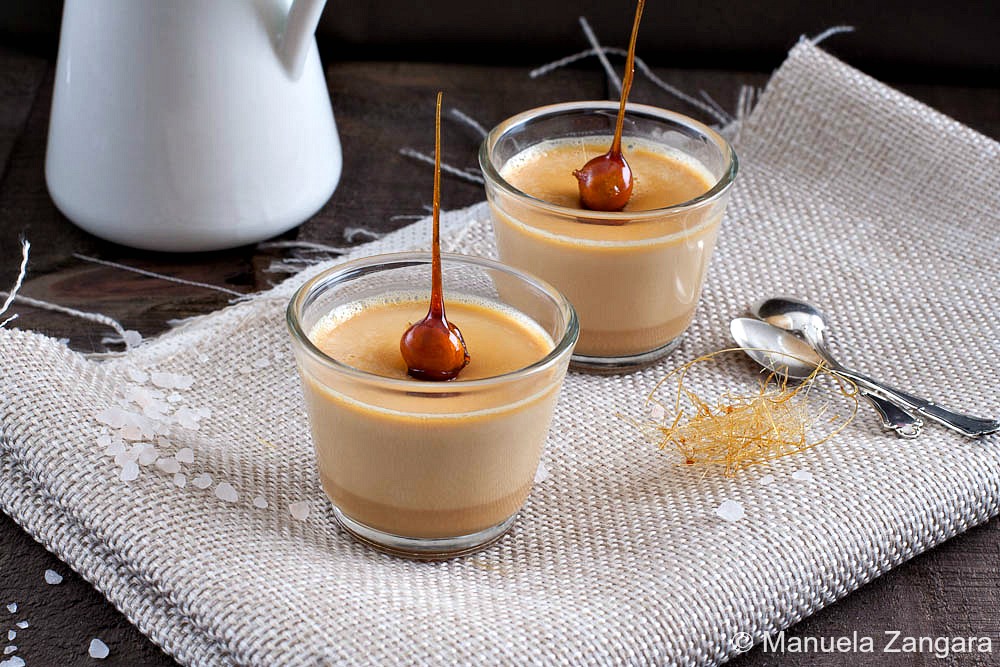 Salted Caramel Panna Cotta
The recipe with step by step instructions on how to make the perfect Salted Caramel Panna Cotta.
Ingredients
Panna Cotta
300

ml

– 10 oz. cream

100

ml

– 3.5 oz. milk

100

gms

– 3.5 oz. sugar

1

tsp

vanilla extract

3

gelatine sheets or 2 tsp gelatine powder

1

pinch

of sea salt
Decoration
Hazelnuts

roasted and peeled

45

ml

– 3 tbsp water

65

gms

– 4 ½ tbsp sugar

1

pinch

salt
Instructions
Panna Cotta
Put the gelatine sheets in a bowl filled with cold water for 10 minutes or until soft.

Put the sugar in a heavy bottomed saucepan and melt it on medium heat until it becomes a dark amber colour. Do not stir, but if lumps start forming swirl the pan around.

Carefully add the warm cream mixture stirring it into the caramel and keep it on the fire (it may solidify at this point, so keep stirring and the caramel will melt again).

Add the sea salt and mix.

Squeeze the excess water from the gelatine sheets and add them to the hot caramel cream. Mix well until completely incorporated.

Strain the mixture into glasses/moulds.

Refrigerate for at least 4 hours (or overnight) before serving.
Decorations
Melt the sugar in the water over a medium fire and let it become a medium dark amber.

Insert a toothpick in each hazelnut and dip them in the caramel, then keep them upside-down to drain the excess caramel, until it solidifies.

Remove the toothpick and put the caramel coated hazelnut on top of the set panna cotta.

Related Posts: