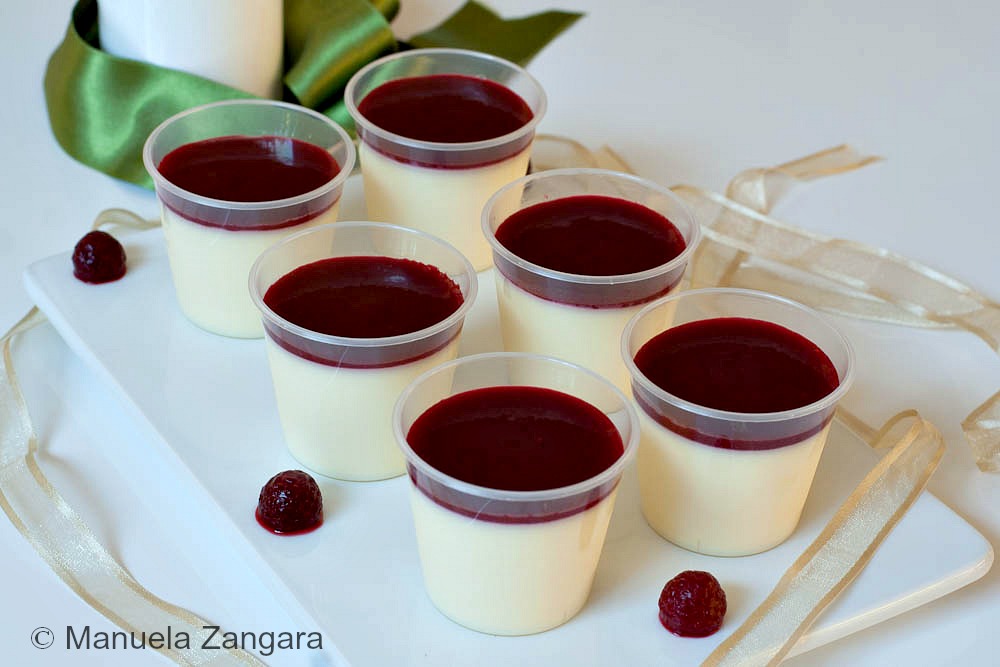 If you are not new on this site, you will know that I love all desserts that you can eat with a spoon: mousses, creams, trifles… and panna cotta!  I also like individual servings and I have been making these panna cotta shooters for a while now.  I often take them to friends' houses for parties and get togethers as they are easy to transport and look cute!  They work great for potlucks too.  This panna cotta is made with white chocolate (my husband's favourite) and it is topped with raspberry coulis… who here doesn't think that white chocolate and raspberry were meant to be eaten together??  Enjoy!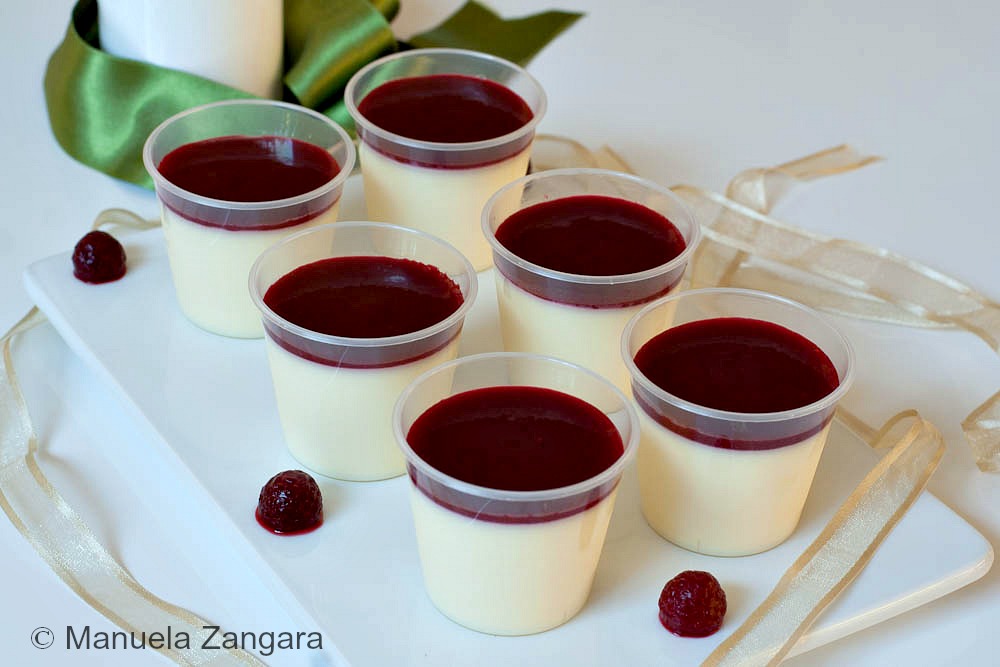 White Chocolate Panna Cotta Shooters with Raspberry Coulis
A delicious dessert, perfect for parties and buffets: White Chocolate Panna Cotta Shooters with Raspberry Coulis.
Ingredients
White Chocolate Panna Cotta
300

ml

– 10 oz. cream

100

ml

– 3.5 oz. milk

100

gms

– 3.5 oz. white chocolate

roughly chopped

65

gms

– 2.3 oz. caster sugar

3

sheets

6 gms – 0.2 oz. of gelatine or 2 tsp of gelatine powder
Raspberry Coulis
100

gms

– 3.5 oz. raspberry

frozen

1.5

tbsp

caster sugar

2

tbsp

water
Instructions
Put the gelatine sheets in a bowl filled with cold water for 10 minutes or until soft.

Put the cream, milk and sugar in a pot and cook it on a slow fire until the mixture boils.

Remove from the fire and add the chopped chocolate. Mix well until melted.

Now squeeze the excess water from the gelatine sheets and add them to the hot chocolate cream. Mix well until completely incorporated.

Refrigerate for at least 4 hours (or overnight) before serving.

To make the raspberry coulis, heat up the raspberry and caster sugar together with the water until the sugar melts. Then blend and sieve to make the coulis (you may need to add a little water if the sauce is too thick).
Recipe Notes
You can also serve these as individual panna cotta.

Related Posts: