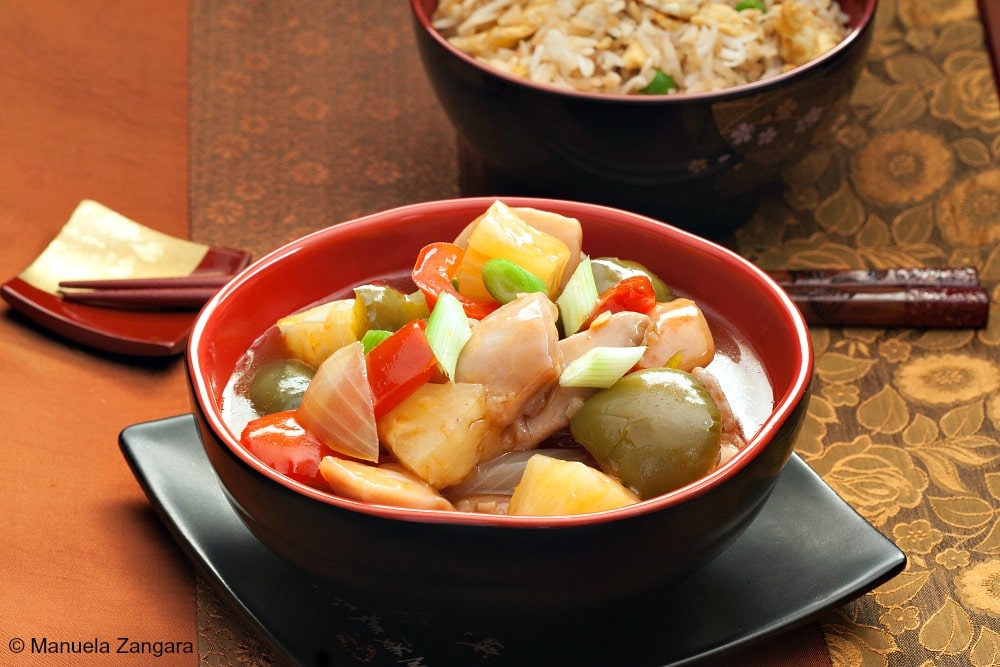 Sweet and Sour anything is my favourite Chinese dish. In fact, I really love my Sweet and Sour pork fritters and the other day I was severely craving them. The fact is that, after having my gallbladder removed, I am trying to avoid deep fried food (at least for the time being ;-)). That's when I saw this recipe and I decided I had to try it. This Sweet and Sour Chicken Stir Fry is definitely healthier than the fried version and the sauce is exactly like the one you get at good Chinese restaurants, but not overly sweet, so make sure you use all the ingredients listed. And the best part is that it is really easy to make and it comes together in just a few minutes! It is perfect as a mid-week dinner the whole family will love. I served it with my signature Fried Rice and it was a hit… my fussy kids even ate the bell pepper pieces (what a miracle)! I used chicken thigh fillets which are juicier, but you can use breast or tenderloins if you prefer. This recipe is an absolute keeper and I can't wait to make it again! That's how good it was. Enjoy!
Sweet and Sour Chicken Stir Fry
Ingredients
Sauce
½ cup white sugar
⅓ cup apple cider vinegar
3 tbsp pineapple juice (from the canned pineapple pieces)
3 tbsp ketchup
1 tsp Worcestershire sauce
1 tsp soy sauce
1 tsp Oyster Sauce
¼ tsp salt
Thickener
1 tbsp corn starch + 2 tbsp water, mixed together
Stir Fry
1½ tbsp vegetable oil
1 garlic clove, finely chopped
½ onion, halved and sliced
400 gms – 13 oz. chicken thigh fillets, cut into bite size pieces
1 red capsicum / bell pepper, cut into bite size pieces
1 green capsicum / bell pepper, cut into bite size pieces
250 gms – 8 oz. canned pineapple pieces in natural juice.
Sliced shallots / scallions, for garnish
Instructions
Mix together the sauce ingredients and keep aside.
Mix together the thickener in a separate small bowl.
Cut and chop all the ingredients.
Heat the vegetable oil in a wok or skillet over high heat. Add the garlic and onion, and cook for 1 minute.
Add the chicken and stir fry it until it is white all over but still pink inside.
Add the bell pepper and stir fry for 2 minutes.
Add the mixed sauce ingredients and stir until the sugar has dissolved and the sauce begins to bubble.
Add the thickener. Bring to a simmer, stirring constantly. Then cook until the sauce thickens to a syrup consistency – this will take about 3 minutes.
Add the pineapple pieces (just to warm) and remove from the stove.
Garnish with shallots and serve it hot with fried rice.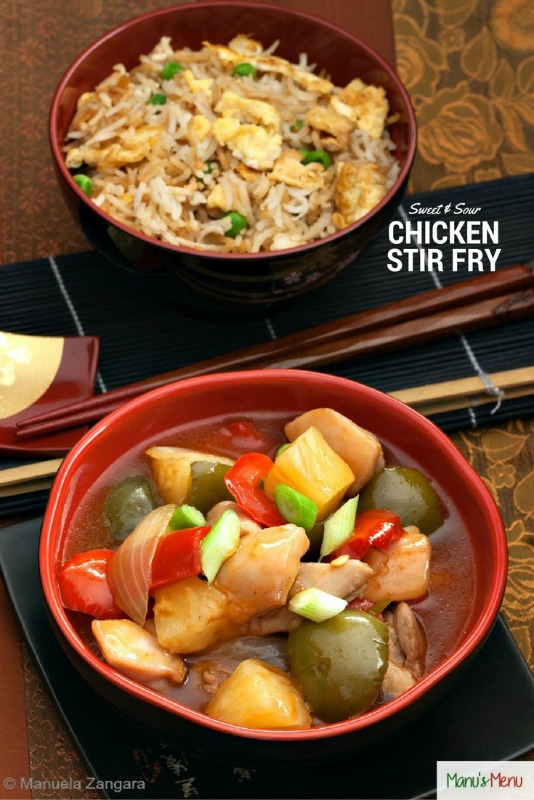 Pin It

Related Posts: