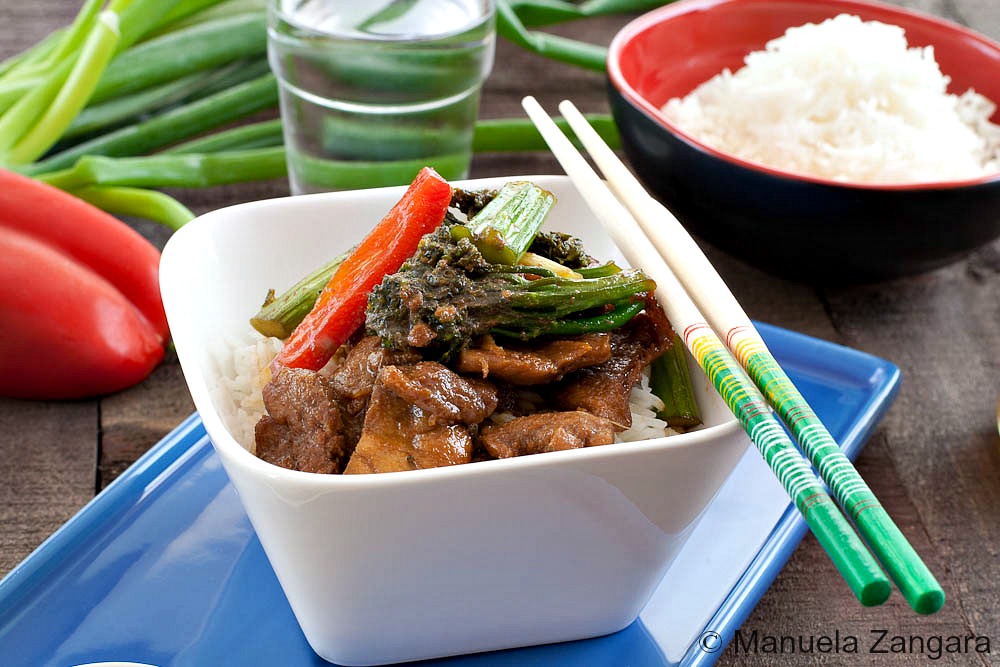 Maybe not everyone knows this, but my eldest daughter has started her first year of "big school" in January. It is all very thrilling and exciting for all of us, though this has also brought a huge change in our routines. Let's put it this way… I am now spending more time on the trains than I would care to. When we come back in the evening we are usually quite tired and as the days are getting shorter down here, I am left with very little time to prepare dinner. During such weekdays I particularly like stir fries as they are very quick to make, they are healthy  they make a complete meal and taste delicious. I usually wash and cut all the veggies after lunch and put them back in the fridge, so that in the evening my dinner comes together pretty quickly. This particular stir fry was really tasty… the thin slices of pork absorb the marinade quite nicely and the sauce is gingery and sweet. I really love Kecap Manis (the Indonesian sweet soy sauce) as it adds a little extra sweetness to the dish. If you like stir fries, you will love this. My girls even liked the veggies in it (thanks Kecap Manis!)…. Serve it with some steamed rice and you will have a complete meal in no time!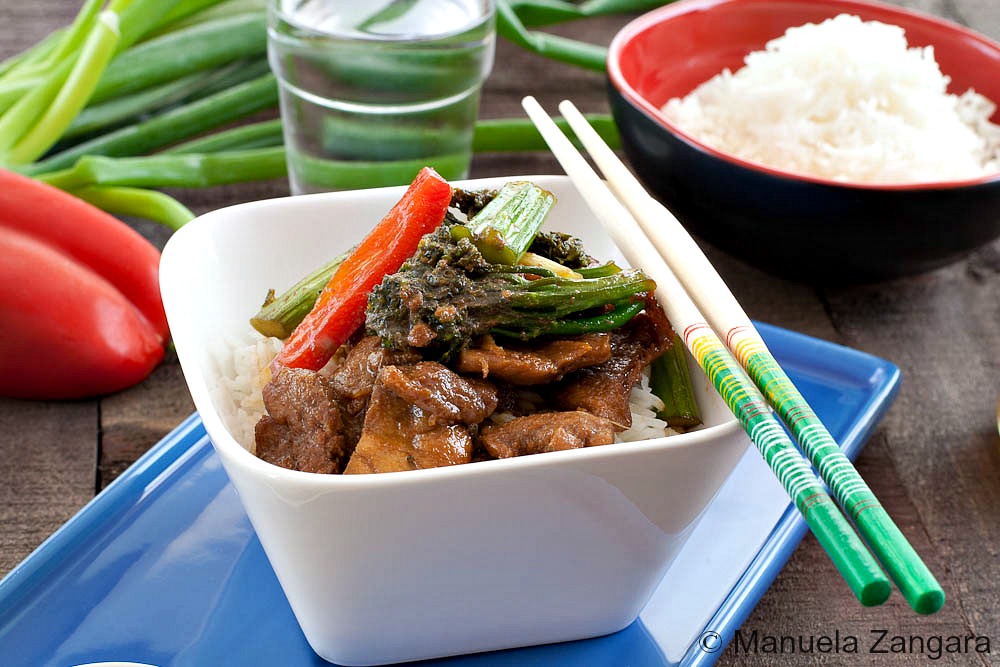 Honey and Ginger Pork Stir Fry
A quick midweek dinner idea: Honey and Ginger Pork Stir Fry.
Ingredients
500

gms

– 1.1 lbs. pork fillet

thinly sliced

2

tbsp

honey

2.5

cm

– 1 inch piece ginger

peeled and finely grated

1

tsp

sesame oil

¼

cup

kecap manis

¼

cup

peanut or vegetable oil

3

green onions

sliced diagonally

1

red capsicum

cut into thin strips

1

bunch broccolini

cut into 5 cm – 2 inch pieces

Steamed rice

to serve
Instructions
Mix together the honey, ginger, sesame oil and kecap manis in a bowl.

Heat a wok over high heat until hot. Add 1 tablespoon of peanut or vegetable oil.

Drain and reserve the marinade from the pork. Add half of the pork to the wok and stir-fry for 2 minutes or until sealed.

Add the remaining oil, onions, capsicum, broccolini and the reserved marinade to the wok. Stir-fry for 2 minutes.

Return the pork to the wok and stir-fry for 1 minute along with the vegetables.

Serve hot with steamed rice.

Related Posts: