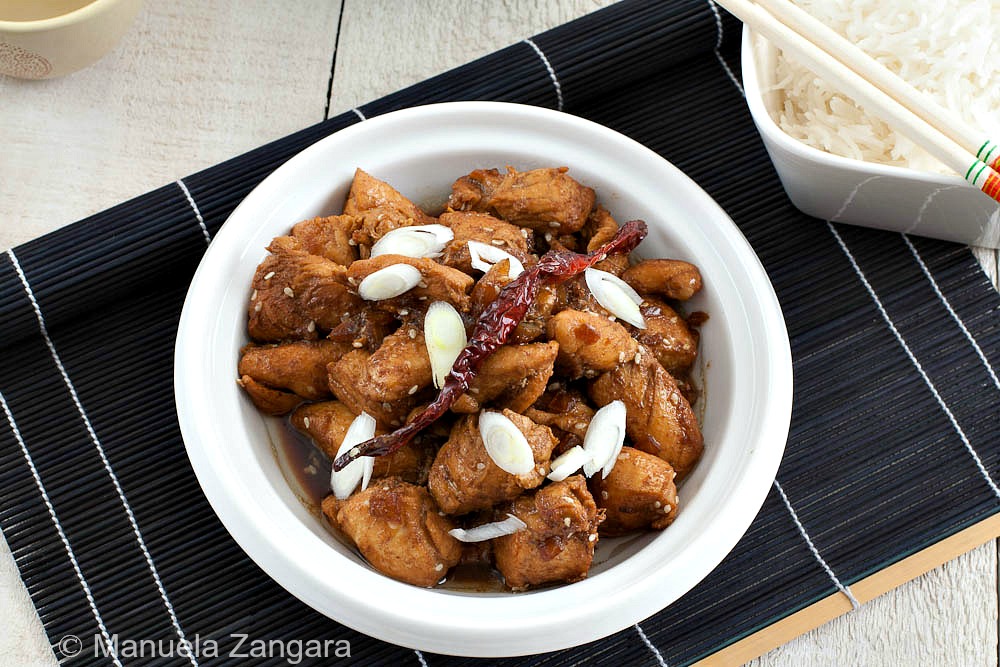 I always have chicken tenders in my freezer… they are very versatile, quick to cook and they always please the whole family.  I love the fact that they are always moist and not dry.  I have never seen these in Italy, where you either buy breast or thighs (or the whole chicken).  I stumbled upon this recipe while looking for a new dinner idea.  My girls love stir fries with rice and I love ginger.  This dish made everyone happy and, like all stir fries, was very easy and quick to put together.  The honey, soy and ginger marinade is a classic that never fails!  Enjoy and come back soon for another yummy recipe!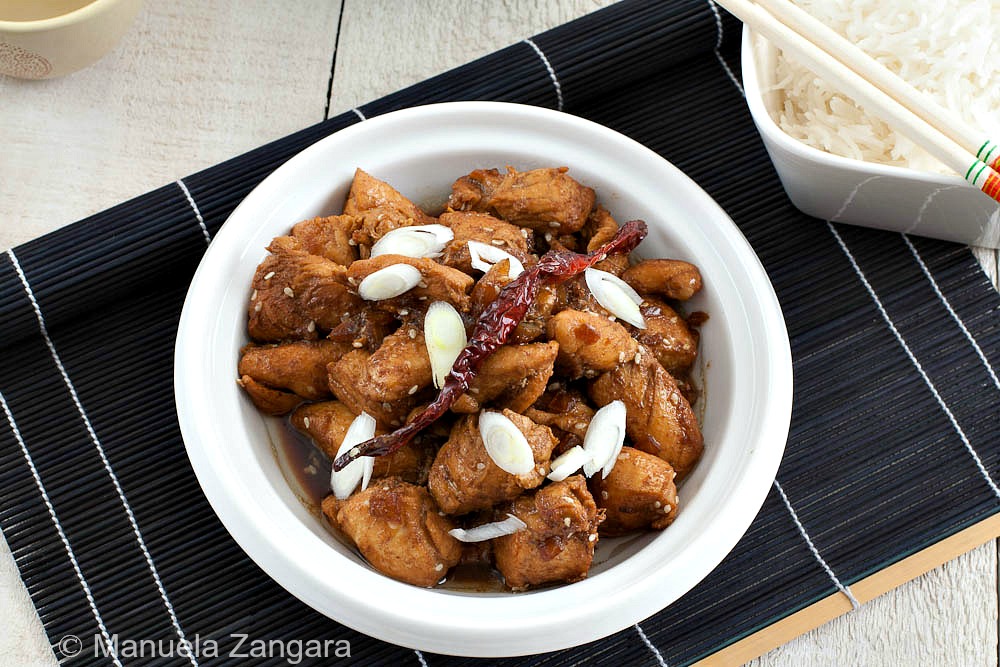 Ginger Sesame Chicken
The recipe for a scrumptious stir fry: Ginger Sesame Chicken!
Ingredients
500

gms

– 1.1 lbs. chicken tenders or thighs

boneless and skinless, cut into bite sized pieces

1

onion

finely chopped

4

tbsp

soy sauce

4

tsp

vinegar

2

tbsp

honey

2

tbsp

fresh ginger

finely grated

2

tbsp

vegetable oil

¼

cup

water

1

tbsp

sesame seeds

green onions

for garnishing

1

dry red chilly

Salt

to taste
Instructions
Combine the soy sauce, vinegar, honey and ginger in a bowl. Add the chicken and mix well. Marinate it for at least 30 minutes. Once ready to cook, drain the chicken from the marinade and keep it aside.

Heat a wok over medium heat. Add the vegetable oil and chilli. Once hot, remove the chilli and add the chicken.

Stir fry the chicken in batches until almost done. Remember that the chicken has been marinated in honey, so lower the heat to avoid burning it but do not lower the heat so much that it braises the chicken: it needs to fry.

When ready, take the chicken out and keep it aside.

Add the chopped onion and the reserved marinade to the pan. Fry it for 10-15 seconds and add the water. Let the mixture come to a boil and reduce the heat. Let it simmer for a couple of minutes until onions are soft and the sauce reduces to coating consistency. Check and adjust seasoning if needed.

Add the chicken back to the wok and mix well. Add the chilli and sesame seeds, mix and take the chicken off the heat.

Decorate it with green onions and serve it with steamed rice.

Related Posts: