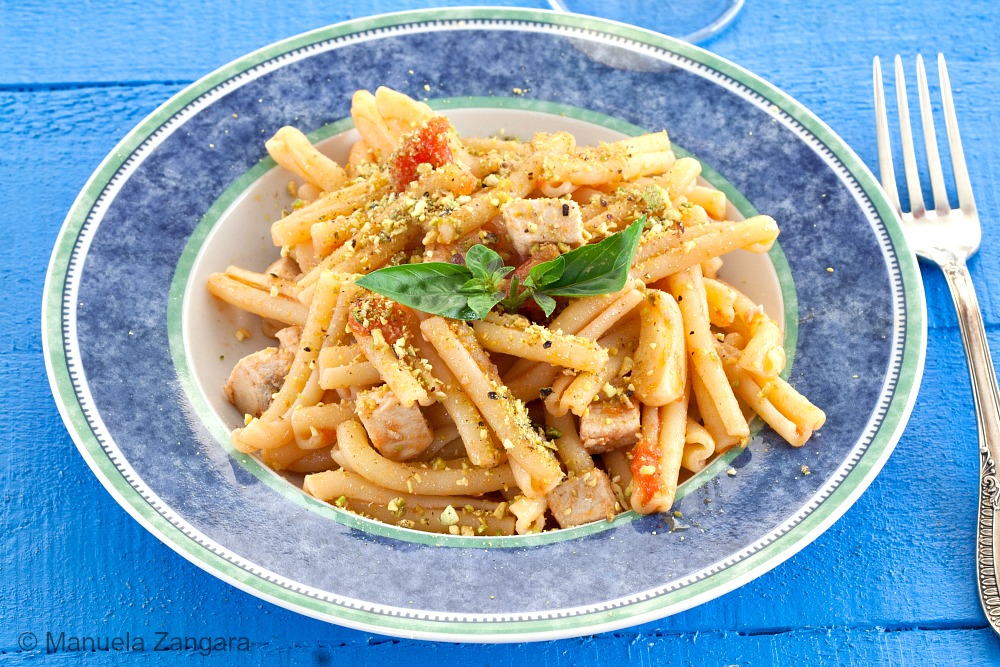 Pasta, finally.  You know that, even though I am Italian, I don't share pasta recipes as much as I'd like.  The main reason is that I don't like to take pictures of pasta.  There, I said it.  When I take the shots for my blog, I don't like to be rushed and I prefer to have the time to take (and retake) as many photos as possible, possibly from different angles.  As my family and I actually eat all the dishes you see on this site, I cannot take the time that I'd like to photograph pasta as, like all true Italians, we don't eat cold (or reheated) pasta!  It just doesn't cut it.  We have ours just made and steaming HOT.  So, taking pictures for the blog becomes a very stressful excerise… during which I have all hungry eyes on me, giving me the are-you-done-yet look.  Anyhow, I had to share this recipe with you all, as it is absolutely delicious and I don't want to be selfish and keep it all to myself.  This pasta has all the flavoures of Sicily: swordfish, tomatoes, extra virgin olive oil, basil and pistachios.  And it is scrumptious!  The texture and flavour that the pistachio crumbs give to the final dish make all the difference, so make sure not to skip them… they are a great substitute for grated cheese!  Buon appetito!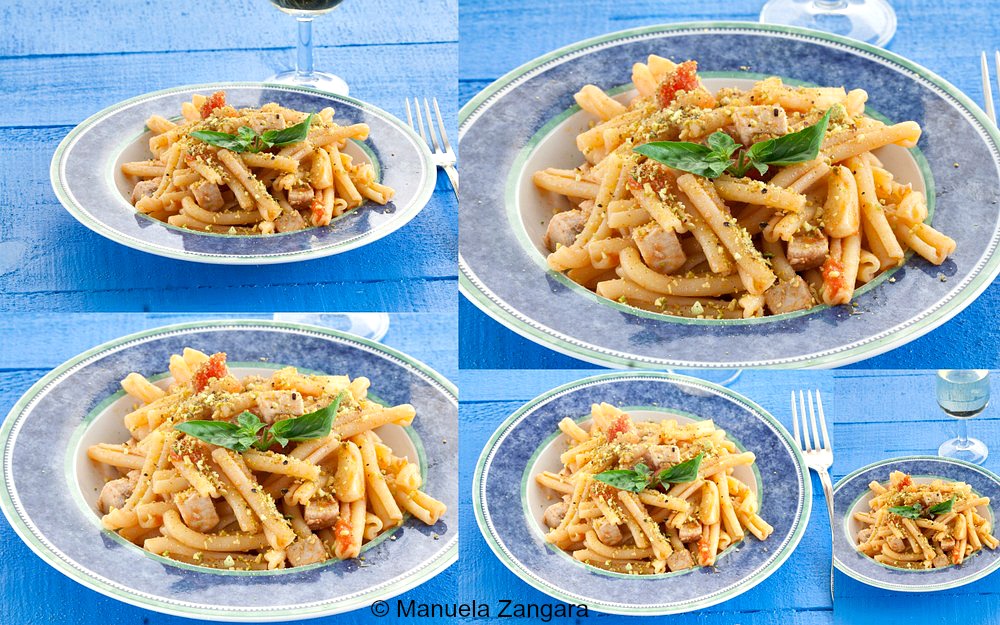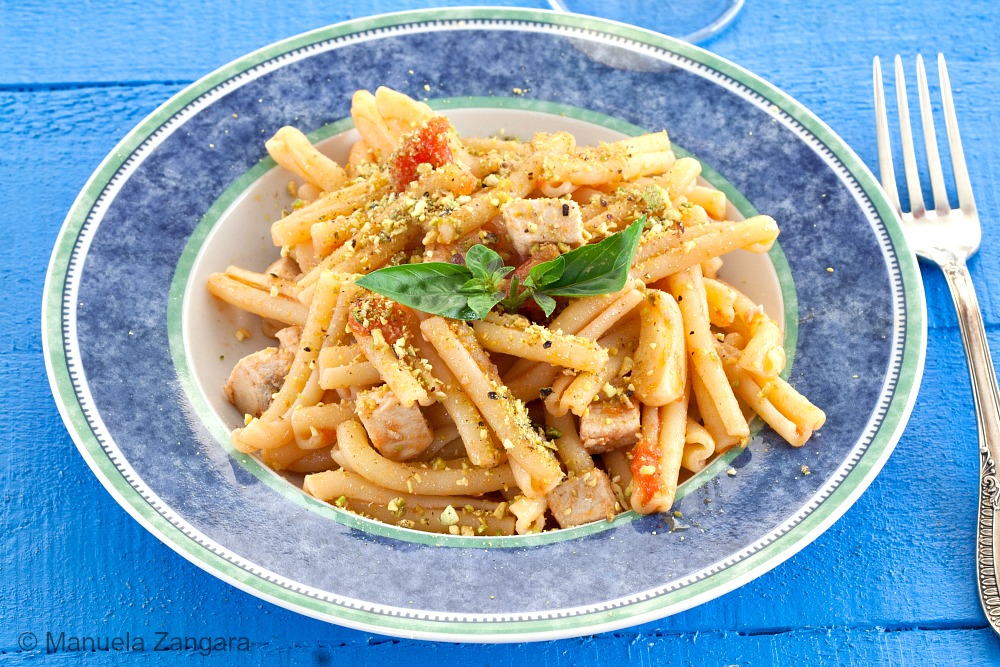 Swordfish and Pistachio Pasta
Swordfish and Pistachio Pasta - a recipe with all the flavours of Sicily!
Ingredients
4

tbsp

extra virgin olive oil

divided

300

gms

– 10 oz. swordfish

cubed into 2.5 cm – 1 inch pieces

1

garlic clove

halved

½

tsp

chilly flakes

3

tbsp

tomatoes

diced

Salt to taste

2

tbsp

basil leaves

chopped

55

gms

– 2 oz. pistachios

350

gms

– 12 oz. pasta

casarecce or spaghetti
Instructions
Cube the swordfish into 2.5 cm – 1 inch pieces and keep aside.

Sauté the halved garlic clove and the chilly flakes with the extra virgin olive oil for 1 minute.

Add the cubed swordfish and brown it on all sides.

Add the diced tomatoes and salt and cook for 5 minutes on low. Add a little water to keep the sauce from drying up. After 5 minutes put the fire off.

Cook the pasta following the steps on 

How to cook pasta "al dente"

 in the Techniques page of this site, but drain it 1 minute before it is cooked, as it will finish cooking together with the sauce.  Reserve a ladle of the cooking water.

Put the drained pasta in the frying pan with the swordfish sauce, add the remaining extra virgin olive oil and basil.  Mix well while cooking it on a slow flame for 1 or 2 minutes, adding any cooking water if required, to keep the sauce moist.

Serve with the pistachio crumbs on the top.

Related Posts: