If you follow me regularly, you will probably know that I started writing this blog with the intention of keeping my Italian culinary traditions alive while living abroad.  I LOVE Italian cuisine and even though I cook (and blog about) all kinds of food, my to go to food is always Italian.  Living abroad, I often come across Italian dishes that are not made "properly" and keeping this in mind, I have decided to start a new series of posts to show you what Italian cooking is really about.  Italian food is strictly linked to the territory, which means it would be more correct to talk about "Regional Italian Cuisine", rather than "Italian Cuisine" tout court.  Each region of Italy is famous for a few distinct dishes.  As there are 20 regions… you can easily guess, how many famous dishes we have! 😉  So, I have decided to guide you through the amazing world of Regional Italian Cuisine through a series of posts: every week, I will blog about a traditional dish of a specific region.  That said, I am aware that Italians are very jealous of their specialities and that a "traditional" recipe can vary from town to town (even inside a specific region) and even from family to family.  So, I will try and be as precise as possible, but bear in mind that there could be minor differences in the same dish according to different recipes.  I have already published a few Regional Dishes in the past and you can see the complete list in my Regional Italian Recipes page.
Today I want to start this series, with a dish from Piemonte that I LOVE!  Who says comfort food is mostly a winter treat?? This dish is and has always been my comfort food for the warmer months of the year.  It is usually served as a main dish and is eaten either cold or at room temperature.  It is a very popular dish in Italy and I would say everyone has eaten it at least once.  As with all the most common dishes in Italy, every family has its own recipe and the one I am sharing with you today is my family's version.  The sauce is the key in this dish and it is so good that once you make it the first time, you will make it time and time again.  It is perfect for sandwiches too and I love it on plain tomatoes as well.  For the majority of people the combination of veal and tuna would sound really unusual, but believe me when I say that they go perfectly well together in this dish.  The addition of capers and anchovies takes this sauce to yet another level.  My advice is to prepare this dish one day in advance and let it sit in the fridge all assembled and ready to serve.  This will allow the flavours to develop and come through better.  I hope you enjoy one of my favourite summer meat dishes.
Ingredients:
For the meat
1 kg – 2.2 lbs veal girello (eye round)
1 carrot
1 onion
1 celery stalk
1 bay leaf
Salt
Pepper Corns
For the sauce (salsa tonnata)
250 gms – 8.8 oz. tuna, canned in olive oil and drained
300 gms – 10.5 oz. mayonnaise, either home made or store bought
5 anchovies
1 heaped tbsp capers (under salt and rinsed)
¼ ladle broth (the veal cooking liquid)
¼ carrot
Salt and Pepper to taste
Start by preparing the meat.  Put the onion, carrot, celery stalk, bay leaf, some salt and pepper corns in a big pot filled with water and bring to a boil.
Add the meat and simmer on a low to medium flame until the meat is cooked through.  When ready, remove the meat from the broth and keep it aside to cool down.
You can use this broth to make risotto (it is perfect for risotto alla Milanese) and you can also freeze it.
When completely cold, slice the meat very thin (into about 3 mm thick slices).  To do this, a slicer machine is the perfect appliance.  Keep it aside while you prepare the sauce.
To make the sauce, put all the ingredients (but the salt) in a blender and mix until completely smooth.  Make sure to taste and season accordingly as anchovies and capers can sometimes be quite salty already.
Now you are ready to assemble your vitello tonnato.  Put a layer of sauce, a layer of meat, another layer of sauce and so on until you run out of meat.
Finish with some sauce and decorate with some of the cooked carrot, sliced.
Serve cold or at room temperature.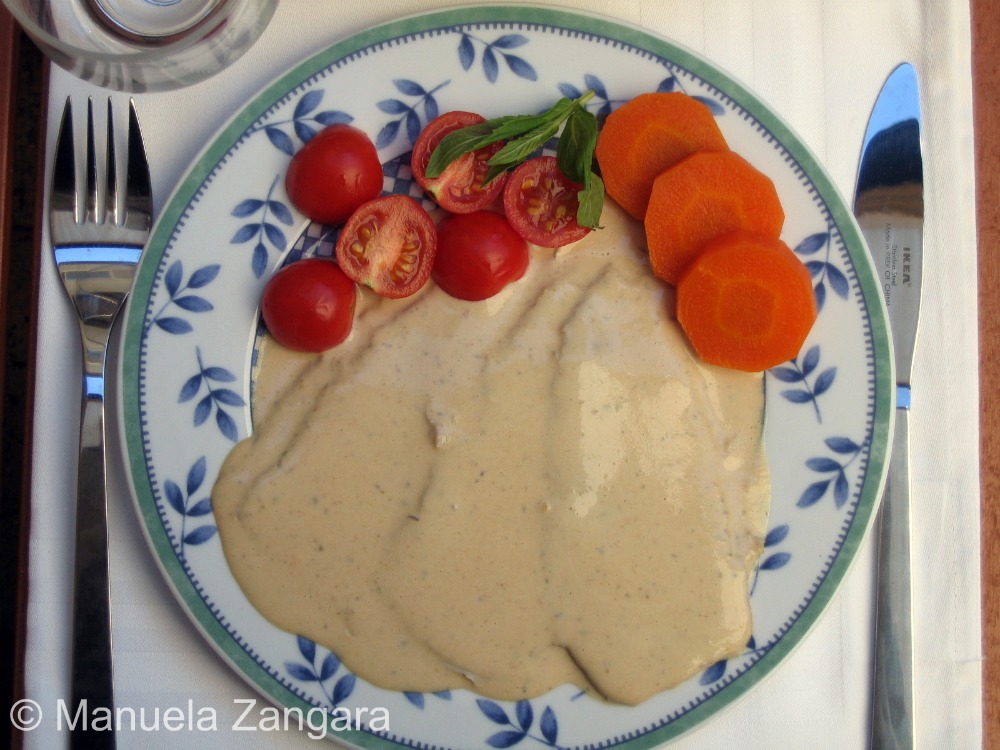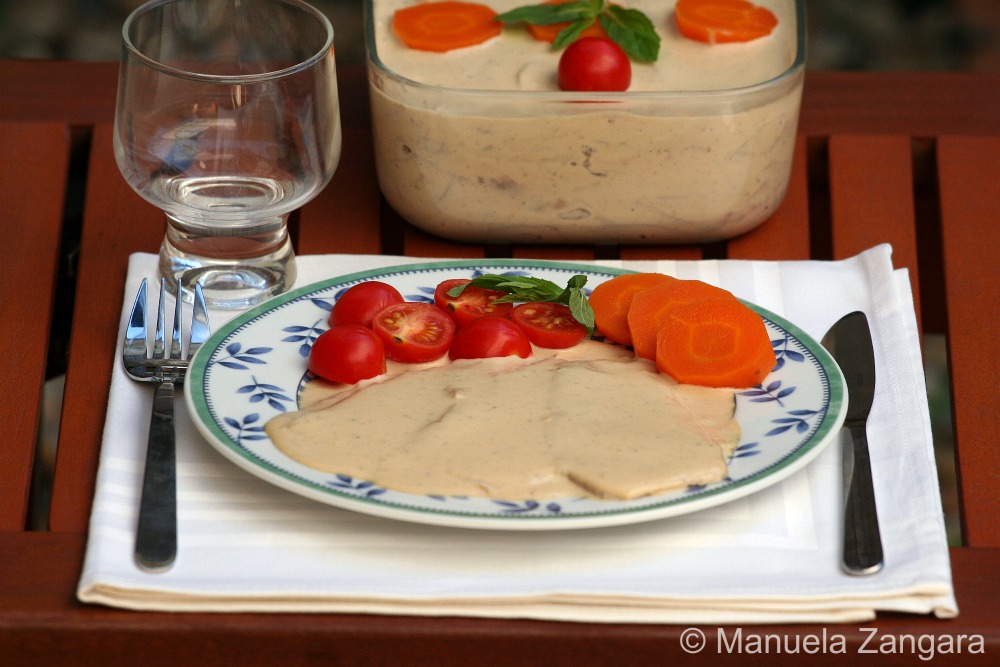 Related Posts: