Today I will take you all around Tokyo, for my series of little guides on the Japanese cities we have visited. I have already shared with you tips on Asakusa and Ueno + Yanaka + Akihabara, so today I will show you around Shinjuku, Shibuya, Harajuku, Ginza and Marunouchi with this little Shinjuku guide. There's quite a bit to cover… so, let's get into it, shall we?
SIGHTSEEING
SHINJUKU
Shinjuku is a large entertainment, business and shopping area and all the best attractions are situated around Shinjuku Station – the world's busiest railway station!!
West of the station is Shinjuku's skyscraper district, home to many of Tokyo's tallest buildings, including big hotels and the Metropolitan Government Office, whose observation decks on the 45th floor are open to the public for free.
The view is amazing and it's absolutely worth the queue to enter.
North-east of the station lies Kabukicho, Japan's largest red light district.
To me, the best attraction of the area though is Golden Gai, a small nightlife district in Kabukicho packed with over 200 small bars and eateries.
Most places are very small, seating only a few customers… like 5!
I just loved wandering around the narrow lanes at dusk.
Around the station itself, you can find big department stores like Isetan, Keio, Studio Alta, Lumine.
We also found a Takashimaya at the "Takashimaya Times Square" complex which was just as good as the Kyoto one and we enjoyed its amazing depachika floor again!
Around the station, you can also find lots of electronic shops.
This area is called Denki-gai (electric town)… and it reminded me a bit of Akihabara.
At night, it's full of lights! This is the true modern Japan!
SHIBUYA
Shibuya is another shopping and entertainment area situated around Shibuya Station and it is one of Tokyo's most colourful and busy districts.
It is a centre for youth fashion and culture and it is one of the places where new trends are created!
Right outside the "Hachiko exit" of Shibuya station, there is a statue of Hachiko, the loyal dog that waited for his master every day for years, even after his master had passed away.
One of the main attractions of Shibuya is the large intersection in front of the station's Hachiko exit: Shibuya Crossing. Try and get there at peak hour when it gets flooded by pedestrians!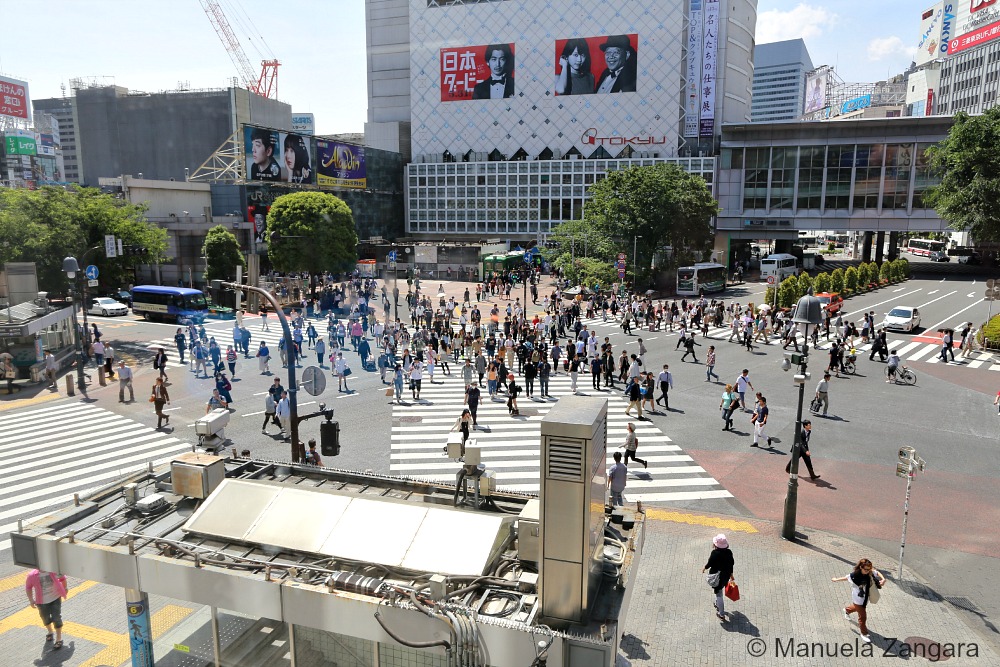 We were there on a Sunday morning, so it wasn't packed… but it was still quite impressive. To get a good view, have a coffee at the local Starbucks and get a seat on the first floor of the café.
The birthplace of many Japanese fashion trends is Center Gai, a busy pedestrian zone in the heart of Shibuya. It is packed with shops and boutiques!
Spain zaka is a narrow pedestrian street with stairs lined by boutiques, cafes and restaurants, and it was called like that for its resemblance to a Spanish street scene… though, to tell you the truth… it did not look like Spain to me… hehehe
HARAJUKU
Harajuku is between Shinjuku and Shibuya on the Yamanote Line. It is the centre of Japan's most extreme teenage cultures and fashion styles, but it also offers some historic sights.
The best place to experience Harajuku's teenage culture is Takeshita Dori, lined by many trendy shops. Unfortunately, we could not see it. In fact, we got completely stuck in the crowd inside the train station: we got down from the train and it took almost 15 minutes to get out of the station… we had to skip Takeshita dori as the crowds were unbelievable and we were afraid we would get stuck and miss our evening flight. My advice? Do NOT go on a weekend!!
Just south of Takeshita Dori is Omotesando, a broad, tree lined avenue sometimes referred to as Tokyo's Champs-Elysées. Here you can find famous brand name shops (many of which Italian ;-)), cafes and restaurants.
Another very famous attraction of the area is the Meiji Jingu, one of Tokyo's major shrines.
This shrine is dedicated to the deified spirits of Emperor Meiji and his wife. The majority of the shrine grounds are composed of a beautiful, dense forest, which gave us some relief from the really hot and humid weather.
It is also very common to see weddings here!
GINZA
Ginza is Tokyo's most famous upmarket shopping, dining and entertainment district.
We visited the Sony Building that has a quite interesting showroom where you can see all the newest products by Sony.
The last floor also features a little museum… which made me feel quite old, as I remembered almost all the items on display (walkman anyone?)… hahaha
MARUNOUCHI
Located between the Imperial Palace and Tokyo Station, Marunouchi is one of Japan's most prestigious business districts.
Tokyo Station is one of Japan's busiest railway stations. The station building on the Marunouchi side is a beautiful red brick building, which dates from the Meiji Period.
I particularly liked Naka-dori, a tree lined shopping street between large office buildings.
Tokyo Imperial Palace, the residence of Japan's Imperial Family, stands on the former site of the Edo Castle. The outer area of the palace grounds with its moats and walls can be seen freely.
The Imperial East Gardens occupy the former site of Edo Castle's main complex. They are the only part of the inner palace area that is open to the public. From the large plaza in front of the Imperial Palace, you can see the Nijubashi, two bridges that form an entrance to the inner palace grounds.
And look at the view of the city from the plaza!
FOOD
We visited this area of town on our stop-over between Italy and Sydney, so we were quite jet lagged and we decided to indulge in our depachika obsession!
We tried the depachika floors of Isetan (at Tokyo station) and Takashimaya in Shinjuku.
The last day, we also tried Kare-pan… an amazing fried bread bun filled with curry! It is to die for and I can't wait to try and make it at home!
ACCOMMODATION
We did not stay in this area of town. We were in Yanaka, and we slept at Annex Katsutaro. Please read my review here.
RESOURCES ON MSM
RECIPES:
TRAVEL IN JAPAN:
Nara & Fushimi Inari guide – Japan
HOW TO GET THERE
SHINJUKU
The easiest way to get to Shinjuku is by subway. Shinjuku Station is Japan's busiest railway station, served by about a dozen railway lines, including the JR Yamanote Line.
SHIBUYA
Shibuya Station is served by the JR Yamanote Line, JR Saikyo Line, JR Shonan Shinjuku Line, Hanzomon Subway Line, Ginza Subway Line, Fukutoshin Subway Line, Tokyu Toyoko Line, Tokyu Den-Entoshi Line, Keio Inokashira Line and the Narita Express.
HARAJUKU
Harajuku is on the JR Yamanote Line, two stations south of Shinjuku and one station north of Shibuya. Alternatively, you can walk to Harajuku from the subway station Meijijingu-mae, which is served by the Chiyoda and Fukutoshin Subway Lines. At the eastern end of Omotesando is Omotesando Station, which is served by the Chiyoda, Ginza and Hanzomon Subway Lines.
GINZA
The most convenient stations for accessing the Ginza district are Ginza Station on the Hibiya, Marunouchi and Ginza Subway Lines and Yurakucho Station on the JR Yamanote Line, JR Keihin-Tohoku Line and Yurakucho Subway Line.
MARUNOUCHI
Marunouchi is located on the west side of Tokyo Station, which is served by several shinkansen lines, the JR Yamanote Line and various other urban and suburban train and subway lines.
MAP

Related Posts: