I am very happy to share with you the recipe for what is possibly my favourite cookie ever: Amaretti. These cookies have a very ancient history, as they were first made in Italy during the Middle Ages.  There are many different recipes and each region of Italy has its own version, but there are 2 main kinds: the soft ones and the crispy ones.  Today I will show you how to make the crispier ones that originate from my region, Lombardy, and specifically from the town of Saronno.  They are really easy to make and they taste so much better than the store bought ones (that I can easily find at the supermarket here in Sydney).  I like to eat these with my espresso, but I also use them to make other desserts, like my Chai Cheesecake with Pumpkin Butterscotch Sauce or my White Chocolate and Amaretti Cheesecake Shooters.  They are also a fantastic way to use up any leftover egg whites that you may have.  These would be a great addition to your Christmas hampers!!  Try them and let me know how you like them!

Amaretti
Learn how to bake perfect amaretti, the most iconic almond based Italian cookies.
Ingredients
215

gms

- 1 1/2 cup blanched almonds

50

gms

- 1 3/4 oz

a little more than 1 egg whites

140

gms

- 3/4 cup granulated sugar

3

gms

- 2/3 tsp ammonia bicarbonate powder

125

gms

- 1 cup icing sugar

1

tsp

bitter almond extract
Instructions
Toast the almonds in a pre-heated oven at 200°C - 390°F for about 10 minutes or until golden brown. Let them cool down completely.

Blend the toasted almond together with the granulated sugar and the icing sugar until you get a fine powder. Sieve the mixture to remove any lumps and put it in a bowl.

Add the ammonia bicarbonate, egg whites (NOT beaten) and almond extract and mix with a spatula until smooth. Cover with a tea towel and refrigerate it overnight.

Bake in a pre-heated fan-forced oven at 150°C - 300°F for 10 to 15 minutes.

Let them cool on the oven tray for 5 minutes, then transfer to a wire rack to cool down completely.
Recipe Notes
I like to use ammonia bicarbonate for these cookies as it makes them lighter and crispier, but if you cannot find it, you can substitute it with baking powder. If using ammonia bicarbonate, do not add more than required or you may taste it in the baked cookies.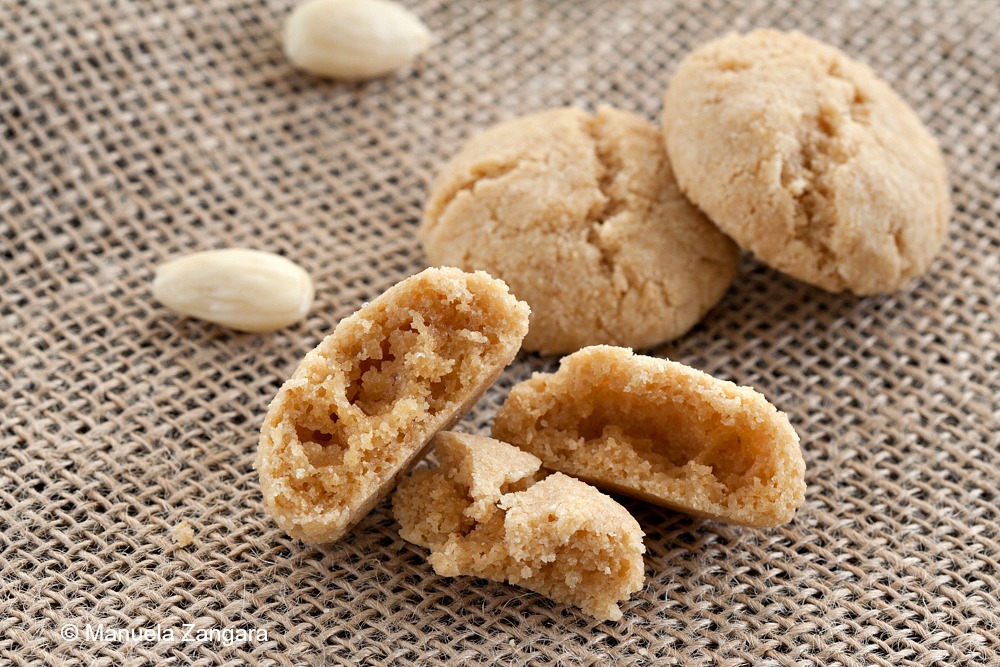 Related Posts: