Today is Mother's Day!!!  I will be celebrating this special occasion with my family and we will have lunch at our favourite Indian restaurant, Abhi's Indian Restaurant about which I wrote a review a few months ago.  One thing that we will surely have is lassi.  My girls LOVE mango lassi and that's the thing they look forward to the most, when we eat there.  I like it too, but my preference goes to their palak patta chat!  Anyhow, as I have already shared the recipe for my home made mango lassi, I thought of showing you how to make a different flavoured lassi.  A couple of weeks ago, we ate at a Dosa restaurant and they had a rose lassi on the menu… I had to order it obviously, as I have a thing for rose flavoured anything.  And I loved it so much I just had to try and make it at home.  This recipe is what I came up with and I can tell you, it is spot on.  For my readers who are not familiar with lassi, it is an Indian yogurt based drink that can be either salty or sweet.  As I also got a beautiful bouquet of pink roses from my sweet little girls, what better occasion to post this recipe than Mother's Day?  Wouldn't it be a great breakfast idea for your mum?  Even better if served with a rose on the side and a sweet card. 🙂  HAPPY MOTHER'S DAY to all the mummy-readers!  Enjoy this special day with your loved ones!
Ingredients (for 2 persons):
1 cup natural yogurt
1/3 to 1/2 cup water (depending on how thick you like it)
3 ½ tbsp rose syrup
4 to 5 tbsp caster sugar (depending on how sour the yogurt is)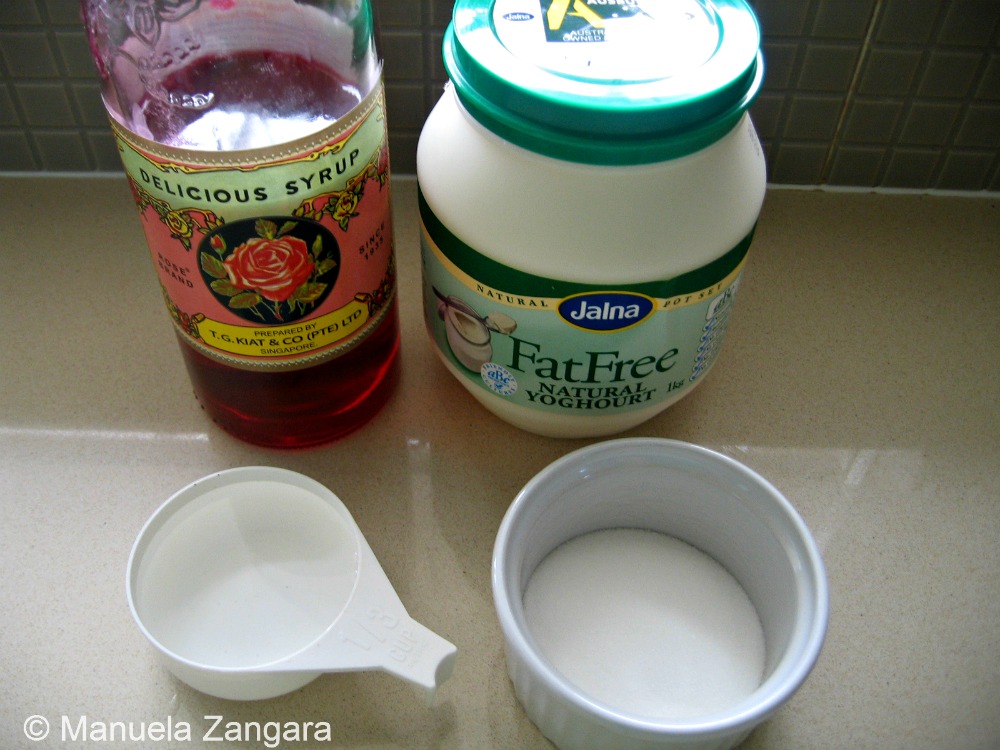 Put the yogurt, water, rose syrup and caster sugar in a mixer and mix for 1 or 2 minutes, until all the ingredients are well combined.
Pour in 2 glasses and decorate with some rose petals.
Drink cold (you can also add ice cubes to it).
Enjoy it with your mum and tell her how much you love her (I love you mum… this is virtually for you!!!).  I also want to send a big virtual hug to my friend Divya of Flavour Fiesta on this occasion: thinking of you A LOT Divya!  Please make each day with your mums count, as you don't know how much time you have to spend with them.  Happy Mother's Day!

Related Posts: