I grew up in Europe during the 90's and the war in the former Yugoslavia was very close for us living in Italy. I had visited Croatia as a child, and looking at the terrible images coming from across the border would make me shiver. A few months ago, a friend of mine visited Bosnia and the beautiful city of Sarajevo and I followed her trip on Facebook. She posted beautiful pictures of places that "came back to life", people and… food. And then I saw Burek and immediately decided I had to try it! What is Burek? It is a baked filled pastry made of a thin flaky dough (phyllo or filo), found in the cuisines of the former Ottoman Empire.  A burek may be prepared in a large pan and cut into portions after baking, or as individual pastries.  The top is often sprinkled with sesame seeds before baking.  There are so many variations of Burek and each country and region has its own specialty. I decided to make the Bosnian version: in Bosnia and Herzegovina, the burek is a meat-filled pastry, traditionally rolled in a spiral and cut into sections for serving. It was delicious and it is really easy to make, I promise! Serve it with some yogurt and a refreshing green salad for a delicious meal.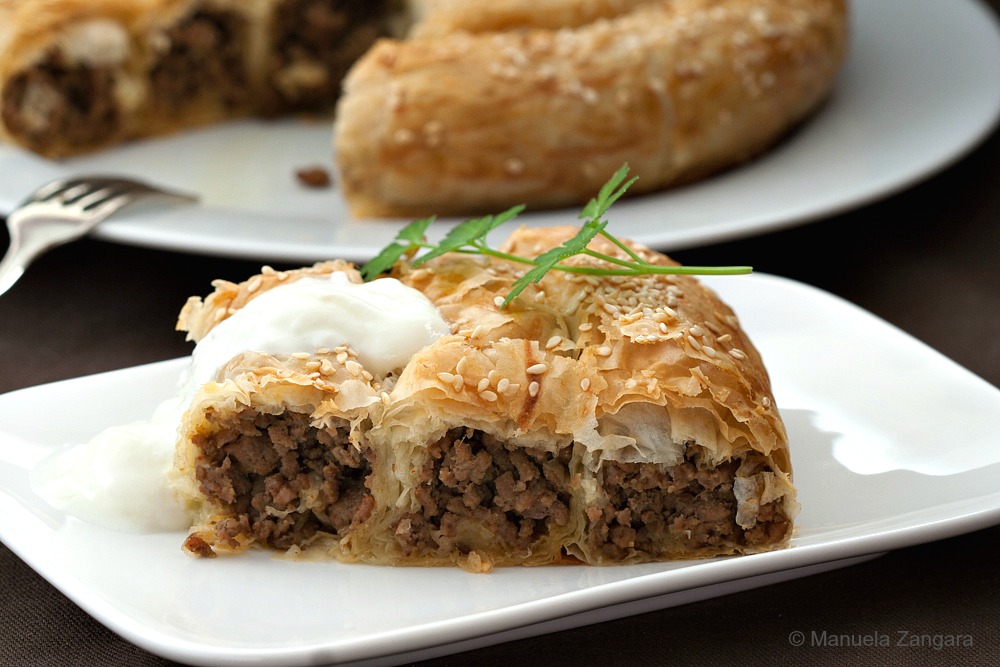 Bosnian Burek
Bosnian Burek - a baked phyllo pastry filled with meat, traditionally made in the former Ottoman Empire.
Ingredients
Filling
2

tbsp

extra virgin olive oil

1

medium onion

finely chopped

2

garlic cloves

chopped

500

gms

– 1 lb ground beef or lamb

3

tbsp

fresh parsley

finely chopped

½

tsp

salt

½

tsp

freshly ground pepper

¾

tbsp

sweet paprika
Burek
1

package filo pastry

50

gms

– ¼ cup butter

melted

1

tbsp

sesame seeds

1

egg

lightly beaten + 1 tsp water

Plain yogurt to serve
Instructions
Filling
Heat the extra virgin olive oil in a large pan. Add the chopped onion and garlic and sauté them for a couple of minutes. Then add the ground meat and cook over medium heat until the meat is browned. Add salt, pepper and sweet paprika and mix well.
Burek
Line a large baking sheet with baking paper.

On a clean, dry surface, lay out three sheets of filo pastry, end to end, slightly overlapping, to create one long rectangle of pastry. Repeat once more, directly over the first layer. Complete this process one last time to create a third and final layer.

Brush the filo with melted butter. Arrange the meat mixture in a long line across one long edge of the filo dough and begin to roll it up, tightly but gently. The filo may crack, but keep going. Roll the filo up so that it forms one very long "snake".

Roll the tube of filo up on itself to form a spiral disc shape. Place the spiral onto the lined baking sheet.

Bake in a pre-heated oven at 190°C – 375°F for 20-30 minutes, or until the dough is golden brown.

Serve with some yogurt on the side.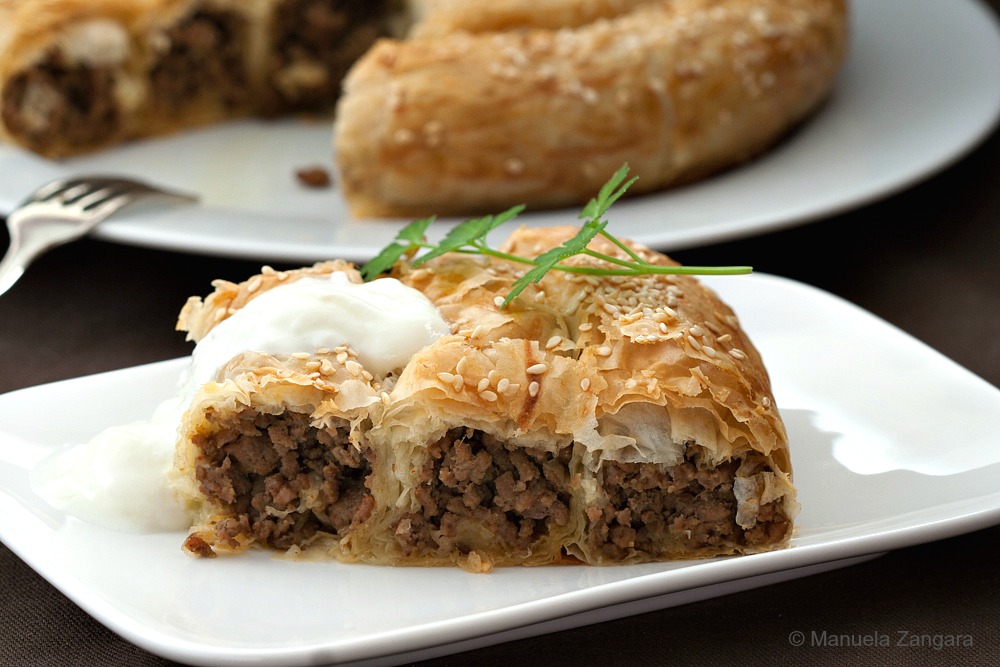 Related Posts: