I often associate memories with food (or food with memories?) and eating kebab always reminds me of Paris.  Strange, eh? Well, not so much.  As I have already mentioned in my post on Fried Rice, foreign food restaurants and eateries were not so common while I was growing up in Italy.  And that too in such a big and cosmopolitan city like Milan.  So my main source for "unusual" food was France.  North African and Middle Eastern cuisines are probably the most common non-French cuisines in France (together with South East Asian) and you can find a big variety of dishes and delicacies from cous cous to tajines to fresh dates (I had never seen them before) to falafel and kebabs.  The way I have always enjoyed kebab (or shawarma, as they seem to be the same dish with a name that changes from country to country) was inside some pita bread, with tahini and/or yogurt sauce, salad, tomatoes, onion rings and fries.  And I LOVED it.  In more recent years, Milan started to open up to different cultures and it is now common to find places that sell kebabs, just the way I like them.  When I moved to Australia, I was very surprised to see that the kebab sold here is very different.  First of all it is made either with chicken or beef (I had always only seen chicken and lamb in Europe), then it is served rolled up in the thin Lebanese bread (khubz) and often served with cheese and/or barbecue sauce (though even the more "traditional" sauces are available).  I am not sure of the reasons for these differences, but I really missed the "European" version.  So, when I saw my friend Sawsan's recipe for Chicken Shawarma at Chef in disguise, I knew the time had finally come to try making it at home!  Sawsan lives in Jordan and has a fantastic website with lots of yummy recipes and beautiful pictures: make sure to check it out.  I really admire her.  She is really talented and is an amazing person.  She served her shawarma in a slightly different way (which I am sure is just as great), but I had a "mission" and adapted her recipe to complete it.  I used her marinade and cooking method to the "T" and the chicken was delicious: moist and full of flavours!  I served it in my whole meal pita, with tomatoes, red onion rings, coriander leaves, baked potato chips and tarator sauce.  What is the verdict you may ask?  It was perfect!  I have finally found my "long lost kebab"… and now I can make it and eat it any time I want!  Thank you so much Sawsan!!
I am linking this recipe to the Cook Around the Globe monthly event hosted by German Mama of From Arepas to Zwetschgen.  After making Mojitos for last month's region (the North Caribbean), this month's region is the Arabian Peninsula where shawarma is quite popular.
Recipe adapted from Chef in disguise
Ingredients:
300 gms – 10.5 oz. chicken tenderloins, cut in strips
1 red onion, thinly sliced
A few cherry tomatoes, sliced
Coriander leaves
Baked chips (made with extra virgin olive oil and salt)
Tarator Sauce
Whole meal Pita Bread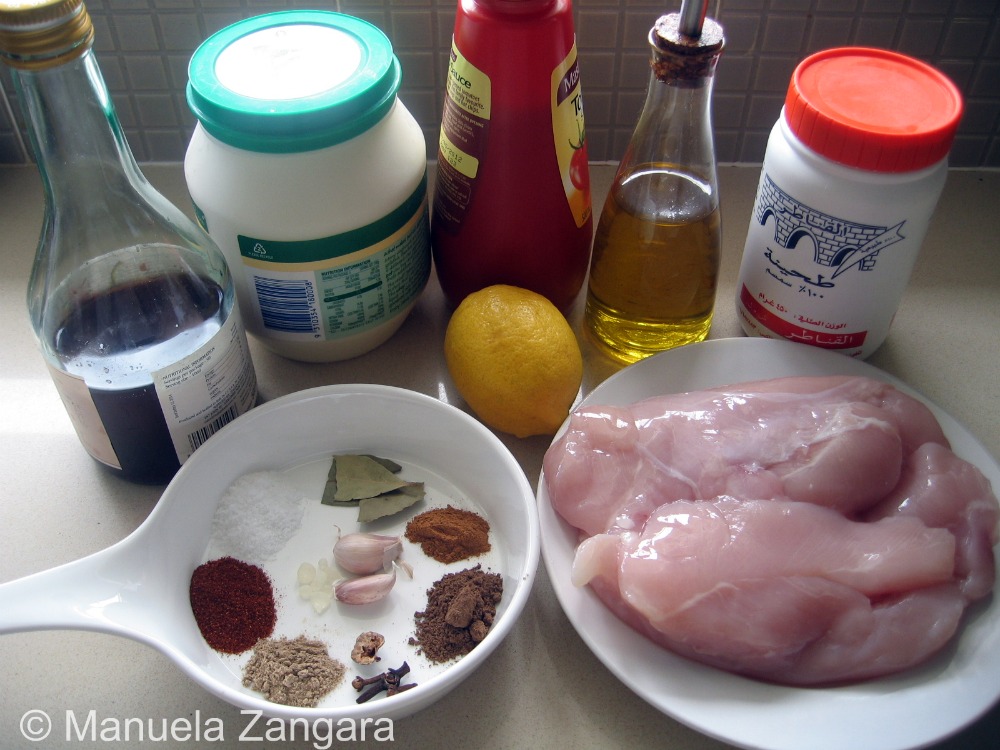 For the chicken marinade
Juice and zest of one lemon
1 cup yogurt
2 tbsp extra virgin olive oil
2 cloves of garlic
2 tbsp ketchup
1 tbsp vinegar
1/2 tsp paprika
1/2 tsp all spice
1/2 tsp salt
2 tbsp tahini sauce
1/4 tsp cardamom
1/8 tsp nutmeg
1/4 tsp cinnamon
4 cloves
2 bay leaves
1/2 teaspoon of mastic
NOTE: mastic can be found in specialty shops that sell Middle Eastern ingredients.  I found it easily at my local Lebanese shop.  It is a bit pricey but you only need very little.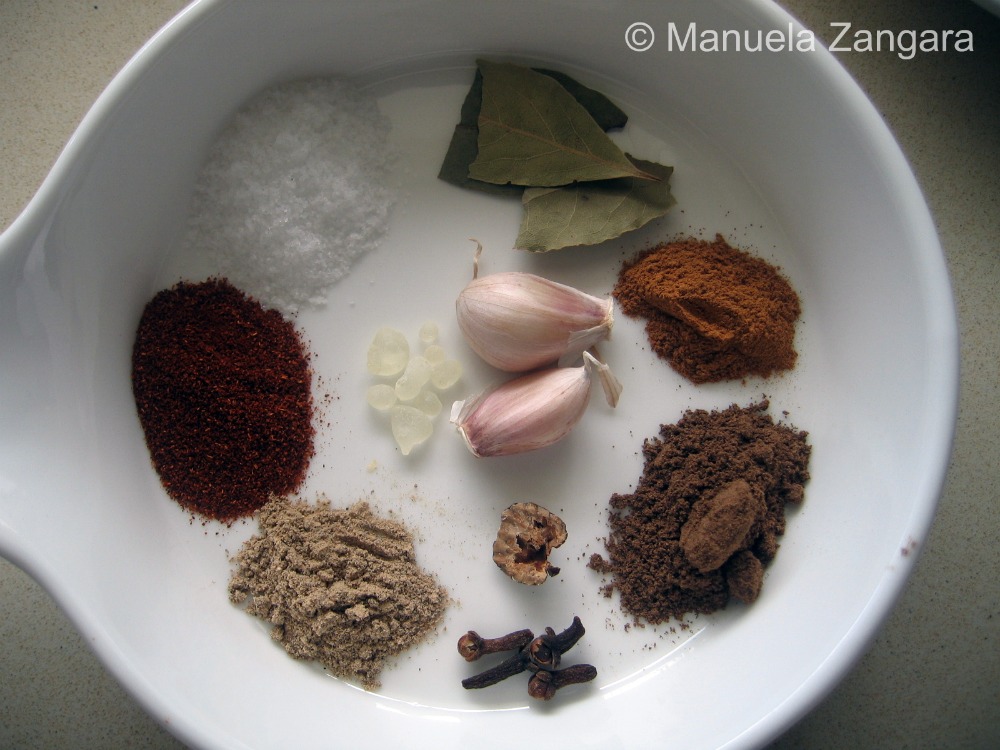 Put all the dry spices in a food processor and reduce them into a powder.
Put all the marinade ingredients in a big bowl and mix well.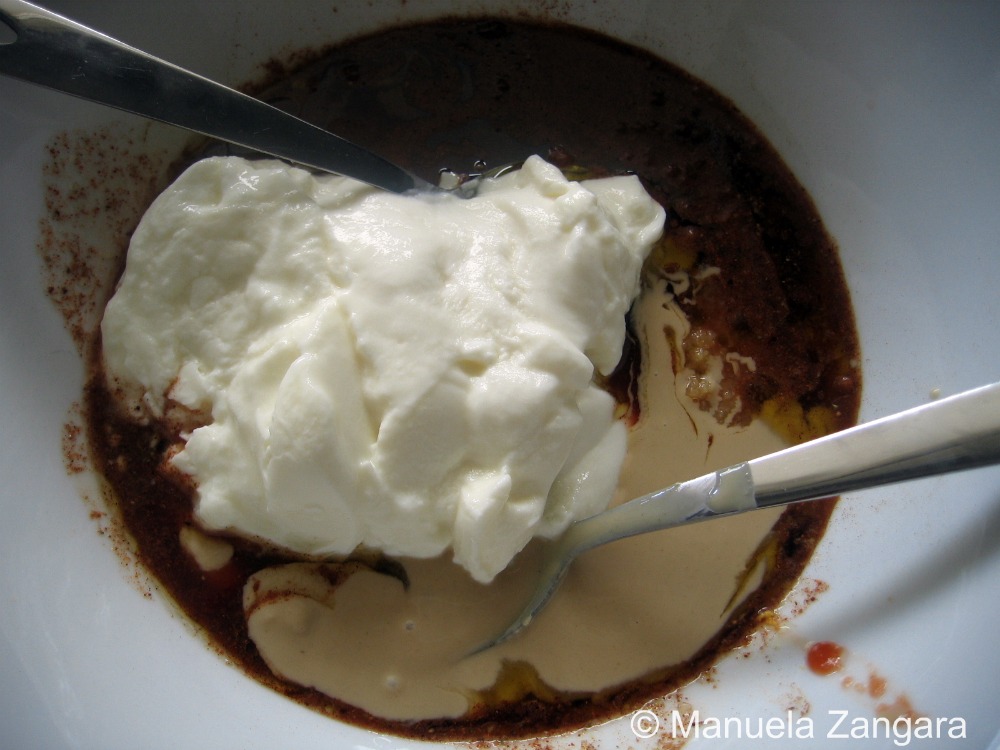 Add the chicken tenderloins and coat them well with the marinade.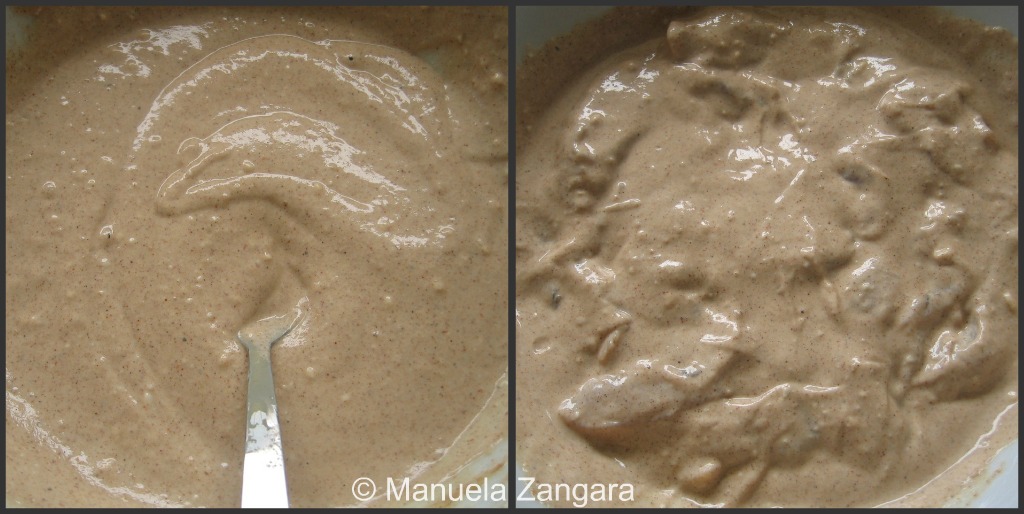 Cover and refrigerate overnight for best results.
The following day, cut the potatoes in strips and put them in some cold water for 30 minutes.
Then drain them and put them on a baking tray lined with baking paper.  Drizzle with some extra virgin olive oil and salt and toss to combine.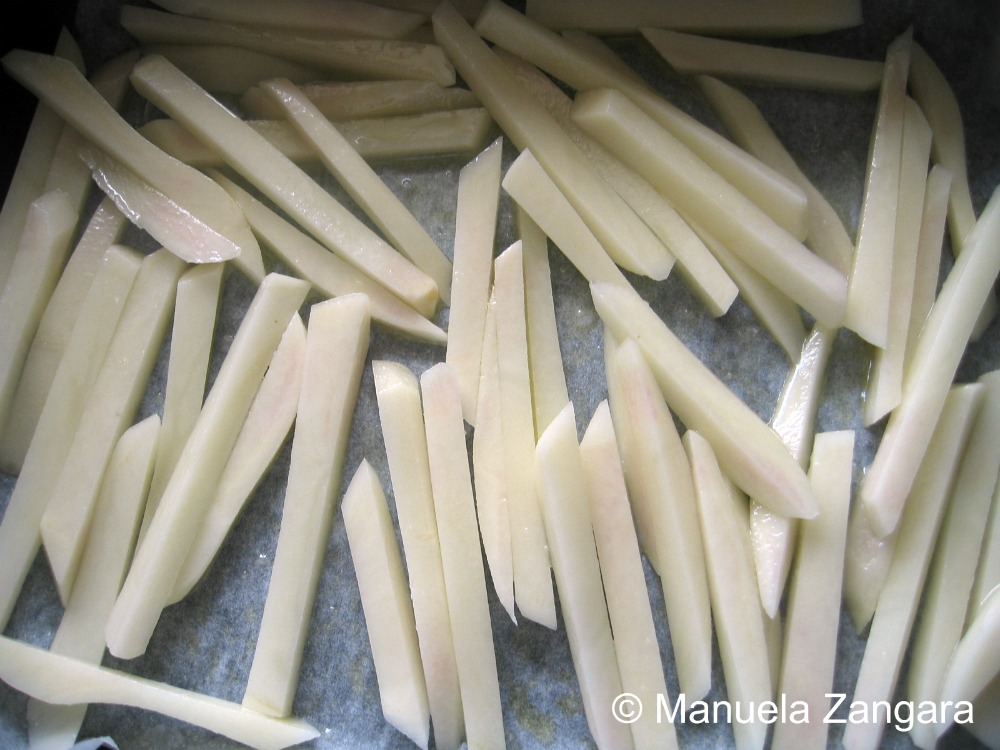 Bake in a pre heated oven at 200°C for about 15 minutes or until golden and crunchy.
While the potatoes are baking, drain the chicken from the marinade and pan fry it with some extra virgin olive oil over medium heat, stirring occasionally until cooked through.
Now you are ready to assemble you shawarma sandwich.
Open the pita bread to create a pocket.  Put some tarator sauce, chicken, tomatoes, onion slices, coriander and baked chips in it.  Enjoy!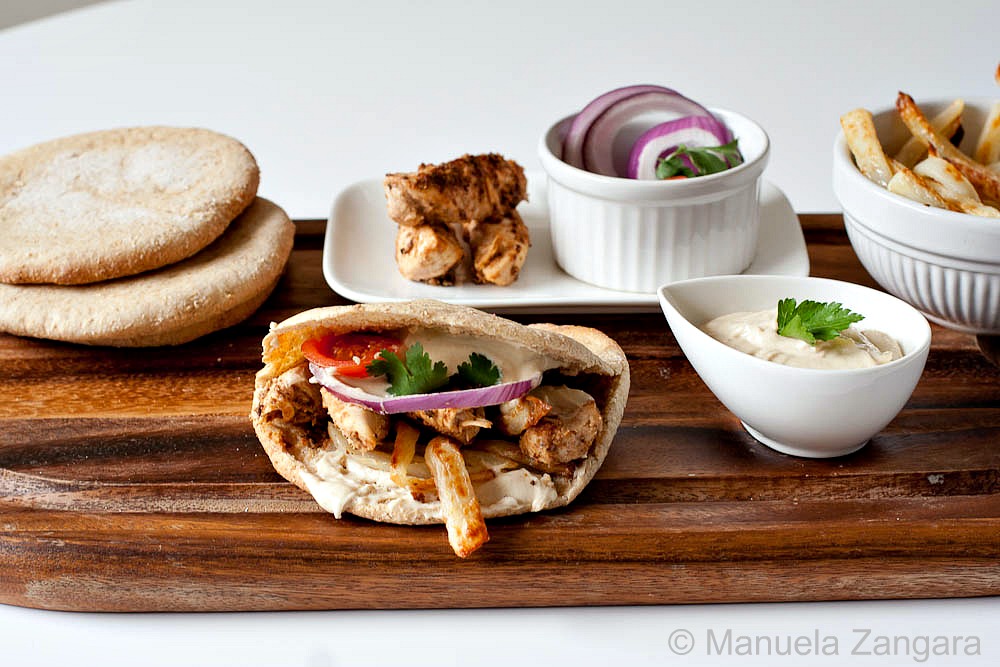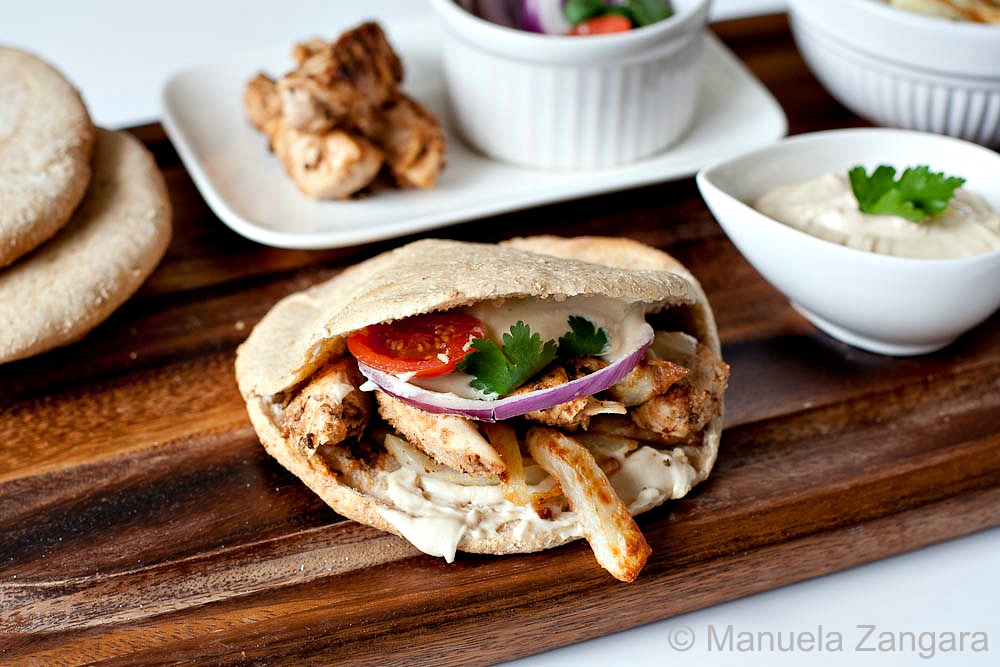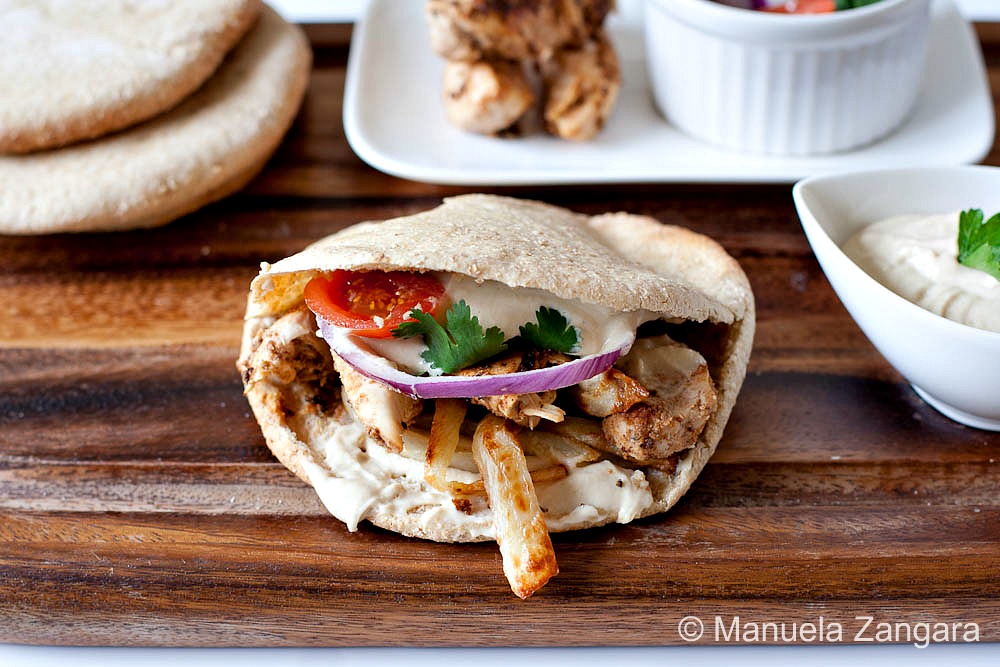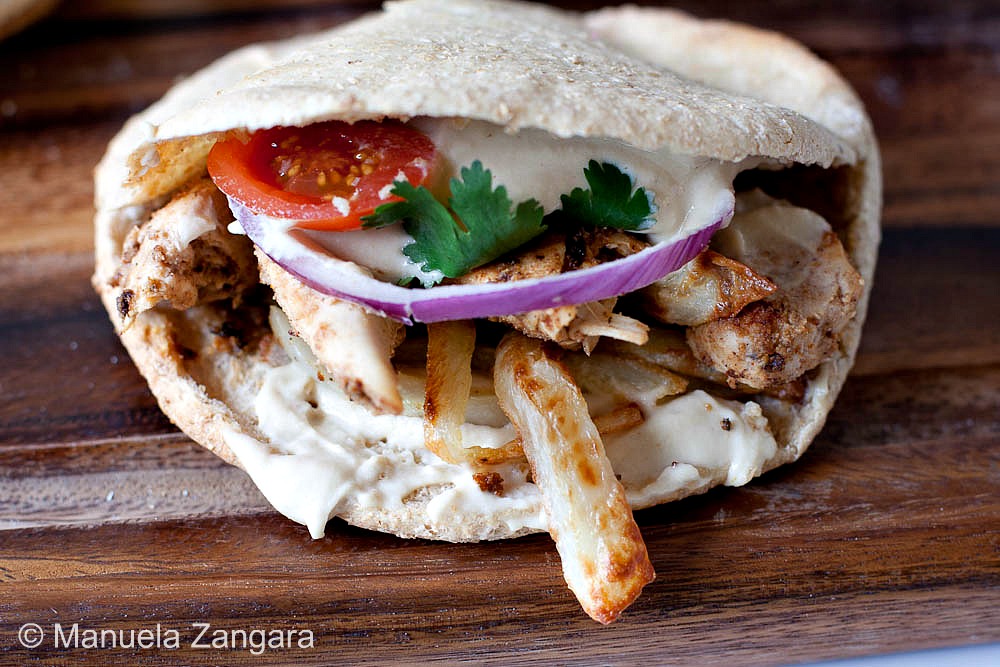 Related Posts: