The first time I ate falafel I was in Paris… as it often happened with Middle Eastern food that was almost unknown in Italy.  I am talking about 20+ years ago!  I still remember the shop I bought them from.  It was near Place des Vosges, in my favourite area of town: the Marais, which is also the most famous Jewish quarter in Paris, thus abounding in Middle Eastern and Jewish shops.  If you are ever in town, make sure to pay the area a visit, you will love it!  Probably as much as I love falafel!  Anyhow, many years (alas) have passed and I now know how to make falafel at home!  Thank God for that as in the meantime I moved to Australia and the Marais is a bit out of my way! 😉  I love eating mine in whole meal pita with hummus, tarator sauce or yogurt sauce, tomatoes and onions!  It makes a very hearty and healthy meal, especially if you bake them!  Enjoy and don't forget to enter my giveaway for a chance to win a $50 or a $25 Amazon.com gift card!
Recipe adapted from Cooking and Me
Ingredients (makes around 15 falafels)
For the falafel
½ cup dry chickpeas, soaked overnight (or 1 cup tinned chickpeas*)
1 tsp cumin seeds
½ tsp coriander powder
½ tsp red chilli powder
½ tsp minced or crushed garlic
1 bunch fresh coriander leaves, chopped
1 small red onion, chopped fine
1-2 tbsp freshly squeezed lemon juice
2-3 tbsp plain flour (or crumbs from 2 slices of stale bread)
Salt to taste
Vegetable Oil to deep fry
For the yogurt sauce
½ cup yogurt
1 tbsp lemon juice
½ tbsp extra virgin olive oil
1 clove garlic, minced
Salt and pepper
Drain the soaked chickpeas on kitchen towels and drain out as much moisture as possible.
Put the chickpeas with all the rest of the ingredients into a food processor or mixer jar and grind until smooth and dry. You should be able to shape them easily into small discs. If the mixture is too moist or sticky at this stage, add a little bit more flour/breadcrumbs.
Shape into small discs and deep fry them on medium heat until dark brown on both sides.  Drain on kitchen towels
To make the yogurt sauce, simply mix all the ingredients together.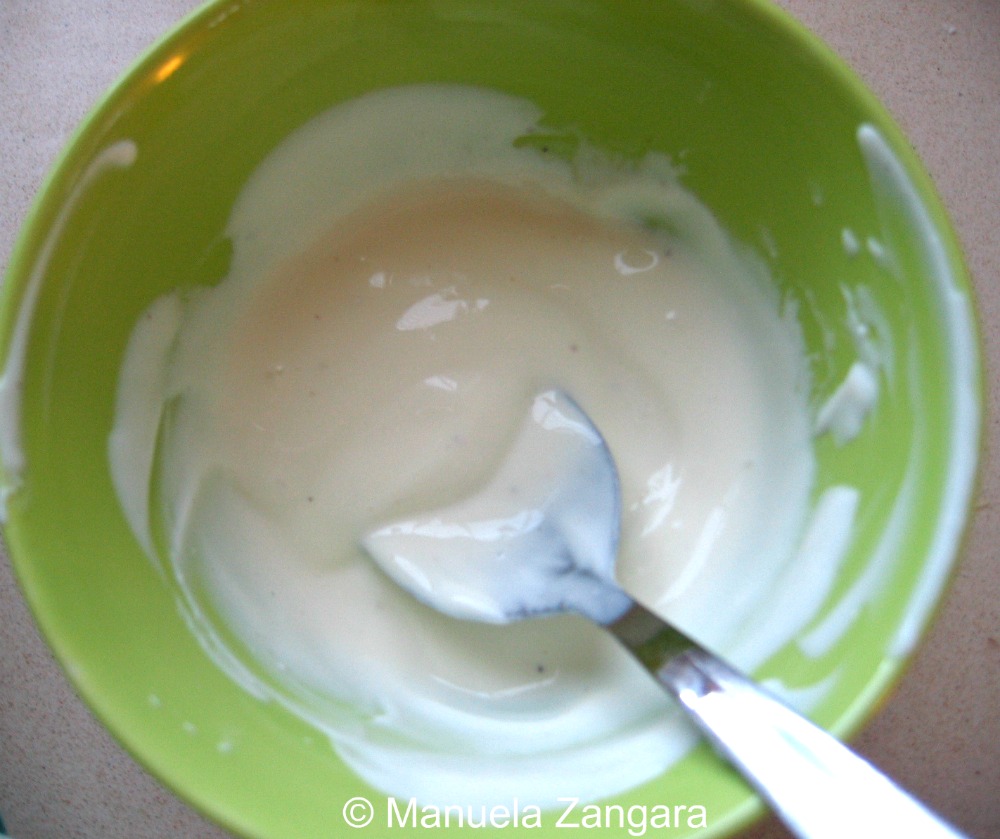 Serve with tomatoes, red onion rings, coriander leaves, hummus or tarator sauce or the yogurt sauce and warm whole meal pita.
NOTE: You can also bake the falafel (I often do).  Just put them on a baking dish covered with baking paper, spray them with some olive oil and bake at 180ºC – 350ºF for about 20 minutes (depending on the size) or until golden brown.

Related Posts: