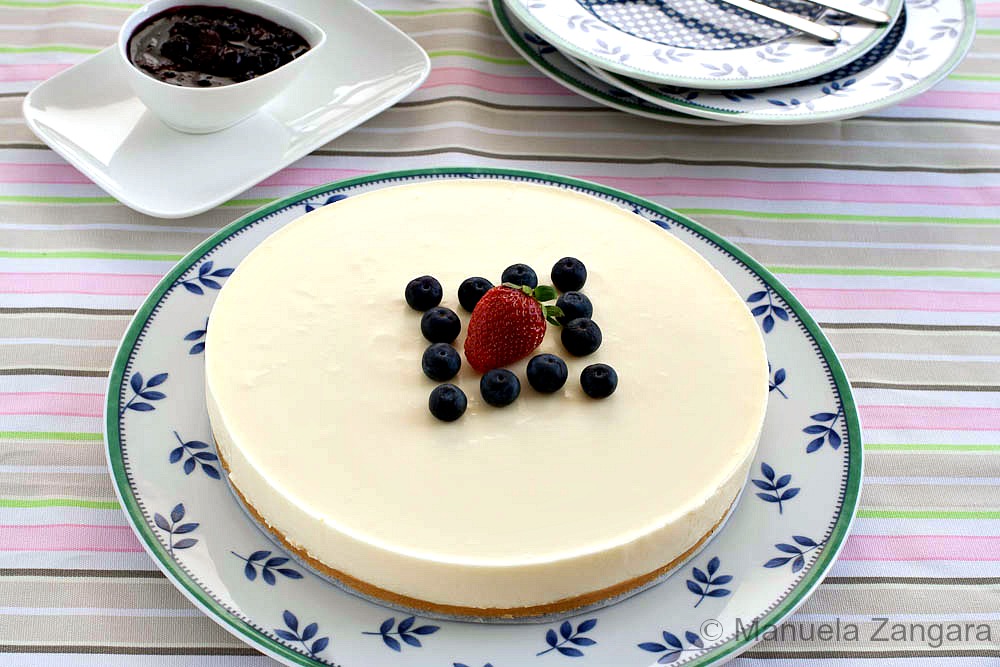 Today's dessert is a cold treat and it is one that is actually not too bad for you as it is made (mainly) with natural yogurt.  Back in Italy there is a famous pre mixed version of this that is sold in little boxes… you mix in some fresh ingredients and there you have your cake.  But really, this dessert is so easy to make, that you don't really need any extra "help".  And isn't it always better to know what is in your food??  I love making this chilled cake.  It is very similar to an "unbaked cheesecake", but made with yogurt and gelatine to help it set.  It is a lot of fun and the kids love it, especially now that the weather is getting warmer down here!  I love to serve it with some kind of fruit compote and this time, I used blueberries.  You can also use flavoured yogurt, just remember to cut down the sugar as flavoured yogurts are already sweet.  Enjoy!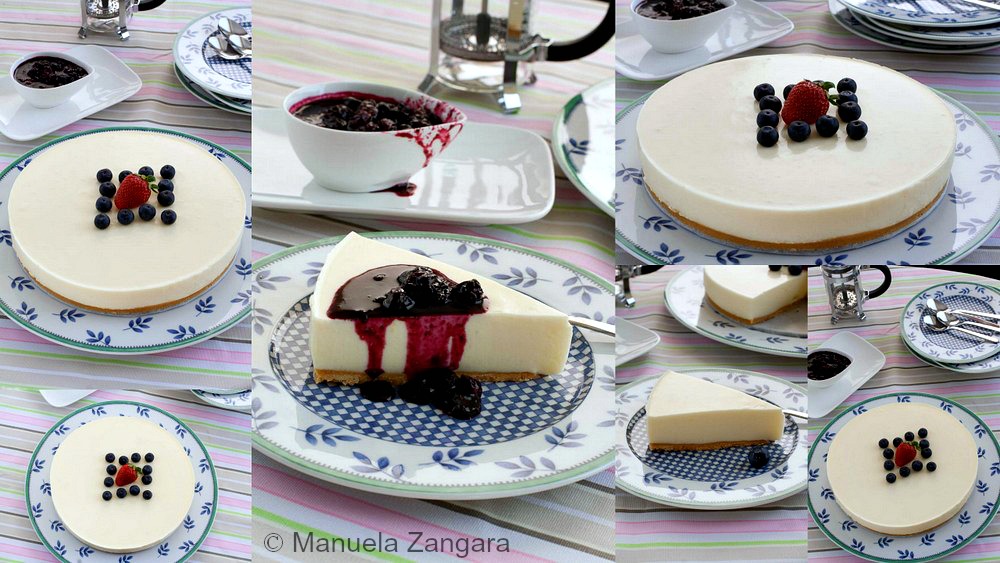 CHILLED YOGURT CAKE WITH BLUEBERRY COMPOTE
Serves:
makes one 23 cm - 9 inch cake
Ingredients
Base
165 gms – 1 ½ cup cookie crumbs (I used scotchfingers, but digestive or graham crackers are fine too)
95 gms – ⅓ cup + 1 ½ tbsp melted butter
Yogurt Cream
700 gms – 1 ½ lbs. yogurt
300 ml – 1 ¼ cups whipping cream (whipped with 1 tbsp sugar)
120 gms – ½ cup + 2 tbsp sugar
12 gms – ½ oz. gelatine sheets
6 tbsp milk
Blueberry Compote
Instructions
Chilled Yogurt Cake
Line the bottom of a springform pan with baking paper.
Mix the cookie crumbs and melted butter and press this mixture on the bottom of the pan with a spoon. Make sure it is spread out evenly. Refrigerate for 30 minutes to harden.
In the meantime, whip the cream with 1 tbsp of sugar.
Mix the yogurt with the sugar and add it to the whipped cream, folding it in carefully so as not to deflate the cream.
Put the gelatine sheets in some cold water and keep them there to soften for 10 minutes. Then drain them and squeeze all the water out.
Heat up the milk and dissolve the drained gelatine in it.
Add this mixture to the yogurt and cream and mix well.
Pour this mixture on the cookie crust, level it and put the cake in the fridge to set overnight.
Blueberry Compote
Place the sugar, blueberries and lemon juice in a small saucepan and cook, stirring, for 8 minutes or until syrupy and reduced slightly. Remove from the heat and chill until cold.
Serve the Chilled Yogurt Cake with the Blueberry Compote.
Pin It

Related Posts: