Kouky from "Cuisine à 4 mains", challenged us to make Griwech, a popular Algerian dessert that is a full flavoured delicacy that has both a melt-in-the-mouth and a crispy texture.
Ohhhh this month's Daring Cooks challenge was GOOD. As Kouky says: "Griwech is an Algerian pastry prepared with a thinly flattened dough, shaped in different ways, then fried and coated in honey and finally sprinkled with sesame seeds. Etymologically griwech in Algerian Arabic means "crunchy". […] The pastry finds its roots in the western regions of Algeria, particularly in cities such as Oran and Tlemcen then later spread into the rest the country. It's so popular that every year, a myriad of versions are introduced that make this pastry a much loved and up-to-date treat. Griwech is very much appreciated during religious celebrations, weddings and mainly during the Muslim fasting month of Ramadhan, where it's often served with a glass of mint tea. A similar version called chebakiya is found in the neighbouring Morocco but the latter is slightly different as it contains almonds and ground spices".
What is great about this pastry is the fact that you can shape it in many different ways: braids, cobs, flowers, bows, roses… Kouky showed us how to make 7 shapes. I have only tried 4 (braid, cob, flowers and hank) and then made mostly "hanks". I liked the shape and I found it faster to make and easier to make pastries of more or less the same size.
The deep fried griwech is then dipped in a caramel and sugar syrup flavoured with orange blossom water. It is delicious and because of the caramel, the final result is not overly sweet. It is an absolute must-try!
Griwech
Griwech - a popular Algerian pastry, deep fried and dipped in a caramelized syrup.
Prep Time
1
hour
30
minutes
Ingredients
Griwech
500

gms

– 4 cups all-purpose

plain flour

125

gms

– ½ cup butter

melted and cooled

1

large egg

lightly beaten

1

pinch

of salt

1

tsp

sugar

3

gms

– 1 tsp instant yeast

1

tsp

baking powder

1

tsp

vanilla extract

1

tbsp

orange blossom water

About 150 ml – 2/3 cup warm water

depending on the flour absorption capacity
Syrup
400

gms

– 2 cups sugar

250

ml

– 1 cup water

few drops of lemon juice

Flavouring to taste

vanilla, rosewater, orange blossom – I used orange blossom water
Shaping and Deep Frying
Sesame Seeds

optional

Almonds

Vegetable Oil
Instructions
Recipe Notes
Griwech can be stored in a sealed container in the refrigerator for up to 2 weeks. You can store it in the same sealed container in the freezer for three months.
The caramelisation of the sugar is optional. Its purpose is to provide the home-made honey its typical amber colour. I liked it as it makes the final pastry less sweet and it adds a nice caramel flavour.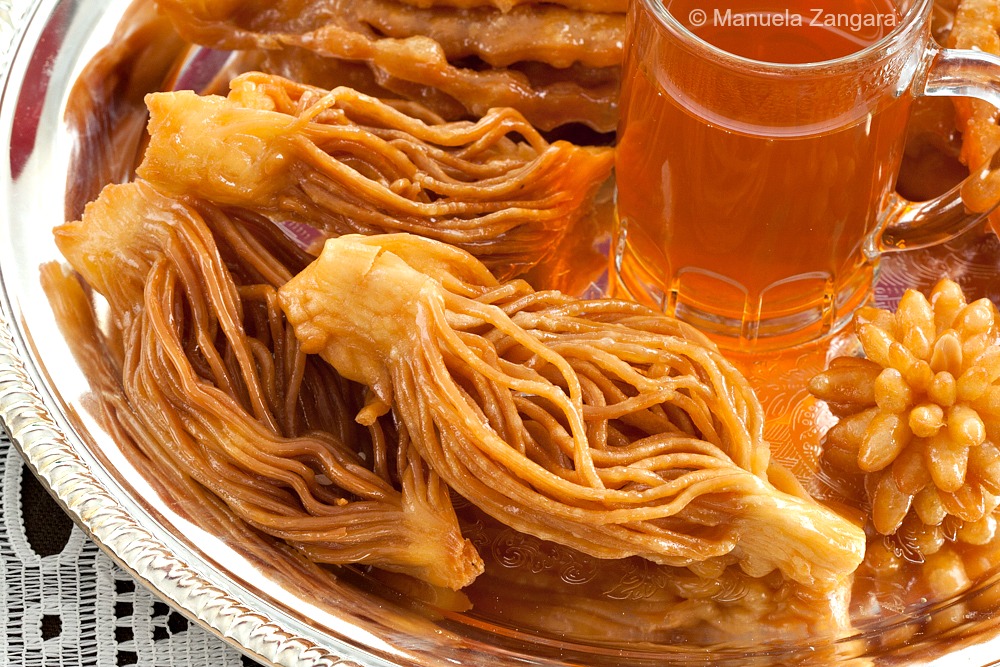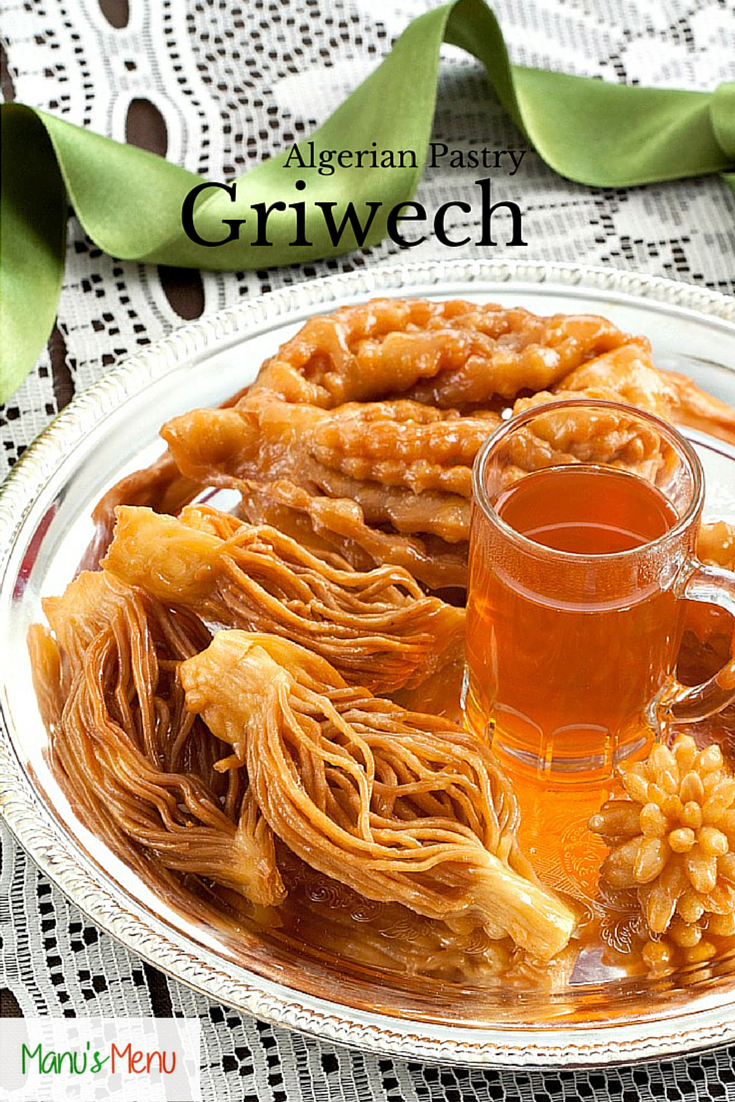 Related Posts: