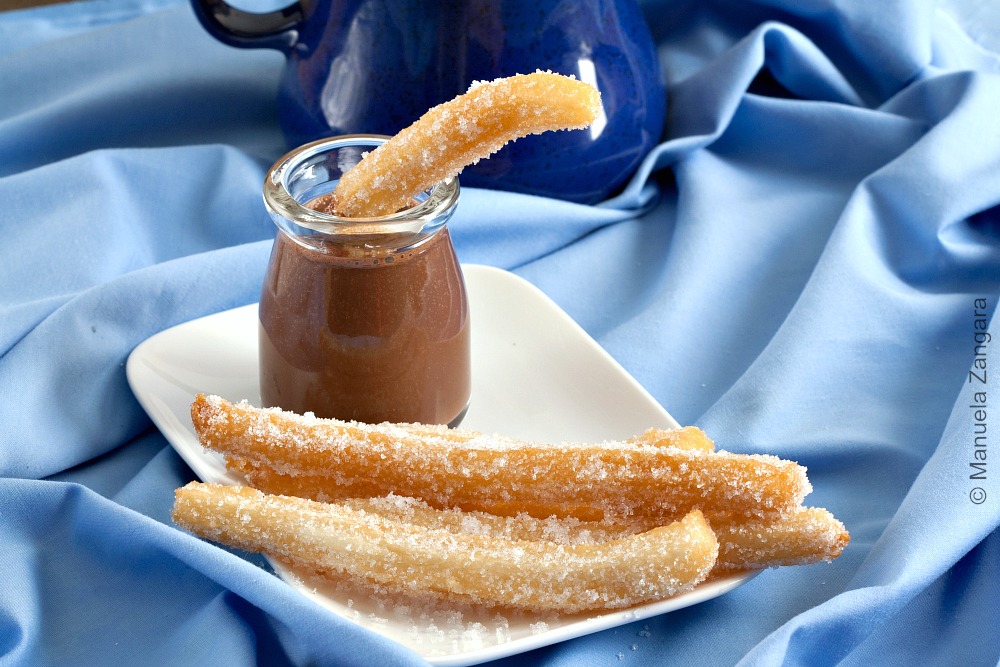 I think everyone knows what churros are… but what you don't know is how much I like them!  Whenever I go to Spain, they are my breakfast with a nice cup of hot chocolate… no matter the time of the year, the season and the weather!  That's how much I like them.  There are a few places where you can get good churros here in Sydney, so I didn't have to give up my passion all together after moving down-under, but, as you know, I have this little thing for home-made things.  So, I went ahead and made my own.  Would you be surprised if I told you they are really very easy (and very cheap) to make?  All it takes is 4 ingredients… The only suggestion I have if, like me, you don't own a churrera (the tool used to make churros), is to use a very sturdy piping bag, as this dough is quite tough and it would break a normal disposable piping bag.  I have been there, trust me.  You will find many recipes on the web on how to make churros that yield a softer dough, easier to pipe (some even use eggs!!), but they are not the real deal.  These churros are crunchy and delicious and just like the ones I used to have in Spain!  I like to serve them with some Spanish style hot chocolate, for old times' sake!  Enjoy… y buen provecho!
If you don't have a churrera, you can buy it here Bernar Churro Maker from Spain
or use a piping bag.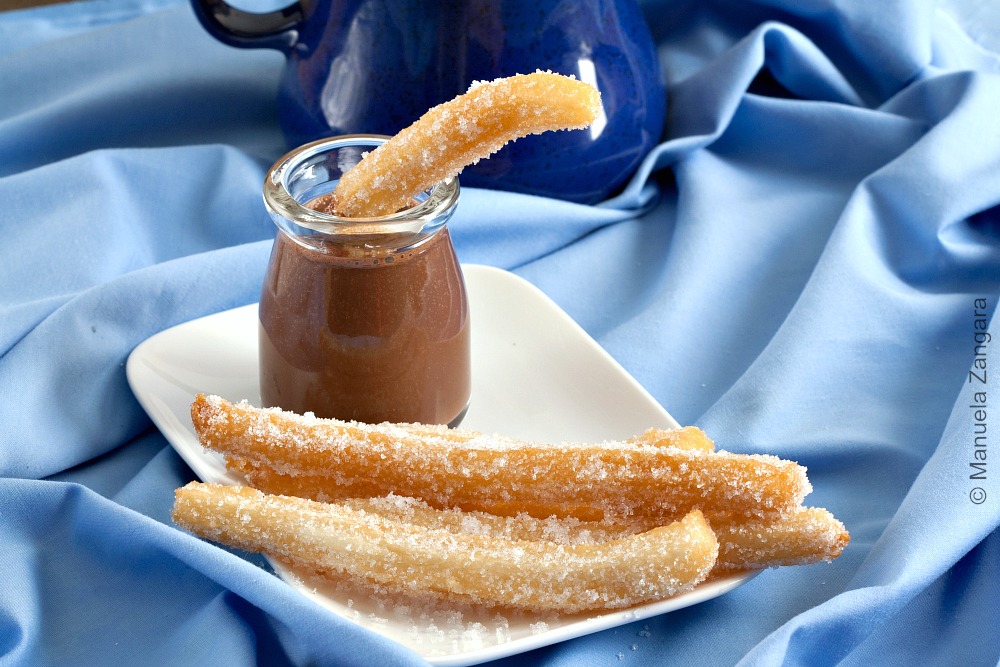 Churros y Chocolate
Churros y Chocolate - crunchy and delicious and served with hot Spanish style chocolate!

Ingredients
Chocolate
125

gms

– 4 ½ oz. dark chocolate

50

gms

– ¼ cup sugar

15

gms

– 2 tbsp cornstarch

500

ml

– 2 cups milk

¼

tsp

cinnamon

or to taste
Churros
120

gms

– 1 cup all purpose flour

240

ml

– 1 cup water

2

tsp

granulated sugar

1

pinch

salt

Granulated sugar for coating
Instructions
Chocolate
Dissolve the cornstarch in 2 tablespoon of the cold milk and keep it aside.

Put the remaining milk and sugar in a pot and bring to a light boil. Add the chopped chocolate and cinnamon and mix well until dissolved.

Add the cornstarch and milk mixture and cook for a couple of minutes, or until thickened to your liking.
Churros
Put the water, salt and sugar in a pot and bring it to a boil

Remove it from the fire and add all the flour. Mix well and quickly so you don't get any lumps. Once you have a smooth dough, keep it aside to cool down.

If you don't have a churrera, you can use a piping bag.

Fill a piping bag fitted with a 1M Wilton tip with the churro dough and pipe it into a pot filled with hot vegetable oil.  Cut out the churros every 18-20 cm and deep fry them until golden.  Then remove them with a slotted spoon and keep them on a plate covered with kitchen paper to drain the excess oil.
Recipe Notes
Make sure to use a cloth piping bag or a very resistant plastic one.  The dough is a bit tough and it would break the disposable plastic bags.
*In the spirit of full disclosure, this page contains an affiliate link, which means that I may get a commission if you decide to purchase anything from the site above.

Related Posts: