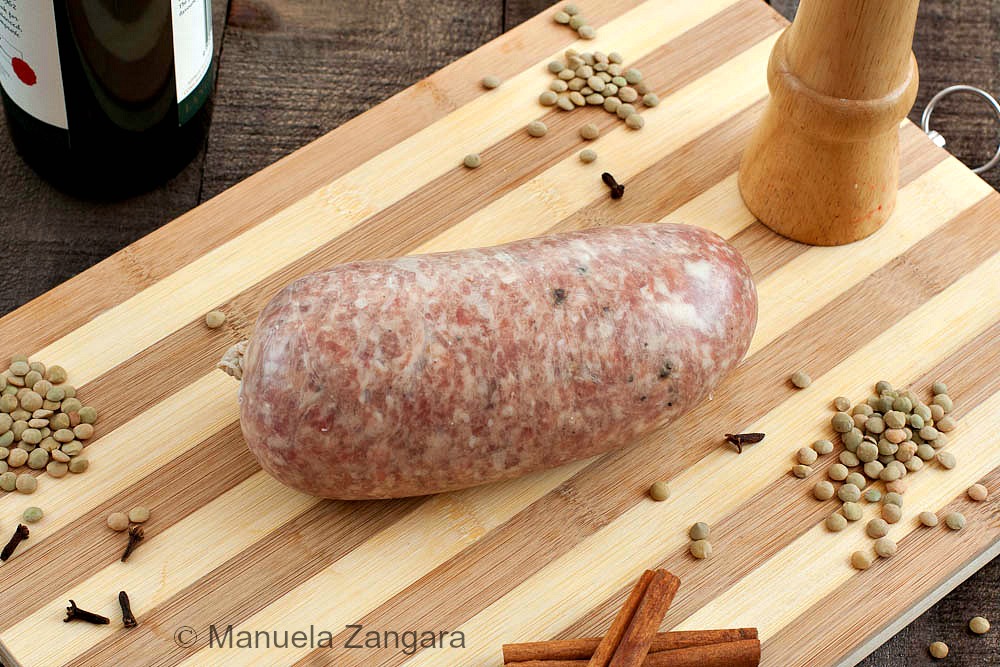 A few months ago, I took part in a Daring Cooks challenge about salumi. At that time, I chose to make Salame Cotto, and it was a great success. That, and the fact that I regularly make my own Pork Sausage, encouraged me to try my hands at making another popular Italian meat product: Cotechino. It is similar to a big sausage (with different spices), but what really makes it different is the fact that it also contains pork rind in the meat mixture. Cotechino takes about 10 minutes to make (yes!) and 2 to 3 hours to cook… you want the rind to really become soft, so that when you eat it, it melts in your mouth. Italians always eat Cotechino on New Year's Eve and it is usually served with lentils (click here for my Cotechino with lentils recipe), but we also like to eat it during the remaining cold days of winter. I am sure you can find pre-cooked Cotechini in the shops (I am so lucky to actually find freshly made ones at my Italian butcher!), but home-made is always best as it does not contain any preservatives. That is also why my home-made Cotechino is not "reddish" in colour (nitrates usually make cured meats look red). Even though the look is slightly different, this Cotechino tasted much better than the store bought ones. Give it a go and I am sure you won't be disappointed! Enjoy!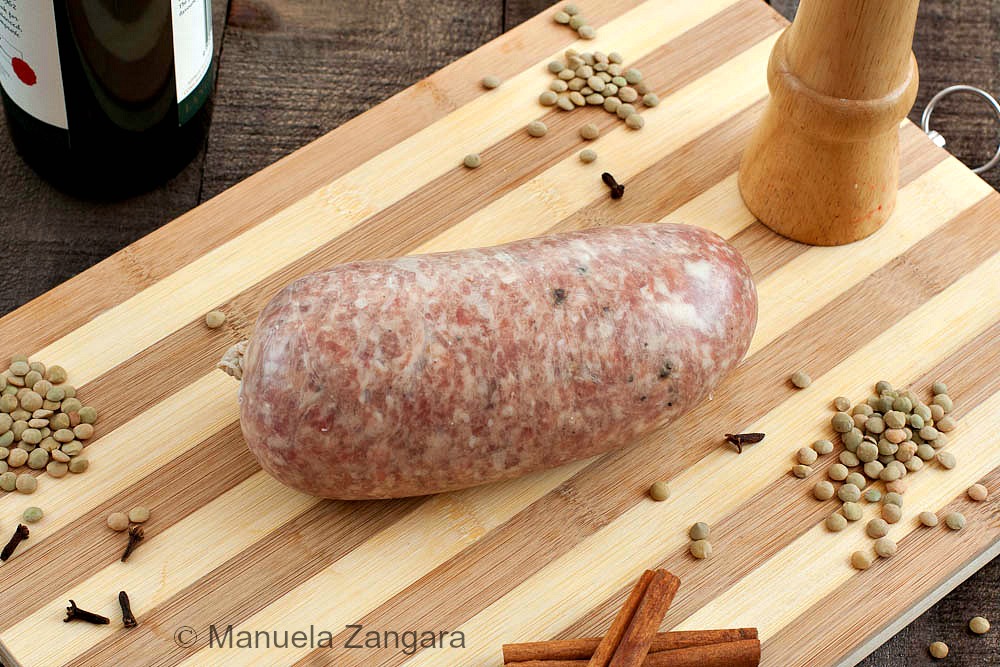 Home-made Cotechino
Home-made Cotechino - a tutorial on how to make your own Cotechino at home!
Ingredients
600

gms

– 1 1/3 lbs. pork scotch fillet

200

gms

– 7 oz. pork rind

200

gms

– 7 oz. rashers without rind

18-20

gms

– 3 ¼ tsp salt

50

ml

– ¼ cup red wine

3

gms

– 1 tsp peppercorns

crushed with a mortar and pestle

¼

tsp

cinnamon

1/8

tsp

fennel seeds

1/8

tsp

nutmeg

1/8

tsp

clove powder

1/8

tsp

garlic powder

Salami casing

soaked in tepid water for at least 20 minutes and rinsed
Instructions
Roughly chop the rind, the scotch fillet and the rashers.

Grind the rind using a 1.6 cm – 0.6 inch diameter grinder.

Grind the scotch fillet, the rashers and the already ground rind using a 0.8 cm – 0.3 inch diameter grinder.

Mix the ground meat together in a bowl. Add the salt, red wine, nutmeg, pepper, cinnamon, fennel seeds, nutmeg, garlic powder and clove powder and knead well.

Stuff the cotechino into the casing and tie the ends off with a bubble knot.

Let it rest, uncovered, at 20° to 25°C (68°F – 77°F) for 24 hours before cooking it.
Recipe Notes
This cotechino has no preservatives, so it keeps in the fridge, uncooked, for 2 to 3 days.

Related Posts: