Sara from Ms. Adventures in Italy and Michelle from Bleeding Espresso have declared February 5th "World Nutella Day 2012″ – "a day to celebrate, to get creative with, and most importantly, to EAT Nutella".
Yay!  What a FANTASTIC day!  I know… nowadays Nutella is famous all over the world.  And that is awesome as so many people get to enjoy it!  But you have to understand this: for Italian children, Nutella is the equivalent of Peanut Butter for American children.  I was brought up eating "pane e Nutella" (Nutella on bread – well it was mainly on Panini al latte), literally.  It was my favourite after school snack.  And the thing is, I still LOVE it.  To me it is total comfort food.  Did you know that Nutella is almost 50 years old?  The first hazelnut spread was created right after the Second World War in Alba, in Piedmont, an area famous for truffles and… hazelnuts and Nutella the way we know it was created in 1964!!  I could eat Nutella in any shape or form, transformed into ice cream or into a cake, but to me the best way to enjoy its perfection is still plain, so you can really taste the reason why Nutella is so loved by children and adults alike.  That is why, to celebrate Nutella Day, I decided to post a classic recipe.  This is one of the most common desserts in a Pizzeria: pizza with Nutella.  I know it may sound strange, but when you really think about it… it makes perfect sense: what is pizza if not bread with toppings???  And this dish is basically made up of a pizza base, topped with Nutella.  I also added some whipped cream both to cut through the sweetness of Nutella and to make it look like mozzarella on a real pizza.  I added a few toasted hazelnuts for some crunch.  It was delicious and it instantly became my kids' favourite pizza… 😉
Ingredients:
Pizza dough
Nutella
Whipped cream, unsweetened
Toasted hazelnuts
Start by preparing the pizza dough as per my tutorial on How to make pizza dough.
When the dough has doubled in size, roll it as if you would roll a normal pizza.
Make it 0.5 cm thick and poke the centre a few times with a fork, so that it stays flat while cooking.
Bake in a preheated oven at 180ºC – 350ºF for about 15 minutes or until the pizza is cooked through.  I made mine on a pizza stone, so it took a little less.
When ready, take it out and generously spread some Nutella on the top.  Decorate it with whipped cream, to make it look like mozzarella, and toasted hazelnuts.
Serve warm.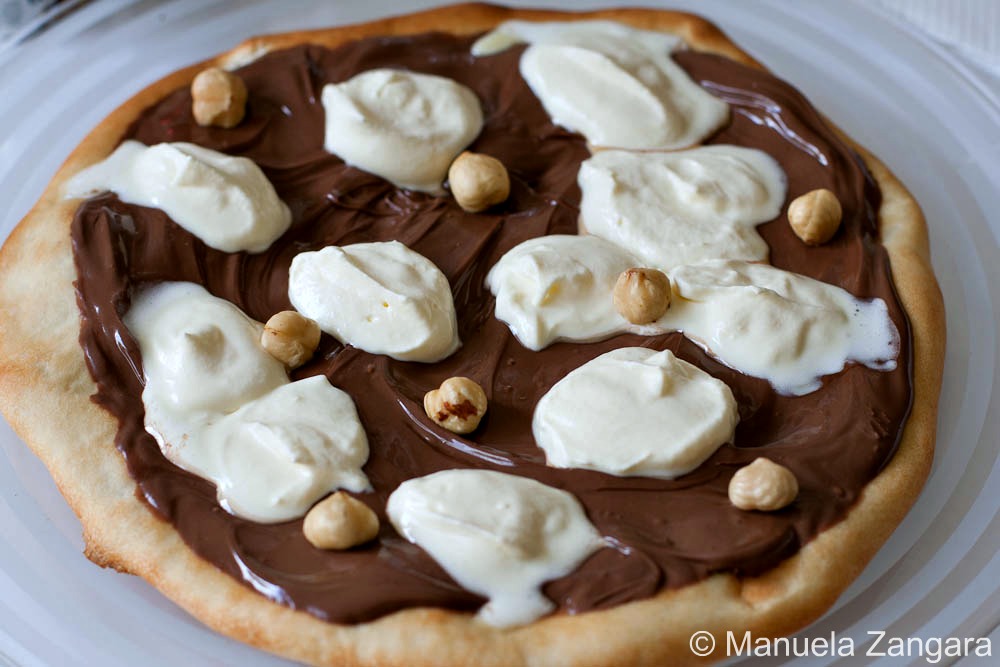 Make sure to also check out these older posts made with Nutella!

Related Posts: