Sara from Ms. Adventures in Italy and Michelle from Bleeding Espresso have declared February 5th "World Nutella Day 2013″ – "a day to celebrate, to get creative with, and most importantly, to EAT Nutella".
I usually don't follow "national or world food days"… not because I have something against them, but I usually forget and cannot keep track of all of these special occasions.  I do however make an exception for Nutella Day.  I know, I am biased… but to me Nutella is not just food (though utterly delicious food).  Nutella is a world of memories.  Whenever I eat some, I find myself remembering my childhood, old or lost friends, jokes, tears and laughter.  Nutella is to Italian kids what peanut butter is to American children, so you can understand how special it is for me, especially now that I don't live in Italy anymore.  My little ones love it too and I sometimes give it to them on bread, just the way I used to eat it.  I usually prefer to keep it simple… I don't want to mess with perfection (remember my Nutella Pizza from last year?).  This time though, World Nutella Day comes during another very special time for all Italian children: Carnevale, which is a time of the year during which, traditionally, Italians eat fried foods, sweets included.  You see, Italy is a Catholic country and Carnevale comes just before Lent, the time that leads to Easter, during which you are supposed to fast or at least give up something you like to honour the death of Christ.  So… Carnevale is traditionally a time for celebrating and exceeding, in preparation for the time of fasting.  To honour this tradition I came up with this recipe: Fried Nutella.  I got the inspiration from the Fried Ice Cream you get at some Chinese restaurants and substituted the ice cream with Nutella.  It worked great!  The final result was delicious and very rich (I made small quenelles which turned out to be perfect!).  I suggest you serve them with some fresh fruits (bananas and strawberries never fail with chocolate) and unsweetened whipped cream.  Enjoy and happy World Nutella Day!
Fried Nutella
Not available Do you like Nutella? Do you like Fried Ice Cream? Look no further... here goes the recipe for Fried Nutella!
Total Time
2
hours
1
minute
Ingredients
200

gms

– 7 oz. Nutella

1

egg

beaten

1

cup

corn flakes

crushed

¼

cup

fine desiccated coconut

4

hazelnuts

optional
Instructions
Put the Nutella in the freezer for about 30 minutes or until it hardens enough to work with.

Using 2 spoons, make 4 quenelles (croquette shapes) with the hard Nutella. If you like, you can insert 1 hazelnut in each of them. Put the quenelles on a tray covered with baking paper and put them back in the freezer to harden.

In the meantime, crush the corn flakes with a rolling pin, mix them with the fine desiccated coconut and put this mixture in a plate.

Beat the egg and keep it aside.

When the quenelles are hard, coat them with the coconut and corn flake mixture, pressing them well with your hands so they are completely coated. Then dip them in the beaten egg and coat them again with the coconut and corn flake mixture.

Put the quenelles back in the freezer for 1 hour and then deep fry them for a few seconds in hot vegetable oil (I heated the oil up to 190°C – 375°F) stirring them well so they become golden brown on all sides.

When ready, put them on a plate covered with kitchen paper (though mine did not absorb almost any oil!).

Serve warm with some fresh fruits and unsweetened whipped cream (optional).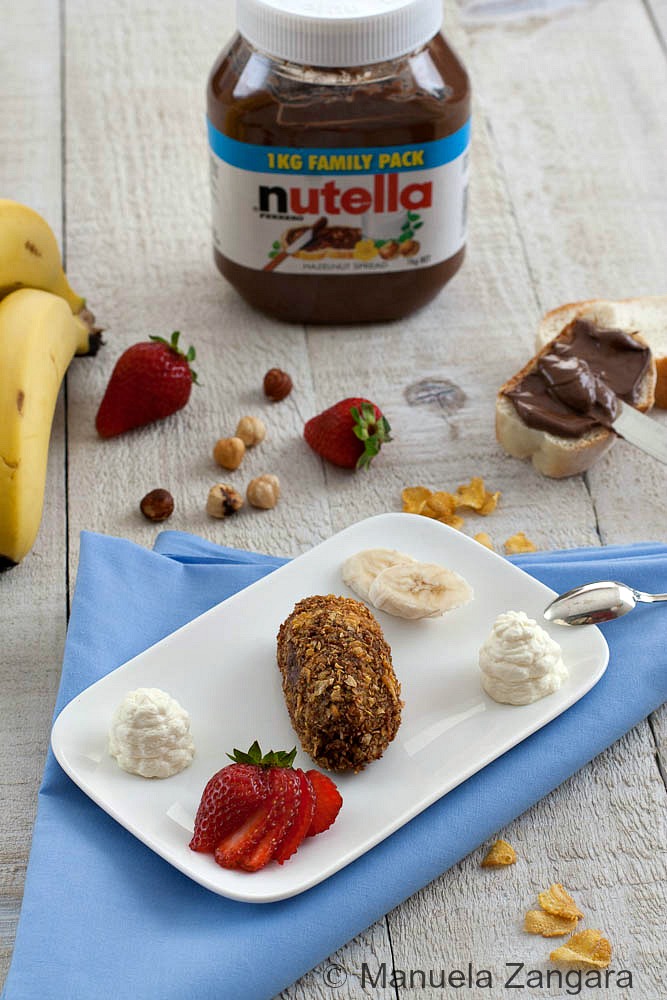 Related Posts: