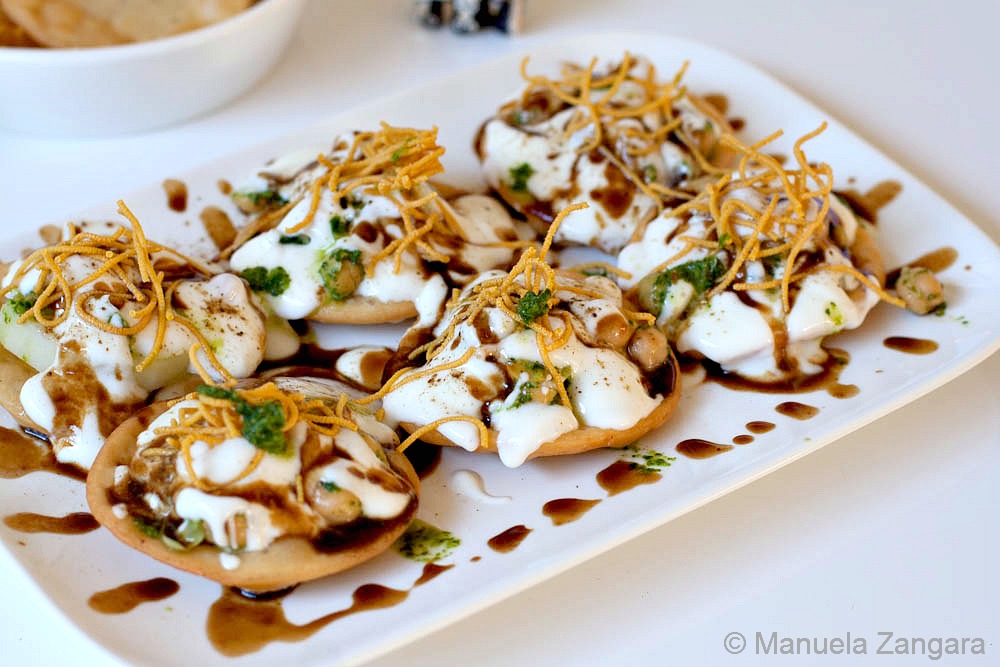 So, here you have it!  Today I am sharing with you the recipe of our favourite Indian chaat: papri chaat.  As I wrote in my post on Sev, chaats are snacks served with chutneys (typically Hari chutney and Tamarind chutney) and spices.  It is a very common street food that is sold from carts all over India.  Papri chaat is made of thin wafers of fried dough, yogurt, hari and tamarind chutneys, chickpeas and potatoes.  What I like the most about this particular chaat is the contrast in texture between the crunchy wafers and the silky yogurt and the sweet and sour taste given by the tamarind chutney and spiciness of the hari chutney.  It is very hard to explain… each element of this dish has a very peculiar taste, yet when mixed together to make this chaat, everything comes together and blends beautifully to create a new amazing taste.  When you'll bite into it, your taste-buds will thank you!!!  Each morsel is an explosion of flavours!  You can top this chaat with some Sev as well, for some extra crunchiness!  Have fun!
Recipe adapted from Manjula's Kitchen
Ingredients (for 4 to 6 people):
Papri
1 ¼ cup flour
2 tbsp vegetable oil
½ tsp salt
1/3 cup + 2 tbsp lukewarm water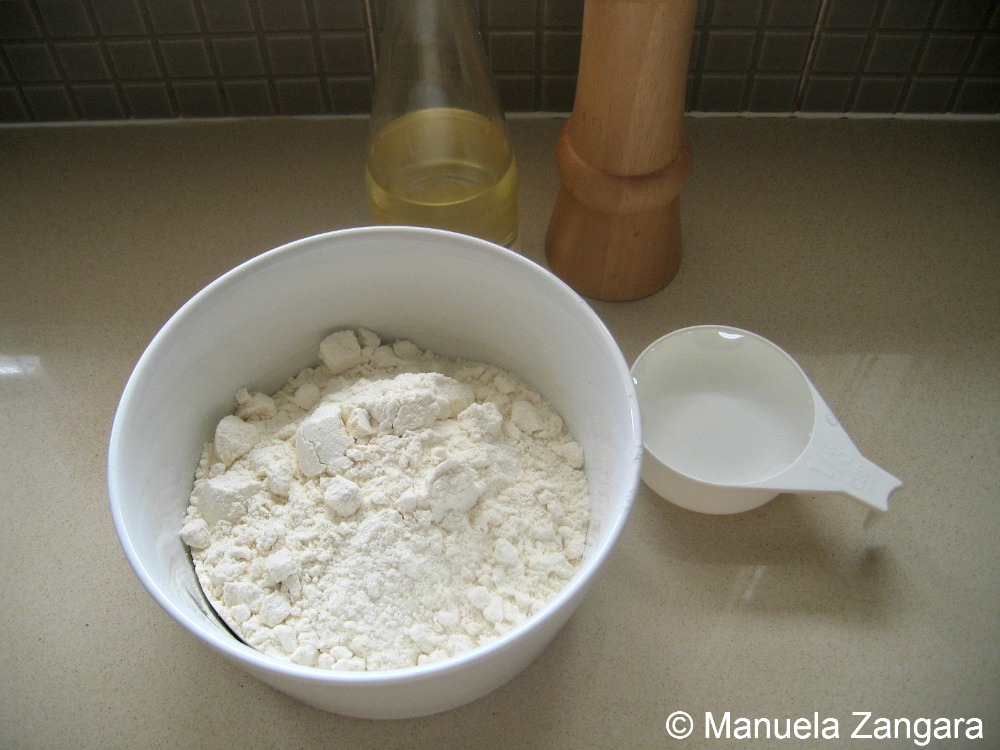 To assemble
Boiled potato, peeled and thinly sliced
Canned chickpeas, rinsed and drained
Yogurt
Salt
Sugar
Red chili powder (optional – I did not use any)
Chopped onion (optional – I did not use any)
Chaat masala powder
Hari chutney
Tamarind chutney
Sev
Start by making the papri.
In a bowl mix the flour, salt and oil.  Add the water a little at a time while kneading until obtaining a firm dough.  Make a ball out of it and wrap it in cling wrap.  Keep it aside to rest for at least 15 minutes.
Roll the dough into a thin sheet (2 mm – 1/6 inch) and cut out circles or diamond shapes.  I made 7 cm (2 ¾ inches) circles.  Prick the circles of dough with a fork so that the papri do not puff up while frying.
Deep fry them in hot vegetable oil until just golden, then remove them with a slotted spoon and put them on a plate covered with kitchen paper to drain any excess oil.  Let them cool down completely before assembling the papri chaat, so that they are nice and crisp.  (They can also be stored in an airtight container for up to 1 month).
Now you are ready to assemble your papri chaat.  The quantities of each element are up to you, just experiment and see what works best for your tastebuds.  On 1 papri, I usually put ½ tbsp of chickpeas mixed with 1 tsp of hari chutney, 1 slice of potato, 2 tbsp of yogurt, a sprinkle of chaat masala powder, a drizzle of tamarind chutney and a few pieces of sev.
Whisk the yogurt until very smooth.  Add salt and sugar to taste (the sugar serves to make it less sour, so the quantity really depends on how sour your yogurt is).  Keep it aside.
Mix the chickpeas with some hari chutney and mash them lightly with the back of a spoon.  Keep it aside.

Put the papri on a plate.  Place a slice of boiled potato on top of each papri and ½ tbsp of the chickpea and hari chutney mixture over each potato.  Drizzle the yogurt over each papri and sprinkle them with some chaat masala powder and red chili powder (optional).  Drizzle with some tamarind chutney.
Top with sev and serve immediately!
Enjoy!
What is your favourite street food??

Related Posts: