Yep. You read that right! Scallops AND Lobster Oil! Intriguing, isn't it? To tell you the truth, the Lobster Oil was a very pleasant discovery, as I was not familiar with it.
A couple of weeks ago, I received a surprise delivery from Ferguson Australia, a South Australian seafood company. I was not expecting it at all, and I loved it! After all, who doesn't like a surprise? The package contained some deliciously plump scallops, 3 bottles of Lobster infused olive oil, and a packet of Pangkarra's wholegrain penne.
The moment I saw the content of the surprise delivery, I knew I wanted to create a dish that combined all those scrumptious ingredients! That's how this simple Pasta with Scallops and Lobster Oil was born.
When you have good quality ingredients, you don't need much more to come up with a tasty dish. In fact, this is the essence of real Italian food: a few simple premium ingredients paired together to maximise their flavours.
When you eat this Pasta with Scallops and Lobster Oil, you can taste all these beautiful ingredients as no flavour is overpowering. It's like an orchestra playing together. Don't omit the pistachio crumbs, as they add a much-needed crunch that contrasts well with the rest of the components.
Thank you Ferguson Australia! Enjoy and don't forget to check out my video recipe and to leave a comment to let me know how you like it!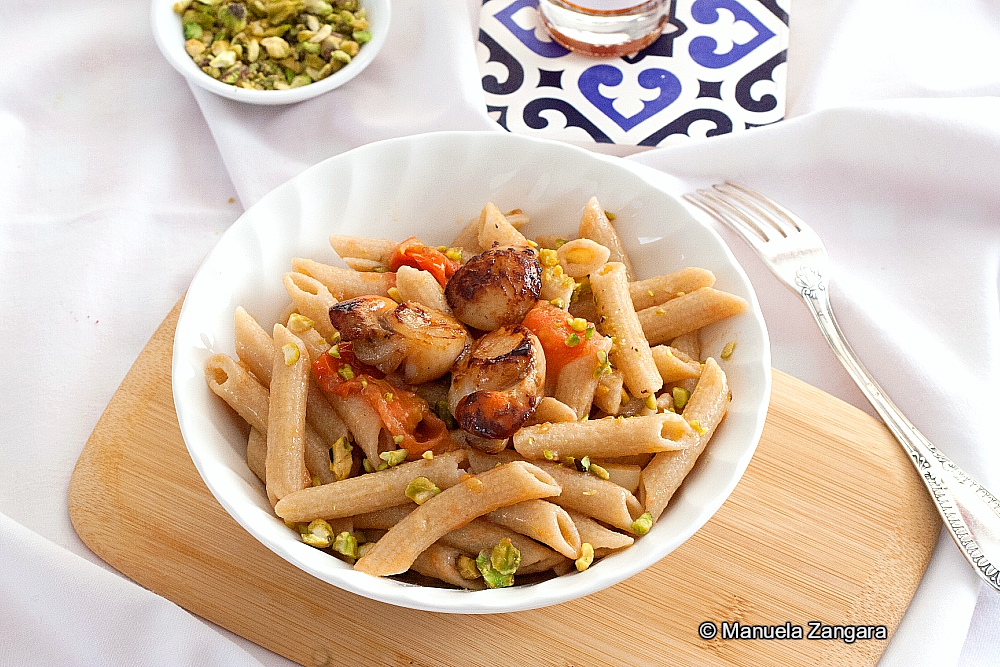 Pasta with Scallops and Lobster Oil
Pasta with Scallops and Lobster Oil – a delicious seafood pasta dish with a Mediterranean twist and a touch of sophistication.
Ingredients
4

tbsp

extra virgin olive oil

divided

12

scallops

cleaned (I used Ferguson's roe-on meat scallops)

1

garlic clove

halved

12

cherry tomatoes

halved

Salt to taste

55

gms

– 2 oz. pistachios

Lobster oil

to drizzle (I used Ferguson's Lobster Oil)

360

gms

– 12 oz. short pasta

(I used Pangkarra's wholegrain penne)
Instructions
Roughly blend the pistachio and keep aside.

Sauté the halved garlic clove with 2.5 tablespoons of extra virgin olive oil for 1 minute.

Add the halved cherry tomatoes and salt. Crush the tomatoes with a wooden spoon and cook for 3 minutes on low. After 3 minutes put the fire off.

In the meantime, sear the scallops in a hot skillet with the remaining 1.5 tablespoons of extra virgin olive oil. Cook them for about 1 and a half minute per side (the exact time will depend on the size of your scallops, just make sure they are golden brown on the outside but still a little translucent). Season with salt and remove from the fire.

Mix the drained pasta with the cherry tomato sauce.

Serve with the pistachio crumbs and seared scallops on the top.

Drizzle with some Lobster Oil and eat immediately.
Recipe Notes
I used roe-on meat scallops. We all enjoy eating the roe, so I did not remove it. However, this recipe can be made with scallops without roe as well.
This is a sponsored post, but the opinions in this post are my own.

Related Posts: