I came across this recipe while looking for a new way to finish off some pears I had left over on my kitchen counter.  I love all kinds of mousses and little servings… they are not completely "guilt-free", but they surely are better than a huge slice of cake (not that there's anything wrong with that either, every once in a while, but we are still in an "after Christmas mode" here!).  This dessert may seem a bit elaborate, as there are a few parts to it, but it is actually faster to make than it seems.  Also, you can split the work into a couple of days, so you don't have to make everything at the last moment.  You can even assemble it the day before and keep it in the fridge until you want to serve it.  I am a big fan of dishes that can be made in advance, especially when I am organising a party or a dinner for friends.  These verrines are delicious… they use Italian ingredients (hazelnuts and ricotta) and are a great way to end a meal.  Enjoy!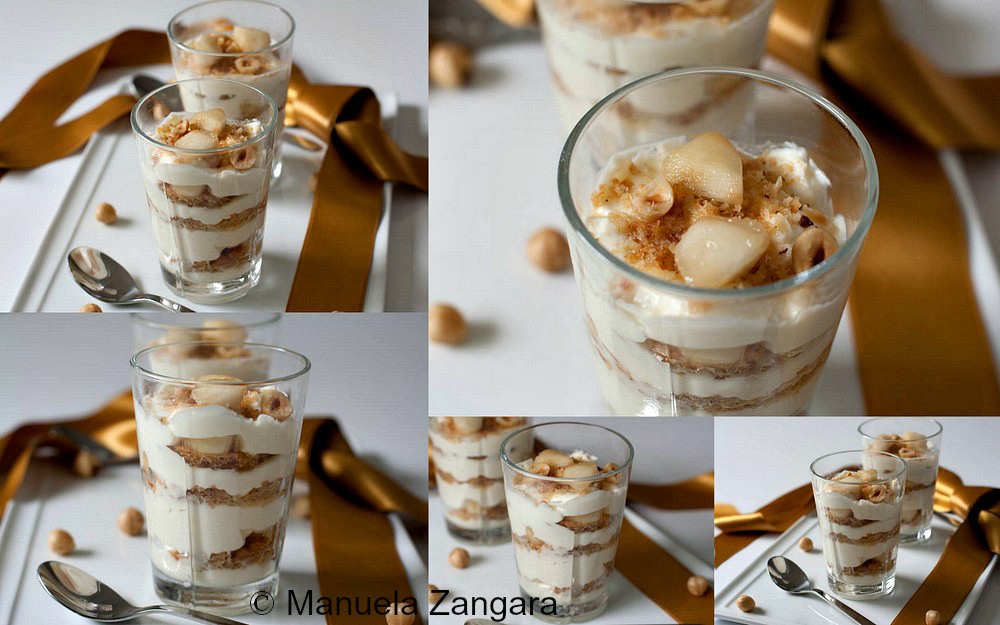 RICOTTA, PEAR AND HAZELNUT VERRINES
Ingredients
Pears
200 gms – 7 oz. pears, peeled and cubed
200 gms – 7 oz. water
100 gms – 3.5 oz. sugar
½ tsp vanilla extract
Juice of 1 lemon
Hazelnut cake
3 eggs, at room temperature
60 gms – 2 oz. sugar
100 gms – 3.5 oz. hazelnuts, toasted and blended with ½ tbsp sugar
20 gms – 0.7 oz. flour
50 gms – 1.75 oz. butter, melted
Ricotta mousse
Instructions
Pears
One or two days before, prepare the pears. Put the sugar and water in saucepan and bring to a boil. Stir to dissolve the sugar.
Cook for 5 minutes or until it thickens. Put the fire off, add the vanilla extract and the pears.
Let them marinade in the syrup at least overnight.
When you are ready to assemble the verrines, drain the pears from the syrup, drizzle with lemon juice and keep the syrup aside.
Hazelnut Cake
With an electric mixer, whisk the eggs with the sugar for a few minutes, until very light and fluffy.
Mix the flour and hazelnut mixture together and add this to the eggs. Do this gently, by hand, so as not to deflate the mixture. You want to keep it as fluffy as possible.
Pour this mixture into 2 x 22cm - 8.5 inch round tins (greased with butter and lightly coated in flour).
Bake in a preheated oven at 180°C - 355°F for 10 minutes.
Let the cakes cool down, then unmould them and cut out 16 discs (the size of your verrines).
Ricotta Mousse
Mix the ricotta, sugar and 5 tbsp of the pear syrup (keep the rest aside) together.
Whip the cream and gently fold it into the ricotta mix.
Assembling
Drizzle the syrup on the cake discs and then put one at the bottom of each verrine. Add some ricotta mousse and some pear cubes, then another disc of cake and so on, until you run out of ingredients. Finish off with the mousse, pears and hazelnuts.
Refrigerate at least 3 hours before serving.
Pin It

Related Posts: