For the January-February 2013 Daring Cooks' Challenge, Carol, one of our talented non-blogging members and Jenni, one of our talented bloggers who writes The Gingered Whisk, have challenged us to make homemade sausage and/or cured, dried meats in celebration of the release of the book Salumi: The Craft of Italian Dry Curing by Michael Ruhlman and Brian Polcyn! We were given two months for this challenge and the opportunity to make delicious Salumi in our own kitchens!
WOW! When I first read that this month's theme was going to be salumi I got sooo excited!  I have grown up eating some of the best salumi in the world: Prosciutto (both of Parma and San Daniele), Culatello, Speck, Salami, Mortadella, Pancetta, Coppa, Guanciale… you name it!  Italians do make amazing salumi!  When I first moved to Australia I was shocked to find out that due to quarantine regulations, the majority of these amazing salumi, could not be imported!  After a few months, luckily, the ban on prosciutto was removed and we can finally get Italian prosciutto down here too (sorry guys… nothing personal, but Australian prosciutto just does not taste the same!).  Unfortunately the ban is still on for the remaining above-mentioned items.  SIGH.  Some Italian migrants have managed to make pretty good substitutes for mortadella, salami, guanciale, lard and speck, but nobody seems to get pancetta right!  Anyhow, I really wanted to try and make my own (or my own salami), but we are in summer down here and I have nowhere to cure meat in this heat!  I will however try it later on!  I often make Italian sausage at home, so I thought that was no real "challenge" for me.  What to make then??  It had to be something that could be cooked, rather than cured.  Then I remembered.  When I was a child, my parents and I would drive all the way to a small village in the area of Monferrato (in Piedmont), to buy local meat and salumi.  The butcher there would make the most amazing salami, EVER.  He used to make regular cured salami and a speciality of Northern Italy: salame cotto.  I liked it soooo much!  Salame cotto is basically the same as a cured salami, but instead of being cured, it is cooked. So I thought of giving it a go and I was surprised by how easy it was!  It came out perfect, just like the one I used to buy… or maybe even better, as there are no preservatives in my recipe!  You eat it just like any other salami: cold and thinly sliced.  It is great with crusty bread and a glass of red wine.  Enjoy and don't forget to check out some delicious recipes for salumi, and all the other yummy variations that my fellow Daring Cooks came up with, here!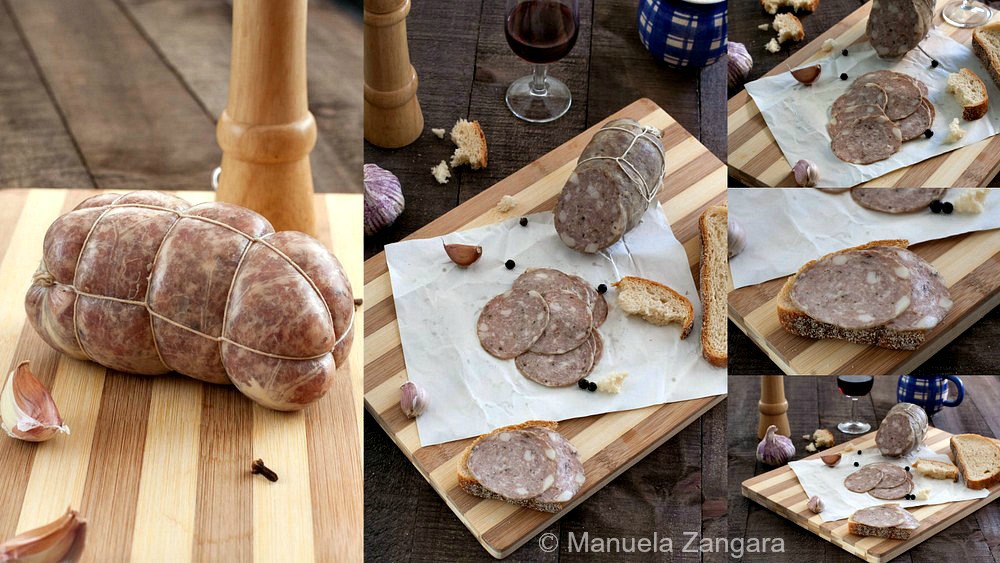 Salame Cotto
How to make a classic Italian salume at home: Salame Cotto, aka "cooked salami".
Total Time
1
hour
30
minutes
Ingredients
700

gms

– 1.5 lbs. pork scotch fillet

300

gms

– 0.7 lbs. pork rashers

25

gms

– 0.9 oz. salt

50

ml

– 1.7 oz. red wine

¼

tsp

nutmeg

20

pepper corns

2

gms

– 0.07 oz. ground pepper

¼

tsp

garlic powder

2

juniper berries

crushed

¼

tsp

clove powder

Salami casing

soaked in tepid water for at least 20 minutes and rinsed
Instructions
Roughly chop the scotch fillet and the rashers.

Grind the scotch fillet and 1/3 of the rashers using a 0.5 cm – 0.2 inch diameter grinder.

Cut the remaining 2/3 of the rashers with a knife into 1.3 cm – ½ inch pieces.

Mix the ground meat and the chopped rashers together in a bowl. Add the salt, red wine, nutmeg, pepper corns, ground pepper, garlic powder, juniper berries and clove powder and knead well.

Tie the salami with butcher's twine. Click

here

for a video on how to do this.

The following day, using a clean needle, poke holes all over the salami, especially where there may be air pockets.

Wrap it in baking paper and put it in a pot. Cover it with cold water and put it on the fire. When it starts boiling, put the fire on medium-low and let it simmer, uncovered, for 1 hour. The salami is cooked when it reaches an internal temperature of 80°C - 176°F (this usually takes 1 hour per kg – 2.2. lbs., so if your salami weighs 2 kg – 4.4. lbs, then it will have to cook for 2 hours. These timings are only indicative though, as the cooking time also depends on the thickness of the salami).

When cooked, let it cool down in the cooking water.

Enjoy it with some crusty bread and a glass of red wine!
Recipe Notes
Store in the fridge for up to 1 week, wrapped in aluminium foil.

Related Posts: