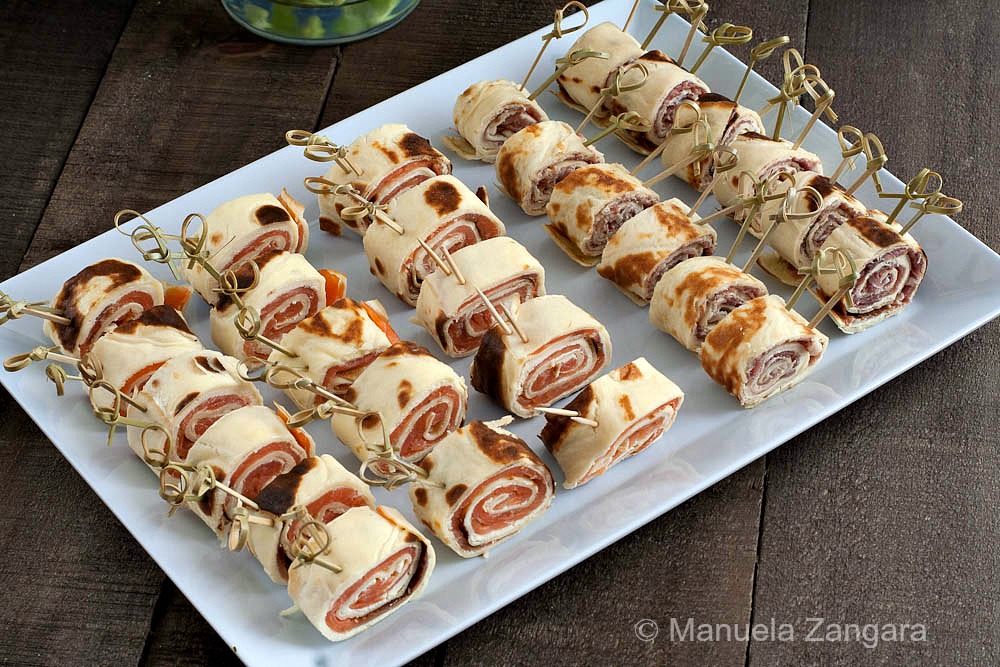 For my daughter's 6th birthday party, I wanted to make a few savoury items as well.  As the theme was fairies and nature, I thought of playing around with shapes.  My first thought was to make sandwiches and cut them into cute shapes, but then I changed my mind as I wanted something a bit different.  I remembered that my aunt used to make savoury crespelle that she would fill, cut and serve cold as appetisers during Christmas time.  Exactly what I needed (grazie zia!) as they are very easy to work with and I was able to make them into "snails", which was right what I had in mind.  These crespelle (the Italian version of crêpes) can be easily rolled, they have to be made 24 hours before hand, they cut neatly AND they retain their shape much better than any other wrap out there.  I was very pleased with the way the "snails" looked and even more with the way they tasted.  I was going to make them using only Philadelphia and Smoked Salmon, but ended up replacing the salmon with Prosciutto in some of them as I figured kids would like it more.  They were both divine!  Enjoy!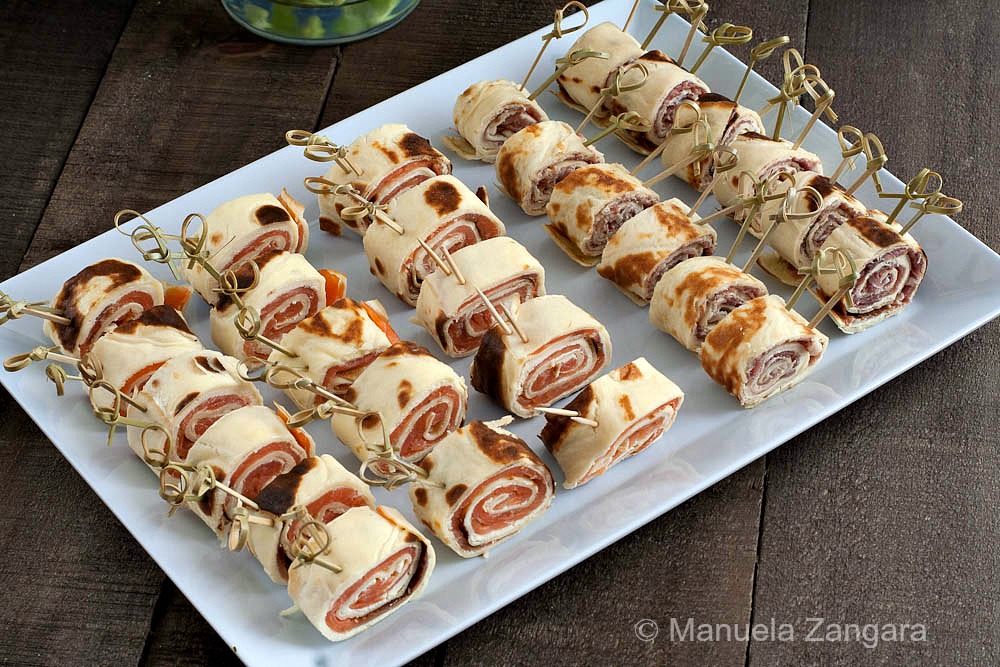 Smoked Salmon and Prosciutto Crespelle Snails
A cute idea for a kid's party: Smoked Salmon and Prosciutto Crespelle Snails!
Ingredients
Crespelle
30

gms

– 2 tbsp butter

melted

165

gms

– 1 1/3 cups flour

350

ml

– 1 ½ cups milk

2

eggs

1

pinch

salt
Fillings
Philadelphia

I used the fat reduced version that had a more spreadable consistency

Prosciutto

Smoked Salmon
Instructions
Crespelle
Put all the ingredients in an electric mixer and blend for a couple of minutes until your batter is smooth.

Let it rest in the fridge for 30 minutes.

Take a non stick frying pan and put it on the fire. When hot add ¼ tsp of butter and a ladle of batter by swirling the pan so the batter coats the base of the pan. You don't want to make the coating too thin. About 2 mm – 0.08 inches thick will work nicely. When the surface of the crespella dries up, it is time to flip it over. Do so by using a plastic spatula to loosen its sides first and then flip it over. Cook it for a minute more, then remove it from the pan and keep it aside. Repeat this till your batter is over (this recipe should make about 5 to 6 crespelle).

As soon as the crespelle are cool, you can fill them.
Assembling
Spread some Philadelphia on each crespella, make sure to get to the edges as well.

Put the smoked salmon or prosciutto on top.

Roll the crespelle tight like a Swiss Roll and wrap them individually in cling wrap.

Use toothpicks (either plain or decorative) to make the snail's antennae and serve them at room temperature.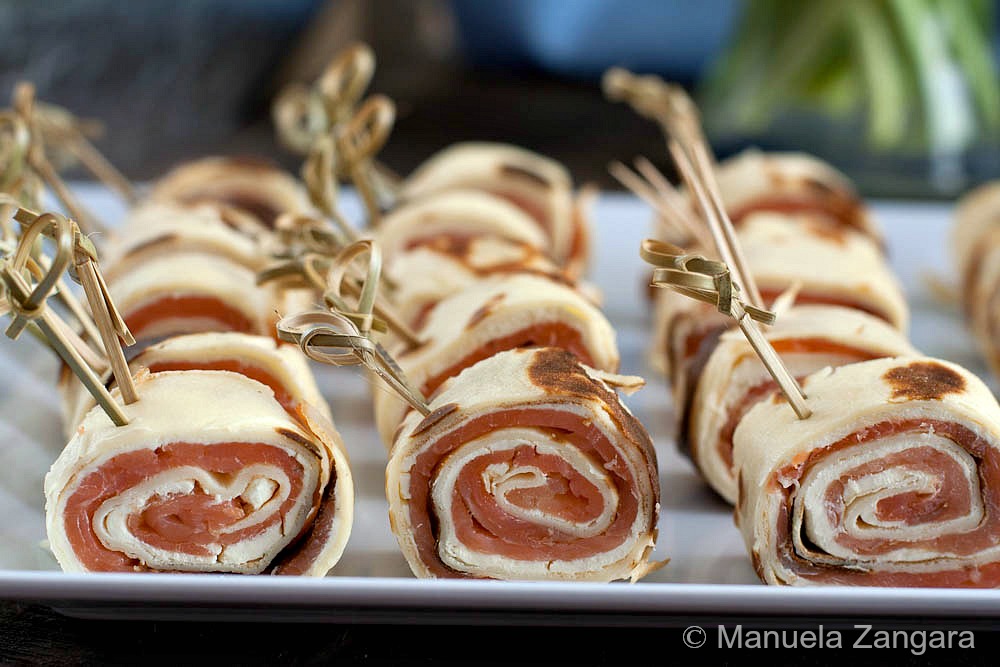 Related Posts: